You've done it – you've taken the first plunge into scuba diving and you're hooked. Welcome to the underwater world. Now it's time to shop for your first set of beginner scuba gear!
Choosing the best scuba gear for beginners can be a minefield, but with the wisdom of our Girls that Scuba members we've got the ultimate guide for you.
Some equipment purchases will take a while to get comfortable with, such as your BCD, but others will give instant value to your dives. Here's the three items you'll want to buy first, and the purchases that can wait until you've got a few more dives in your log book!
---
How much do I need to spend?
If money was no object it would be tempting to purchase everything in one go, but realistically most of us can't purchase a full kit as soon as we start scuba diving.
However, as the saying goes, "buy cheap, buy twice". You should always aim to purchase the best you can afford at the time. Buying a slightly better model might see you further through your dive future, too.
Beginner scuba gear doesn't have to break the bank, though. We've included equipment suggestions at three price points to try to suit a variety of budgets.
---
1. Buy your own scuba mask
The majority of divers can give you a story of an ill-fitting, leaky, or foggy mask ruining an otherwise incredible dive. We definitely recommend buying a mask as your first piece of beginner scuba gear!
In comparison to other equipment purchases, choosing a great mask can be relatively simple. It's also one of the easiest things to carry when travelling with scuba gear. A lot of minimalist travel divers will always take their mask, computer and regulators.
You can shop for a good fitting mask ahead of beginning your certification course, which will make skills such as mask clearance much easier. It's important to try masks on – consider shopping where helpful staff can assist you in finding a perfect fit, or learn our tips for shopping online.
The best mask is always one which fits you, but here are some models which are loved by lots of members in our Facebook group.
$ – Cressi F1
The Cressi F1 is available in a multitude of colours and also comes in a small size ("Mini"), making it perfect for petite features. It's also incredibly affordable!
Shop F1 from the US
Shop F1 Mini from the US
$$ – Aqualung Reveal X1
Aqualung's Reveal is a great mid-range choice. Super soft silicone and fit technology make it incredibly comfortable for a huge range of face shapes.
Shop Reveal from the US
Shop Reveal from the UK
$$$ – Fourth Element Scout
We love the incredibly comfortable seal and customisability of the Fourth Element Scout mask. There's a style of lens to match every dive condition – although the clear lens may be most suited to new divers so your instructor can maintain eye contact.
Shop Scout from the US
Shop Scout from the UK
Bonus Mask Tip
Many divers, us included, highly recommend adding a mask strap cover to your mask. Silicone straps can easily get stuck and tug on your hair. When you're completing your mask skills, a cover will make it so much easier for the strap to glide over the back of your hair.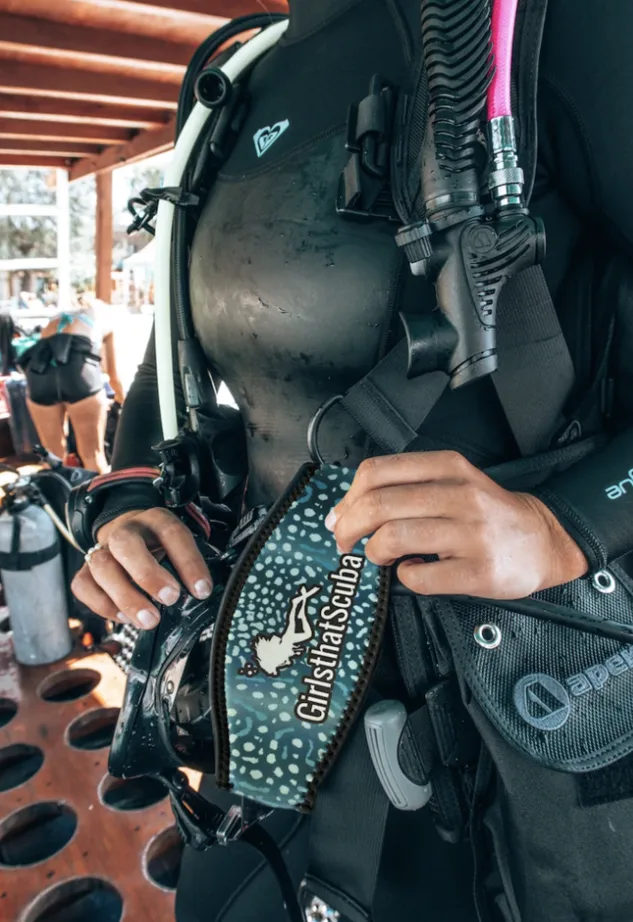 It's also a super fun way to start co-ordinating and customising your dive gear. Our Girls that Scuba mask strap covers come in an array of colours and prints to match any gear set-up. Plus, you can represent your favourite women's dive community at the same time!
---
2. Get yourself a dive computer
Safety is the number one reason why we would recommend a dive computer as one of your beginner scuba gear purchases.
You probably learned to dive with a dive computer, and in doing so you will also have learned the importance of every single diver having their own. Our individual dive profiles are never totally alike, so one computer shared between buddies is not enough.
Consistently checking your depth and remaining no-decompression limits will also give you a much better understanding of how those limits work, as well as how they fluctuate during a dive. This will make you a safer and better diver as time goes on.
Much like your mask, a computer is also a great piece of gear to travel with – you can always be prepared if you stumble upon an unexpected dive location!
Purchasing a dive computer doesn't have to be expensive. There are many entry-level models which are functional and affordable, and even the more wearable watch-style computers can be found at a reasonable price. Here are a couple of favourites – these are suitable for beginners but can grow through your diving with you.
$ – Mares Puck Pro
This super-simple dive computer has everything you need in an easy to understand display. It's on the larger side, but that's ideal for when you're getting to know things and want to see your dive details at a glance! You may find you grow out of the one-button navigation quickly, though.
Shop Puck Pro from the US
Shop Puck Pro+ from the UK
$$ – Suunto D4i Novo
The Suunto D4i Novo is a classic dive computer, and it's well loved for a reason. Simple to use, easy to read, and bonus – it comes in a bunch of colours and styles!
Shop D4i from the US
Shop D4i from the UK
$$$ – Shearwater Peregrine
Shearwater's Peregrine has quickly emerged as the best dive computer for beginners within our Facebook group. Our members love the bright display, and Shearwater can't be rivalled for their customer support. It's user-friendly enough for new divers, but has the ability to grow through many years of scuba diving activities!
Shop Peregrine from the US
Shop Peregrine from the UK
---
---
3. Choose your fins
When you're getting started looking for beginner scuba diving gear, it can be tempting to try to use things you already have. Lots of us graduate from snorkelling to diving and have old fins laying around.
As much as we love to reduce consumption and reuse things, snorkel fins won't cut it when it comes to moving you around underwater. The drag of your dive gear needs a little bit more propulsion.
Luckily, it's relatively easy to choose a pair of scuba fins which will see you through many years of diving. For a pair of beginner scuba fins, we would recommend going for a simple style of open-heeled fin and a pair of boots. This combination will cover you for lots of dive conditions, and doesn't have to break the bank.
$ – Aqualung Storm
Aqualung's Storm fins are incredibly lightweight, making them ideal for travel and a great beginner choice. They still offer a lot of power due to their compact but strong shape, so will grow with you as you develop your finning technique!
Shop Storm from the US
Shop Storm from the UK
$$ – FE Rec
The most eco-friendly scuba diving fin on the market, the Fourth Element REC Fins are part of their Ocean Positive line. They are constructed from recycled materials, lightweight enough to travel with but efficient enough to be used in cold water with a drysuit. We've seen love for these from beginners and experienced divers alike!
Shop REC from the US
Shop REC from the UK
$$$ – Mares Quattro
Mares's Quattros are a classic for a reason. The paddle style is great when you're first learning with a flutter kick, but also suitable if you learn to frog kick as you advance in your dive skills. With four flexible channels and a material designed to deliver optimum thrust with every kick, the Avanti Quattros are a perfect all-round fin.
Shop Quattros from the US
Shop Quattros from the UK

For boots, a 5mm pair of boots will cover you for the majority of dive conditions. You won't be too hot in warm water, but they'll be toasty enough in slightly cooler climes. When it comes to picking dive boots, just go for ones which fit you well and suit your budget.
Of course, if you're learning to scuba dive in a drysuit, this advice might not be entirely appropriate for you. A "tech" style of fin which is heavier and negatively buoyant might be better, and you may need different boots. If you're unsure, consult your instructor for advice.
---
Do I need to buy a wetsuit straight away?
Given that it's clothing, and clothing that people are known to pee themselves in, a wetsuit might seem like one of the most obvious first buys. It's also nice to know you're going to have a suit which fits well, rather than dealing with the chaotic (and sometimes disheartening) experience of renting suits.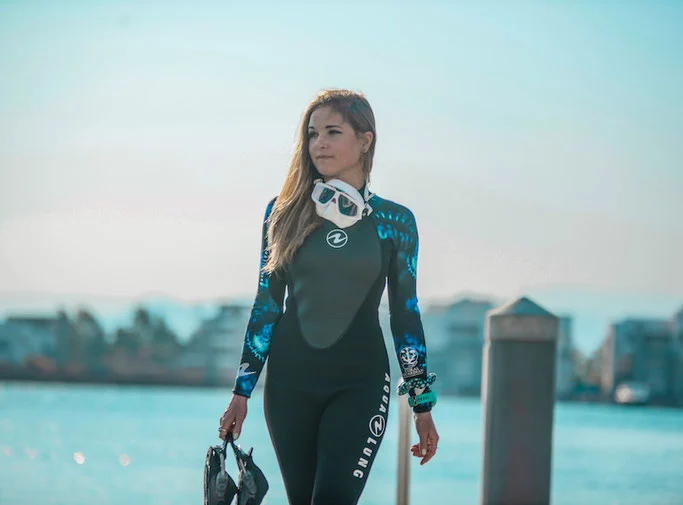 But, for the extra expense, the travel space, and high possibility of having to stuff it in your suitcase still wet for your flight home, whether or not you need one early on will come down to personal choice.
Like BCDs, wetsuits are one of the items where styles designed specifically for women make a big difference to comfort. Ideally we'd all have custom made wetsuits but that can be pretty pricey, so we've got recommendations for the best women's wetsuits!
---
When should I buy my first BCD?
A BCD is a more expensive piece of kit. It's a big investment and one you'll hopefully dive with for years to come, so you want to get it right. It might be better to wait a while before you invest.
More and more beginner divers are starting their scuba purchases with equipment which can grow with them. This might mean choosing a backplate and wing over the jacket style which you're likely to have learned in. Sounding like a different language? Here's our advice on choosing between back inflate and jacket BCDs.
Buying a BCD also means you'll need to take the time to service it and take care of it properly. Servicing is an important part of owning dive gear. The time and expense of that needs to be accounted for, so bear that in mind when you're budgeting for bigger equipment purchases.
In short, it's wise to take some time to try out different rentals and really get to know what you want. Then you can confidently take the plunge into shopping for a BCD!
---
When should I buy my first regulators?
Much like shopping for a BCD, regulators might be something you want to wait to get. This is another big equipment purchase, and another big servicing commitment. Get to know the style of regs which would work for you first before making a big decision!
---
Can you recommend a camera for beginner divers?
If you're a beginner scuba diver, you're better off spending your cash on a buoyancy course rather than buying a camera just yet. We know this isn't what you want to hear, but spending more time and money developing your skills now will mean you're more comfortable and able to get better pictures when you buy a camera in the future.
Once you've got a little bit of experience, using an underwater phone housing can be a compromise to this. The familiarity of taking pictures with your smartphone means there's a little bit less task-loading with this option when compared to learning a full new camera system.
---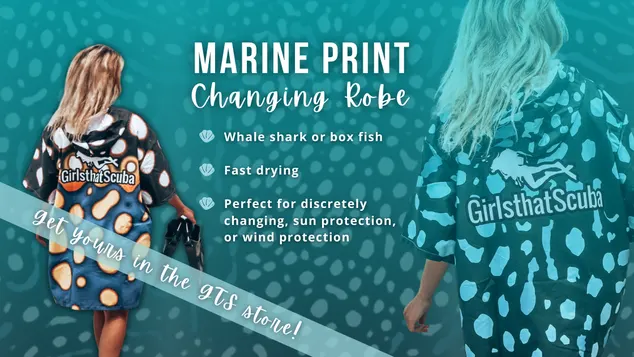 ---