A shiny new scuba diving mask is probably one of the first pieces of equipment you'll want to buy when you start your dive journey. It's quite literally your window into the underwater world whilst you're exploring, so it's important that it's both functional and comfortable.
But with so many options on the market, and a multitude of varied features on offer, what should you be prioritising in a scuba mask? How will you choose which one is right for you?
We're here to break down the lingo around the different parts that make up a scuba mask, share what features you should be thinking about when choosing a new mask, and how to test for that all-important perfect fit.
---
What makes up a scuba diving mask?
Lens
The lens of the scuba mask is the clear front which you look through. In scuba masks these are made of tempered glass – a type of glass which, when broken, breaks into small pieces rather than sharp shards.
This tough glass is suitable for use under pressure, and more expensive models may use advanced technologies to "purify" the glass clarity and allow a clearer view with no colour tint.
Some masks are built with one single lens connected above the nose, whilst others have two separate lenses with the frame joining them in the middle. A number of styles even have smaller lenses on the outside edges of the mask to improve your peripheral vision.
Separate lenses can be helpful if you wear glasses or contact lenses and need corrective lenses. You can buy a mask with your prescription in it, or choose one with lenses which can be changed by the user.
Fear not though, if you'd rather stick to contact lenses you can still wear those underwater and have the choice of any other mask! Check out our tips here for how to safely use contact lenses whilst diving.
GTS loves: Aqua Lung Reveal X2 (suitable for use with corrective lenses)
Frame
The frame of a mask is the piece on the front which holds the lens(es) in place. In older style masks the frames often used to be bulky, but over the years they've become more streamlined and have even developed into frameless styles.
In a frameless mask, the lens is seamlessly moulded into the material of the skirt. This means they can fold to fairly flat dimensions, making them a great option for back-up masks. However, in a frameless construction it's common to have all of the parts connected, so if something breaks you usually have to replace the whole mask rather than one small piece.
Frameless scuba masks which GTS loves: Oceanic Shadow and Oceanic Shadow Mini
Skirt
The skirt is the piece of the mask which forms a seal against your face. This is arguably one of the most important elements of the mask, as a great fitting skirt will ensure a comfortable, leak-free dive.
Modern scuba diving masks are made of high quality silicone which is extremely durable and feels super-soft against the skin, further enhancing your comfort. Some mask skirts are intelligently designed with double seals on the inside of the mask, making leaks even less likely.
Strap and Buckles
Most scuba mask straps are made of a similar silicone material to the skirt. Buckles can either be attached to the frame, or can sit further back and be built into the skirt, preventing the mask from pulling into the face.
More advanced buckle designs can feature swivel motions to make mask donning and removal easier. Some manufacturers have experimented with different materials for the mask strap, such as neoprene straps and elasticated ski-mask style straps.
Scuba mask straps which GTS loves: Oceanic Shadow, Scubapro Comfort Mask Strap, Aqua Lung Fast Strap
If you fancy a neoprene strap, but don't like the models which come pre-fit with one, you can add one to any mask! Our Girls that Scuba mask strap is designed to attach to any mask strap and comes in a huge variety of colours, as well as whale shark print (and a bunch of other ocean creatures too), to match every equipment colour scheme.
---
What should I look for in a scuba mask?
Now that you're armed with the knowledge of the different parts of dive masks, what should you look for when choosing yours? There are a few features and elements to keep in mind when shopping in order to get the best possible mask for you.
Buy a scuba specific mask
At first glance scuba and snorkelling masks may look pretty similar, and if you're at the beginning of your dive journey you may be tempted to save a few pennies by opting for a cheaper snorkelling model. However, there are differences in design that mean snorkel masks are sub-par for scuba diving.
It's worth spending that bit more money to ensure you get great fit and function. Snorkel masks may not have the same pressure tested glass in the lenses, they tend to be a higher volume (more on that in a moment), and overall have a lower build quality than their dive counterparts.
Consider a low-volume mask
You'll see the term "low volume" used a lot in the mask world. A low volume design simply means there's less air inside the mask, so the design usually features a shallower skirt and the lens therefore sits closer to the face.
When it comes to being under pressure on a dive, less air space means less chance of an uncomfortable mask squeeze, so a lower volume mask can be more comfortable.
The lens being closer to the face also means you'll have a wider field of vision, so you might have more chance of spotting sharks sneaking out in the blue in your peripheral vision!
Colour
The colour of your mask isn't just about how well it matches your gear (although most manufacturers recognise the importance of this nowadays, so many models come in every colour imaginable).
The colour of the skirt is important and different options have their pros and cons. A clear skirt may give a slightly wider field of vision and let more light in, but can yellow over time, whilst a black skirt is more forgiving as it ages but may feel more claustrophobic. The same applies to coloured skirts. These may also fade over time so should be kept away from bright sunlight when not in use.
Colour can also apply to the lens of the mask. Some masks are tinted or mirrored, which can be beneficial for preventing harmful UV rays from entering the eyes. However, these can be problematic when it comes to communication – it can be more challenging to see a diver's eyes through a filtered lens, so these may be more suited for use with familiar buddies.
Fit
Just like buying any new piece of scuba gear, the most important elements of a great scuba diving mask are the fit and comfort. There's a reason so many different styles are on offer; everyone has a different face shape, so there needs to be something available for every diver.
Whilst it's not a hard-and-fast rule, many female divers have slightly narrower faces or smaller features. Many models are now offered in multiple sizes, including narrower versions of popular designs, so consider trying both sizes.
GTS loves: Beauchat Maxlux S, Oceanic Shadow Mini, Cressi F1 Small
---
Freediving Masks
Freediving masks are incredibly low volume and can be a great option for scuba diving too if you're struggling to find the perfect fit.
The SPHERA X is the number one freediving mask by Aqua Lung. The unique distortion-free lens technology provides a 180 degree wide-angle field of vision and let the user experience a panoramic vision which is pure freedom for the eyes.
Over many years of legacy for the SPHERA, Aqua Lung's design team carefully studied the specifics of freediving equipment and researched the optimization for this low-volume mask. With the input of professional free divers, successful technologies used in other Aqua Lung masks have been used and combined with the most suitable skirt shapes and frame characteristics.
---
How to Fit a Scuba Mask
If you have the option to try before you buy, such as borrowing from generous buddies or trying different rental options, it's the best way to test whether a mask is right for you.
However, we don't always have the luxury of a "wet" test for new gear. Luckily, with a few simple steps, testing a mask dry should give you a good idea of whether it will work. A great fit on land is usually leak-free and comfortable underwater.
Step 1
Move the strap to the front of the mask, and hold the skirt against your face without heavily inhaling through the nose. Gently tip your head back to around 45 degrees and see whether the skirt sits flat whilst resting on your face. The mask should sit comfortably without any gaps.
Check that the skirt isn't too wide at the temples (it shouldn't sit too far into the hairline), that it's comfortable under the nose and on the top lip (a common area for leaks), and that the frame isn't pressing against the brow bone.
Also ensure that the nose pocket is a comfortable size for you. Too large and it may be difficult to equalise, too small and it may be uncomfortable.
Step 2
Return your head upright, and test the fit again by gently inhaling through the mask. If you can feel air rushing in through any small gaps, or the mask falls off, it doesn't fit you well and will likely leak underwater.
Step 3
If you've deemed it to be a good fit in steps one and two, finally try the mask with the strap on. Remember that straps shouldn't be overly tight – the pressure underwater will help the mask to seal, and excessively tight straps can actually cause more leaks.
Re-check the same points from step one, focusing particularly on the comfort on the brow bone and nose. You can also try the mask with a mouthpiece in, in order to check the comfort of the skirt on the top lip.
If you found this helpful, check out our post on how to choose fins, too! Have you used our tips to find your perfect scuba mask? Let us know by tagging us on Instagram @girlsthatscuba, or sharing to our Girls that Scuba Facebook group!
---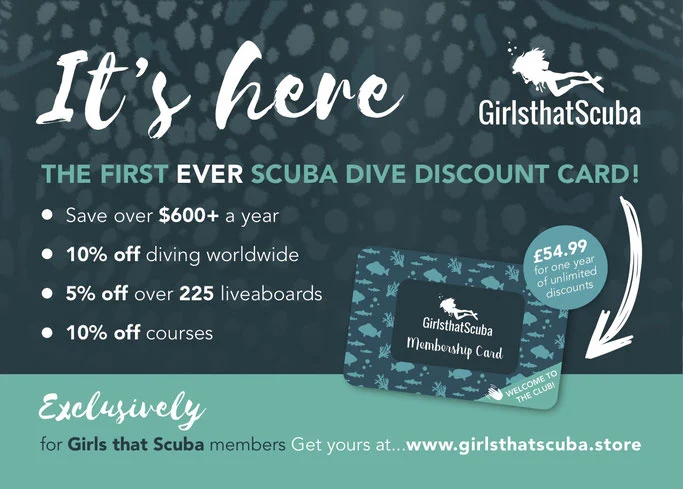 ---