Whether you're looking to buy your first set of scuba diving gear or just upgrading your scuba equipment, it's no easy ride.
Read on to discover the benefits of owning your own equipment, what to consider when you're choosing gear, the importance of researching your purchases, and advice on trying before you buy.
On top of all that, we'll explore which dive equipment items to purchase first if you're a new diver, as well as helpful tips on where to buy equipment for new and seasoned divers alike.
Why buy my own equipment?
Your instructor may have touched on the benefits of owning your equipment during your Open Water Course, and we promise they weren't just trying to get more commission!
Firstly, having your own gear will be much more comfortable. With some items this is almost instant (there's nothing quite like the feeling of completing your first dive with a non-leaky mask). This extra comfort particularly applies as a woman – we know all too well that the generic sizing of rental gear does not suit all body types.
Owning your own equipment also makes you a much better diver in the long run. More familiarity with your setup will mean more consistent buoyancy and more efficient fin kicking – both of which have an impact on reducing your air consumption. All in all, your fundamental skills will really improve.
You can't deny the benefits of having your own gear, but that's not to say you should rush into purchasing everything. The best gear purchases come with a little bit of thought behind them – and that's where our help comes in.
What do I need to think about when buying scuba gear?
There are three main elements we should consider when deciding what scuba equipment to invest in. The three components – suitability, fit, and comfort – all work together to make your gear work better for you.
Is this suitable for my diving habits?
Suitability should always be the first thing you think of when making equipment decisions, and by asking yourself a few questions you can work out whether your choices are right for you – both now and in the future.
The key here is understanding what type of diving you will be doing most. You could be travelling to dive a few times a year, doing local dives in cold water and low visibility, or a combination of different diving activities.
At first thought, this only seems relevant to exposure suits – a skin suit isn't suitable for cold water diving, for example. However, suitability runs much deeper than that.
Other questions you may want to ask yourself include: does my BCD have enough lift for the amount of weight I need? Will my fins be suitable if I'm diving in strong current? Is my equipment light enough to travel with? Will my boots be comfortable if I'm walking to shore entries?
We all know that dive equipment can be expensive, so future-proof your purchases by considering how long it will be suitable for. It's hard to say exactly where our dive journeys will take us, but think about whether your equipment will grow with your skills to prevent it becoming redundant in a few years time.
For example, if you see yourself tech diving in the future, you may want to consider a backplate and wing BCD with room to adapt it or change the bladder. If instructing is in your future you may want something with generous pockets to carry teaching materials.
Are you fitting comfortably?
Well-fitted gear will enhance your enjoyment of a dive, and being more comfortable underwater will give you more time to focus on your skills. This is much more enjoyable than worrying about a too-large BCD or the discomfort of a loose wetsuit.
Comfort goes hand-in-hand with good fit, and choosing specific scuba equipment for women can hugely improve your comfort. When it comes to exposure suits, women's cuts are generally better suited to accommodate hips and busts.
Women's BCD models can be better padded around the back and shoulders, and often have shorter backplates to sit more comfortably on the waist. Of course, there is still so much variation in body shapes and sizes – you may need to try different styles to find something perfect for you!
What scuba equipment should I buy first?
Choosing your first set of scuba equipment is a big commitment. There's so much to consider, and although it's tempting to get everything straight away that's not always an option. It's also better to take some time over these important (and often expensive) purchases.
We've got a full guide to the best scuba gear for beginners, including the 3 items you need to get first, and which purchases can wait a while!
---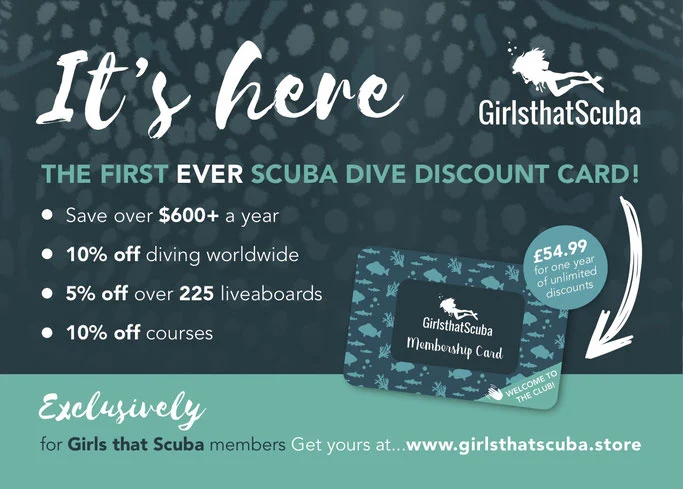 ---
Do your homework
Once you've established what sort of equipment will be suitable for your needs, get stuck into a bit of research. Read online reviews, check reviews on retailer sites as well as more impartial and in-depth blogs, and also search YouTube for detailed video reviews.
Be sure to use the GTS Facebook group, too! Search first to see if your chosen equipment has been discussed, and if you can't find a relevant post, create one yourself to seek out the wisdom of our community.
Fancy an even more exciting way of researching new gear? If you're lucky enough to have lots of dive friends, borrow equipment from others to try different styles, or try out different types of equipment when you're renting. Some dive shops may have the facilities to let you try before you buy, or even generous returns policies to allow you time to work out whether your purchase is right for you.
Where's the best place to buy new dive gear?
Keep it Local
Be sure to find out if you have a local provider – you'll be supporting your local dive community, and building a relationship with them will help you make better equipment decisions in the future.
This can also prove useful when it comes to getting your gear serviced. Many shops will be trained in servicing the equipment they sell, and it's important to keep your gear in tip-top shape.
Vacation Shopping
Get in a bit of destination dive shopping! Dive providers will often sell a range of the equipment they rent out, and you'll have instructors on hand who are fountains of knowledge for hard-wearing dive equipment.
Bear in mind that dive schools are often brand-affiliated, though, so may not have the widest variety. Additionally, buying abroad is usually better suited to small items such as masks – you may not have the luggage space to take things home.
Pre-Loved
This is a great way to dive a bit more sustainably! Many people buy all the gear after just a handful of dives and then fall out of love with the hobby and sell everything on, so there are bargains to be had in the second hand world.
You can find barely-used equipment at a great price in places such as local Facebook buy-and-sell groups (like our GTS Female Dive Gear Group) or eBay.
Be careful when purchasing like this though – if something seems too good to be true, it probably is. You should also budget for the cost of having the equipment serviced.
Again, dive club pals may come in handy in selling on pre-loved equipment, and dive schools sometimes sell on entry level models when upgrading their rental gear. Always be sure to check quality before handing over your hard-earned cash.
Online
Of course, there's always the wonder of online shopping if you want the widest possible choice. Remember to check returns policies to ensure you're covered if something doesn't quite fit right, and check for newsletter sign-ups for possible discounts or loyalty schemes.
If an online retailer does offer easy returns, consider ordering a number of different models and sizes to see what the fit is like in person. GTS Loves: Mike's Dive Store
Dive Shows
We have a whole section dedicated to equipment shopping at dive shows in our full post here.
With those tips in mind, what will be your next scuba purchase? Let us know in the comments below, or tag us on Instagram for a feature on our Share Saturday!
---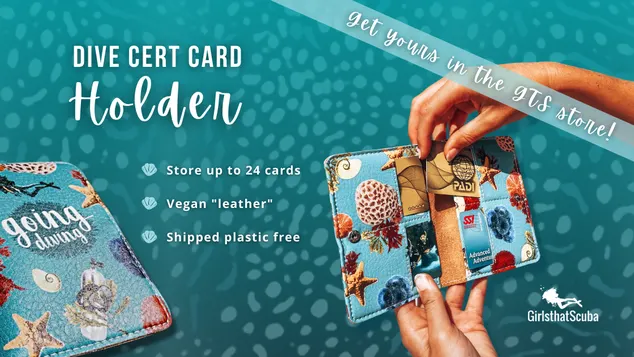 ---
About the Author – GTS Blog Writer Lauren
Lauren originally learned to dive in 2008, and her heart has been in the ocean ever since. In 2018 her sense of adventure and passion for the underwater world led her to Indonesia, where she completed her PADI Divemaster and Instructor qualifications. You can find her on Instagram @laurenelizabethexplores to follow where the currents take her next!