SCUBA STAR: Mersi, 20, is one of the only Indonesian female Dive Master currently working in Labuan Bajo, Flores Island – more commonly known in the scuba world as Komodo, famous for its crazy currents and magical mantas.
One of our GTS Facebook group moderators, Weeze, first met Mersi on a liveaboard in Komodo last year – her massive smiles, enthusiasm and dancing were infectious – underwater, it's a great way to pass those safety stop minutes! In a region where scuba diving is dominated by men training to be a Dive Master it was not a usual, or easy path for Mersi to take. Weeze was inspired and humbled talking to her, learning about her journey taking her to where she is today – a confident, friendly, experienced and inspirational dive guide.
In a place with so few female divers – how did you get into Scuba diving?
I grew up near the water, in Bajawa so I knew how to swim and learnt about the ocean at a young age. I went to High School in Labuan Bajo to study Tourism Management and was planning to work for a few years to save money to go to University in Bali, as it's very expensive and I come from a poor family. But a representative from Wicked Diving came to my school looking for local people to apply for their Divemaster Internship programme. Even though I had heard of scuba diving before, it was never something I'd thought much about – but the programme sounded very exciting so, along with three of my friends, I applied, and passed the entrance exams.
What was your initial experience like?
Starting my Open Water class I was pretty nervous, but because I was with my friends we supported and encouraged each other, saying 'we can do this!' First I thought I needed to do this, to make my parents proud of me; this would help me earn money for the family. Though it was really tiring – being in the water every day and learning so much, in a second language too! But now I love this job very, very much!
I thought it was so interesting underwater; seeing how the marine animals live, how they get their meals, how they behave. I loved seeing all the different species; the sharks, the huge mantas, the fish, and the beautiful corals – I love the corals! Now I understand more about them all and how to protect them, and about the diving itself.
The course took eight months, but it also included business, customer service skills and computer skills. Wicked Diving were very supportive, especially my Instructor Tom.
I was very nervous guiding my first group; it was during the 'black moon' (full moon) so the currents were very, very strong! I felt, 'I can't do this!' But Tom took me aside and said 'Mersi, you can do this! This is only your first time, you will learn more and get more experience.' Now, after two years, I know the currents, I know the sites, I know how to read people, and see how experienced or comfortable they are.
What are the biggest challenges you face as a female Dive Master? It is still very unusual here in Komodo – how did people react?
I didn't tell my parents I was diving until after I had completed my Advanced Open Water. I explained to them about the course, and they asked if I enjoyed the job, and when I said I did, they encouraged me to continue. But other people were, and are not always so supportive. Here, diving is seen as a man's job, and people feel that women should work on the land, not in the ocean. People sometimes gossip, and comment about the way I look, and that I work and live closely with men on the boat, and make up stories that are not true – but we are all like family on the liveaboard.
I ignore these people, and just get on with my job. This is my work – it's fun and I love it. My parents, my friends and the team at Wicked Diving have always supported me and that's all that matters.
And how about the challenges of working in Komodo?
Working in Komodo can be very challenging, especially during the full moon when the currents are strongest and some guests can feel panicked when faced with down currents. As a professional, 10 – 20 meters underwater, you need to react appropriately and stay calm. You need to learn how to make people trust you as their Divemaster; underwater, make eye contact, keep them calm, be able to communicate, 'trust me, stay with me, we will go up together, and be safe.'
When there was no or little current I would explore the dive sights closely and learn more about them, so when I jumped in strong currents I knew exactly where everything was, and the different ways to go depending on the currents and where there will be shelter.
Despite training with other women, you are now the only working female DM in Komodo. What would you say to others, who might be interested in doing what you do?
Sadly one of my friends got sick during the course and decided not to continue. The other two worked as Dive Masters for some time – but now they are both at University in Bali – paid for by money earnt as Dive masters.
I like to talk to people about what I do, and encourage them to try scuba diving. I try to explain with my pictures; using Instagram and Facebook – to show them how much I enjoy my job, and how interesting it is. And diving in Komodo; it's amazing! People from all round the world want to visit Komodo to dive, to see how wonderful it is, our place, my place! I feel very proud showing off Komodo.
Some of my friends ask me about diving, wondering if they could do it. The one thing I tell them is you have to be very strong – physically, but especially mentally. You are going to be with the boys, the men, so you have to be very strong and take the kicks. You have to be very committed.
Diving is not just about fun – being a Dive Master is about how you take care of your guests – safety is number one. You have to learn all the theory, and English is not my first language, so sometimes it was very difficult and I felt many ups and downs during my training. But the team in the office, and on the boat were very helpful and supportive. Sometimes I felt that I was expected to be perfect, and that could be really tough, but I understand, they wanted the best out of me.
You meet so many new friends, and have so many new experiences. You are always learning, and you need to focus on the positive, not the difficulties – keep telling yourself how strong you are, and its important to love yourself and ignore what other people may think.
I am very thankful I do this job, and that I help my parents and they are very, very proud of me.
Thank you Mersi, it's been such a privilege diving with you, in the beautiful underwater world of Komodo!
You can follow Mersi on Instagram @mersirensa
---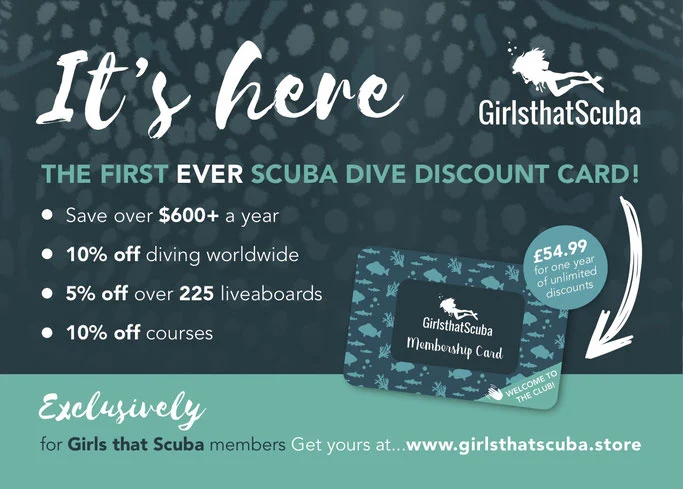 ---
About the Author
Weeze, originally from the UK, is a GTS moderator and Divemaster. Not only does she love to explore the underwater world, but up top too, especially learning about local cultures and social history whilst seeking out vegan ice cream! She writes about her adventures in her blog Weeze x Christina, as well as sharing photos on her Instagram.