We've come a long way from grainy phone snaps, so it's no wonder that many divers are opting to take their powerful smartphone cameras on their adventures.
Don't want to splurge on a full underwater camera setup? Lacking the space to travel with heavy camera equipment? Keen to share your dives quickly and easily without spending time transferring files to your phone? Check out these underwater phone cases and smartphone housings!
---
DIVEVOLK SeaTouch 4
The DIVEVOLK SeaTouch 4 Max case is unique from all the other housings. The SeaTouch case allows full access to the touch screen whilst underwater. This gives you much more creative freedom when taking photos.
You can use whatever camera app you choose to take your photos, rather than being limited to the compatible apps with other housings or the native camera app in your device.
This also means that your smartphone is more useful than just as a camera in the water, perhaps as a safety device to communicate on the surface. The manufacturer also implies that you can use your phone for entertainment on safety stops or decompression stops, but that has some questionable safety implications.
Your phone will be safe to a depth of 60m (197 feet), and the case covers a wide variety of phone models. Threads on the bottom allow you to mount a tray, handles, and accessories. These include colour correction filters and wide-angle lenses.
*Discount automatically applied at checkout.
---
ProShot Dive Universal iPhone Case
The ProShot Universal iPhone Housing is amongst the most affordable underwater phone cases in this guide. It's compatible with all iPhones, up to the brand new iPhone 15 models, and allows divers to take their iPhone to 40m (131 feet).
Like many housings, the ProShot Case works with a compatible app. This allows you to control the camera using the volume buttons on the housing, and ensures your phone will not lock whilst you're capturing your incredible dive! Don't worry about your battery, though – a built in "sleep mode" will maintain your phone's charge.
All ProShot iPhone housings come with a handle as standard, but the accessory can be changed and is compatible with any GoPro mounts.
The feature which truly sets this underwater phone housing apart is ProShot's 12 month iPhone Protection Guarantee. In the unlikely event that your iPhone is damaged due to a fault with the housing, you will be reimbursed for a replacement phone.
---
NEW Oceanic+ Dive Housing
This new-kid-on-the-block in the world of underwater phone housings does double duty. Not only does it allow you to use your iPhone camera underwater, it also works as a dive computer!
The Oceanic+ Dive Housing is compatible with iPhone models SE 2nd Generation and newer, but like any phone housing you'll get the best imagery with a newer model. Whatever iPhone you're using, you need to be running iOS 16 or above to use the Oceanic+ app. Unfortunately the housing is not available for Android devices at this time.
Oceanic+ Dive Housing is an advanced housing with a wealth of features. The display will show the camera as well as your current dive statistics, including dive time and depth.
With the Oceanic+ subscription, this housing can also be used as a functioning dive computer. It will display your remaining no-decompression time, safety stops, and other regular features of a dive computer. It uses a Bühlmann ZHL-16C algorithm with gradient factors. If you also have an Apple Watch Ultra, one Oceanic+ subscription will cover you for both devices. Both devices will then display your dive data.
As far as images go, you'll have no trouble capturing incredible seascapes and wildlife shots. The app enables you to capture images in RAW (if your device allows), and features algorithmic colour correction based on your depth for amazing underwater images on every dive! Learn more about the full features of the Oceanic+ Dive Housing here.
Whilst we don't think this will be a replacement for a dive computer for most scuba divers, this is an ideal device for the travelling diver. If you dive a couple of times a year and also want to capture the experience to share with your friends, this could be perfect for you!
---
Kraken Underwater Phone Case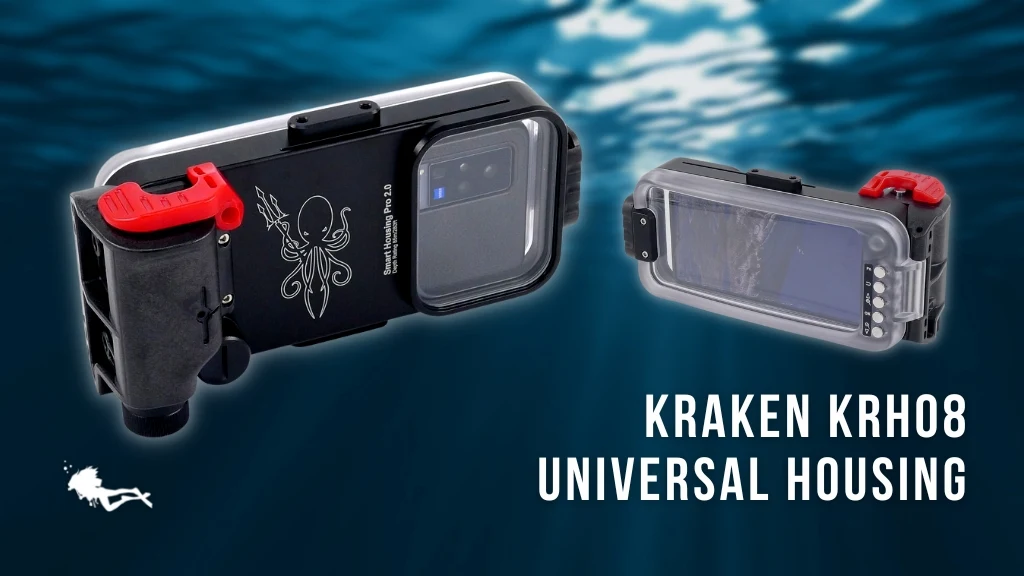 Kraken's second version of their popular underwater phone housing is well thought out and will keep your smartphone safe and protected on a dive. It's universal, meaning it's designed to fit the majority of smartphones. The maximum dimensions of 175mm x 8mm will fit any of the following:
All current iPhones up to the iPhone 14 Pro Max

All Google Pixel phones up to the Pixel 7 Pro

All Samsung Galaxy models
The case features a vacuum seal to prevent leaks underwater. There's also a clever sliding mechanism which allows you to apply or remove a red filter inside the case during your dive.
A major issue with earlier versions was draining the battery life on your device, however, this version has compensated with a built in battery allowing you to charge your device during the dive. The small custom charging cables are included for this.
Kraken's housing is depth rated to 85m (280 feet). There is also a pro version of the case which includes a depth and temperature sensor, meaning you can easily log your dives directly onto your phone using the housing.
---
---
Sealife SportDiver Underwater Housing
Sealife's SportDiver housing is suitable for iPhone 7 and above, up to the 14 Pro Max. It also fits most Android models – you can check whether your phone is compatible here. The case is vacuum sealed for safety.
It also features a large shutter which is user friendly even when diving in cold water with gloves. Sealife's case is depth rated to 40m (130 feet).
Sealife's casing works with an app, allowing you to easily switch between photo and video mode. Internal moisture sensors will warn the diver if the case begins to leak during the dive. You can add a red filter to the case for colour correction.
The SportDiver case features threads on the bottom, making it easier to mount the case onto a tray and add accessories such as lights. To truly enhance your underwater phone photography, you can buy a package including a tray and SeaDragon light.
---
---