This is part of a series of guest posts by Andi Cross, whose incredible expedition is telling dive stories from around the globe. Check out the previous story, and join us as she takes us to the Edges of Earth!
It's not every day you personally stumble on an unexplored diver's paradise. Often, when you're traveling for recreational diving, you're going for a specific purpose: a species, shipwreck, liveaboard, or a series of dive sites you've been dreaming of checking out.
We came to Vanuatu excited to dive the country's biggest island, Espiritu Santo, with a focus on World War II shipwrecks and sites. But, we left having an unexpected dive experience that excited us even more…
---
Exploring World War II Wrecks
When I first started researching diving in Vanuatu—an island chain off the east coast of Australia—there were a few stand out sites that came up repeatedly in search. The SS Coolidge shipwreck and a site called Million Dollar Point are considered the main events. Vanuatu was a battleground between the USA and Japan during the Second World War, and these two dive sites take you back to that time.
The SS Coolidge was a steam-powered cargo ship that sank in 1942, now resting at a depth of approximately 35m (115 feet). It's a well-preserved wreckage, including the ship's hull, cargo holds, and scattered artefacts, providing a glimpse into the wartime history of the region.
Million Dollar Point earned its name from the incredible amount of equipment and supplies that were dumped into the ocean by the US military after the war. We were shocked by the amount of submerged jeeps, trucks, bulldozers, forklifts and even piles of ammunition—making it unlike any dive site we'd ever seen before.
The most amazing aspect of this dive was how much life was stemming from the wreckage. It was a wild contrast of machinery and marine life, now working together as one.
That said, if you want to dive Espiritu Santo, the logical choice is to stay in or around a town called Luganville—the gateway to the World War II relics. We decided to take a slightly different approach.
---
Travelling Sustainably
Because our expedition team is traveling for 24 months, we often choose to stay at eco-accommodations. That's one of the many ways you can travel sustainably, as the act itself puts pressure on the environment.
We found an eco-homestay called Little Bay Bungalow, run by a lovely woman named Marie and her family. It was the perfect destination—on a bay, out of the Luganville tourist hot spots, surrounded by blue holes, and boasting a fresh, tropical breakfast every morning.
Of course, there was a catch. It was a bit over an hour away from all the main dive sites. Thinking ahead, we rented some tanks in Luganville because we were unsure what the bay would have to offer.
From there, Marie's family drove us up Espiritu Santo's east coast. We stopped on the side of the road for fresh coconuts, marvelled at the jungle around us, did not see another car the entire way, and landed at our homestay right outside a small, local village called Port Orly. Glassed off, flawless, and a reef you could see from the car window—we were intrigued about the potential of diving Little Bay upon arrival.
Donning our snorkel gear to check it out first, we swam to the coral paradise that was sitting on this woman's front yard. It had never been dove before.
---
Diving at Little Bay
Even at high tide, this site was shallow. We exited our bungalow, walked 50m (160 feet) to the beach, and navigated around thorny rock patches to make it to the reef wall. The drop off was 7-8m (23-24 feet), but we first had to make it over the most gorgeous coral garden filled with healthy varieties and a wide range of fish species we couldn't identify at all. And that meant we were in 1m (3 feet) of water, laser focused on trim, making sure not to hit a single piece of flawless coral.
We classified this dive as moderate to advanced, depending on the conditions. There was a lot of navigation to consider, a very fragile marine environment in the shallows, and a rather aggressive surge that continuously came in at high tide.
There were lots of interesting tunnels and passageways to swim through, which required thoughtful buoyancy. Huge bommies and shelves were everywhere, with most of the marine action happening on top. In short: comfortability in surging shallows was key.
When we surfaced past the reef, two untouched islands were in sight. There, we found a significant lobster colony, parrotfish sanctuaries and bat caves on shore! When glassed off, the visibility was exceptional, and we could see the rich health of this reef for exactly what it was.
It was so alive and thriving given the lack of human interaction, taking us back to a time before our species roamed the earth.
---
---
Protecting the Dive Sites
Marie had made sure her bay was classified as a protected conservation area—even though she had never been below the waterline herself. Given that it's practically untouched, we helped Marie establish diving guidelines for those who come after us and want a chance to see the perfection for themselves.
That included things such as diving responsibly (of course), wearing the right gear for shallow water diving, understanding the fragility of coral environments, using reef-safe sun protection, to name a few.
When you find a dive site like this, you question sharing it. You can either tell more people and run the risk of having it impacted due to tourism. Or talk about it and help more people understand the importance of reef systems—as they have a chance to see an alive and active natural wonder first hand.
When you see something yourself, and have a deep emotional connection to an experience and place, it's much easier to digest the "why" surrounding ocean conservation.
---
An Unforgettable Experience
When staying with Marie, she treated us like family. From the healthy, home-cooked meals all coming from her plantation, to her tours around the coastline showing us Little Bay's land-based greatest hits—we not only formed a relationship with the reef, but with her as well. We decided we had to share our special experience with the Girls that Scuba community.
Having a chance to meet Marie, try her fresh coconuts and roll out of bed to dive this off-the-map site will surely be one of those unforgettable experiences that you'll cherish for the rest of your life. Not to mention, supporting a local, woman-operated eco-homestay is critical to see a place like Vanuatu continue to thrive. If you have a chance to make it to the edges of earth, the spirit of Santo is certainly calling.
Thank you to the Vanuatu Tourism Office for supporting Andi's expedition. Special recognition for Jaimeen Kenni for her support in making this possible.
---
About the Author
Andi Cross is a growth strategist, divemaster, founder of impact consultancy WILDPALM, and lead of the Edges of Earth expedition, highlighting stories of remote ocean conservation communities and organizations in 50 destinations worldwide. To keep up with the expedition and see where the team is going next, follow the team on Instagram, LinkedIn, TikTok, YouTube and their website.
---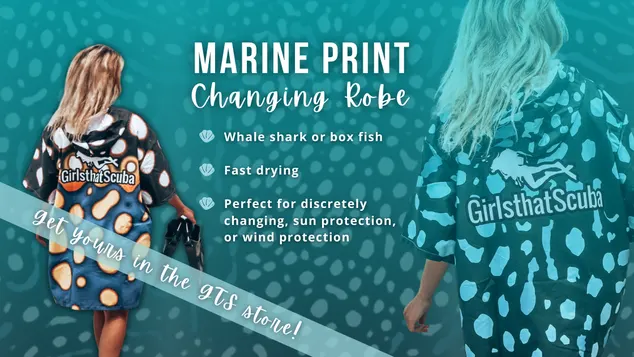 ---