When you're looking for the best women's wetsuits for scuba diving you want to make sure you get enough bang for your buck. Wetsuits can be quite the investment piece!
To help you out we've reviewed some of the best women's scuba diving wetsuits. Check out our recommendations, ranging from warm water women's wetsuits to the best semi-dry wetsuits for women. We also have a full guide to the best plus size dive wear and wetsuits for women!
---
Best All-Round Women's Scuba Diving Wetsuit
Fourth Element wetsuits are designed by scuba divers for scuba divers. With sustainability and quality at the forefront of all their processes, everything is well thought out. Every element is considered, from the thread to the packaging.
A main reason we've chosen the Fourth Element Xenos Women's Wetsuit as our best 'all-rounder' wetsuit is the ease of getting it on and off. This was exactly the design criteria when the Xenos was being created. This is achieved by cut away ankles (inspired by the fast transition features of triathlon suits) and smooth linings in the arms and legs.
Comfortable stretch neoprene throughout ensures that the suit fits well, hugging the body and minimising water flushing through the wetsuit. Double glued and blind-stitched seams combine with internal ankle seals and wrist seals to minimise water ingress.
The Fourth Element Xenos Womens Wetsuit is available in 7mm. There's also a 5mm Xenos Wetsuit, making it suitable for all types of diving. Our favourite is the 3mm, which really is SO easy to get on!
---
Best Warm Water Diving Women's Wetsuits
When diving in warm water you may not find you even need a scuba diving wetsuit. However, it really depends how warm you think is warm. As well as keeping you warm, wearing a wetsuit can also provide SPF protection and help you avoid those pesky stings and scrapes.
We'd opt for a 2.5mm wetsuit in temperatures around 27ºC (80ºF). We love the Waterproof W30 2.5mm Women's Wetsuit for these conditions!
We love the ergonomic cut of the suit, which offers excellent fit whilst also providing plenty of stretch for moving around freely underwater. A central rear zip and pull cord allow for easy self donning and doffing.
A hook and loop style fastening tab at the top of the zip ensures a custom fit around the neck. Additionally, a special hook design protects the surrounding neoprene from abrasive damage.
If you're looking for a little extra warmth – perhaps for multiple dives a day on a liveaboard – we'd go for the Aqualung HydroFlex 3mm.
This suit features super-stretch neoprene, stretching up to 250% more than standard neoprene! This provides added comfort in the water, as well as when taking the wetsuit on and off – trust us on this one, if you get the right size, it's a breeze to get off.
---
Best Semidry Women's Wetsuit For Cold Water
Diving in cold water but don't want to commit to a drysuit? These semidry women's wetsuits are as close as you'll get to staying warm and dry, and are absolutely the best women's wetsuits for scuba diving in cold conditions!
Now, let's not pretended these are easy to get on – that's not the point in them. All those layers of neoprene are doing a great job to keep you warm, but you'll be doing a wetsuit dance to get them off.
Our go-to is the Apeks ThermiQ 8/7mm Semi-Dry. This wetsuit is a dream in cold water, barely even getting you wet. The ultimate in wetsuit luxury, the 8/7mm women's scuba dive wetsuit is a warm, flexible wetsuit.
The suit's advanced features were designed and developed for the demands of advanced diving. What's more, the ThermiQ is made from limestone-based neoprene, instead of the more traditional chemical-based petroleum neoprene. Take a look at our video review of the Apeks ThermiQ!
There aren't as many places to buy the Apeks ThermiQ in the US, so make sure you ask your local dive shop if they can get it in stock!
Coming in a close second is the Scubapro Nova-Scotia 7.5mm Women's Semi-Dry Wetsuit. While there's not much difference in price, there's some difference in the design. The main difference is the Everflex neoprene its made from, making it a bit easier to put on (read: still not easy).
Feedback from our Girls that Scuba community says that the Nova-Scotia runs small – women typically need a suit 1-1.5 sizes larger than normal.
---
Best Women's Shorty Wetsuit For Diving
Shorty scuba diving wetsuits are great for tropical diving or worn as an extra layer under a full length suit. With less neoprene you get more movement and flexibility, as well as a more affordable price tag!
We love the Aqua Lung HydroFlex Shorty, and it's not just for the beautiful coral design. Like the longer HydroFlex, we also love the absolute ease of putting it on and getting it off. The neoprene is super-stretch non-petroleum based PAD-free Neoprene. Anti-abrasion detailing on the shoulders provides much needed protection from BCDs, too. Coming in around $100, it's an easy purchase.
Another firm favourite of ours is the Cressi Playa Flex 2.5mm Women's Shorty. We are all about this front zip. This zip placement means no reaching around to do a back zip, and more room and comfort for larger breasts. The double-lined neoprene retains its shape and insulating ability at depth. It's the perfect tropical diving or snorkelling women's wetsuit.
What's your favourite women's scuba diving wetsuit? Join the Girls that Scuba community and let us know!
---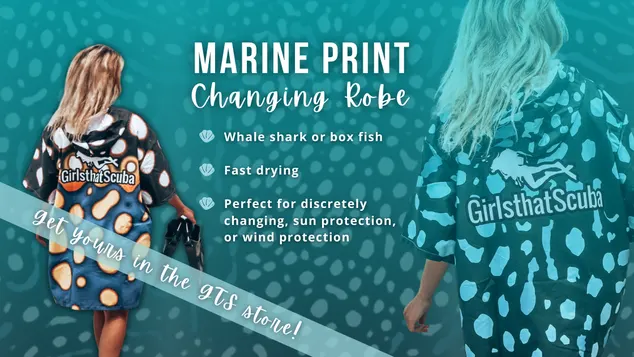 ---