When you look for scuba diving destinations, the same spots come up time and time again. As much as we love the classics (Red Sea, Indonesia, Mexico – we're looking at you), there are definitely some unusual dive destinations which are hidden gems!
We reached out to our Girls that Scuba community to ask what unusual dive destinations we should dive into. Here's your guide to some off-the-beaten-track dive travel.
---
1. Skellig Michael, West Ireland
Skellig Michael, or Sceilg Mhichíl, is a stunning cold water diving with sheer walls of corals and sponges in great visibility. Diving underneath 218m cliffs towering above the water, there are accessible sites down to 30m below the surface. The area is a UNESCO site and a marine reserve, with sea bird colonies on the surface. For any film lovers, it was also a Star Wars filming location!
---
2. Maria la Gorda, Guanacabibes, Cuba
Travellers up for an adventure should check out this dive resort on the westernmost point of Cuba. There are a variety of warm-water dive sites, from healthy shallow reefs to deep open-water areas. This means opportunities to experience a broad array of biodiversity. There's something here for divers of every experience level.
---
3. Isla de la Plata, Puerto López, Ecuador
You might think Ecuador is all about the Galapagos, but it has other dive spots to offer too. Isla de la Plata is a little known place with a big draw for scuba divers. This hidden gem was included in our guide for the best places to dive with manta rays, as it's home to the world's largest aggregation of oceanic mantas. Need we say more?
---
4. Poor Knights Islands, New Zeland
The Poor Knights Islands are a fully protected, no-take, marine reserve. Stingrays patrol the volcanic underwater archways, which are choc-full of schooling fish. Pinnacles are covered in multi-coloured bushy bryozoans dotted with weird and wonderful nudibranchs. For Girls that Tech Dive, NZ's Poor Knights Islands and Bay of Islands are some of the world's best kept technical diving secrets!
Take a trip to the Bay of Islands for some wreck and reef diving and a spot of swimming with dolphins, and you've got a diving vacation to rave about.
---
5. Yonaguni, Okinawa, Japan
Yonaguni offers pristine reefs, 50m+ visibility, turtles, fields of anemones, countless caverns, and huge schools of hammerheads. You can also explore the mysterious underwater ruins at Yonaguni Monument. On land, there's the added bonus of delicious Japanese food, cheap beer ($2 a bottle) and sake!
---
6. Bangka Island, North Sulawesi, Indonesia
Lembeh and Bunaken are both fairly busy these days with many dive resorts to choose from. Bangka Island is the hidden secret island equidistant between the two. Although it's only 2 hours drive and boat from Manado airport, Bangka feels really remote.
Being in the centre of the coral triangle means incredible biodiverse marine life – from nudis to the magnificent dugong, frogfish, pygmy seahorses, you'll see incredible things on every dive. There's also a massive variety of dive sites – walls, caverns, pinnacles, shallow reefs, muck dives, and drift dives.
---
---
7. Redondo Beach, California
Visit during the beginning of December for the impressive squid runs! This is a sandy bottom, shore dive site with facilities. There is a deep canyon behind it, and at night all sorts of life comes up from the canyon to feed. The squid come up to 70-100 feet to mate and lay their egg sacs. It's an amazing sight to see with tens of thousands of squid between you and your buddy. Read more about scuba diving in California!
---
8. Scotland, UK
Scapa Flow is a wreck diver's paradise, with sprawling World War II shipwrecks. There are also walls covered with life, reefs full of serpulid tubes, firework anemones, soft corals, and scallops, to name just a few. In the summer you can dive with basking sharks up to 10 metres in length. Or you can dive with seals on the East Coast, explore beautiful caves in St Abbs, or even encounter wild dolphins on the North Coast, if you're lucky!
---
9. Pico, Azores
This Portuguese territory dotted in the middle of the Atlantic is sometimes referred to as a European answer to Hawaii. The islands of the Azores offer some of the best encounters with pelagic (open-ocean dwelling) life in Europe, and Pico is one of the best islands to access some of the best. From Pico you can dive the stunning Princess Alice Bank, to come face to face with huge fevers of mobula rays and swim alongside blue sharks. Read more about diving in the Azores in our full guide!
---
10. Taveuni, Fiji
Visit the great white wall and enjoy the endless soft corals. Taveuni is also filled with marine life and pristine hard corals. On your surface interval, take in the vibrant culture of Fiji and enjoy some Kava.
---
11. Chuuk (Truk) Lagoon, Micronesia
If you got excited at the prospect of World War II wrecks but balked at the Scottish temperatures above, Truk Lagoon is calling your name. This atoll is well worth the challenging journey to get to it, with incredibly well preserved shipwrecks in 30ºC (86ºF) water.
Although Truk Lagoon is well known for technical diving, there are also wrecks which are accessible to recreational divers. The wrecks contain interesting cargo, exciting swimthroughs, and stunning marine life.
---
12. Rangiroa, Tuamotus, French Polynesia
For a truly unbelievable shark dive experience, head to Rangiroa in the Tuamotus, French Polynesia, to dive The Pass. You start outside the pass on the incoming tide on a reef that feels like it was plucked from Finding Nemo, and then the current begins to pick up and carries you through The Pass into the crater.
Inside, you simply drift along watching sharks, eagle rays, manta rays, and an array of sea life many divers only dream of. Your drift ends in The Aquarium over a beautiful reef full of tropical sea life. Plus the Tuamotus are beautiful, remote and quiet. Amazing!
---
---
13. Shark City, Ito, Tateyama, Japan
Also referred to as Shark Scramble, this dive is a few hours away from Tokyo and offers a unique experience to dive surrounded by hundreds of sharks. You'll be hanging out underwater with banded houndsharks, red stingrays, large groupers, and bulgyhead wrasses.
---
14. Silfra Fissure, Iceland
Silfra isn't quite the scuba diving hidden gem it used to be, but diving between two tectonic plates certainly fits the bill as an unusual dive destination. In the depths of this underwater canyon, visibility reaches a crystalline 100m (328 ft). If there's a dive which you'd want to get drysuit certified for, it's this one!
It's not just Silfra, though. Iceland has an array of other stunning dive sites to enjoy, including underwater geysers, wrecks, and unique cold water marine life.
---
15. Flower Garden Banks, Texas, USA
About 100 miles off the coast of Texas exists one of the healthiest reef systems in the world, thanks to its marine sanctuary status. The Flower Garden Banks in the Gulf of Mexico are definitely worth the trip out through one of the approved charters. Large pelagic species make frequent stops by the reef system on their migratory journeys. This is better suited for intermediate to advanced divers due to conditions.
---
16. Ningaloo Reef, Western Australia
When you hear the words "scuba diving" and "Australia" uttered in the same sentence, most people's brains go straight to the Great Barrier Reef. However, did you know that the west coast of Australia also offers some out-of-this-world scuba diving opportunities?
Ningaloo Reef, accessed from Exmouth or Coral Bay, is the place to be if you're ready to tick the big guys off your scuba to-see-list. There are dive sites suited to all experience levels and something to please every diver. Ningaloo is also one of the world's best places to scuba dive with whalesharks (March-August).
Manta rays, large loggerhead and green turtles, dugongs, and a huge variety of shark species also inhabit the crystal waters. Expect to see nurse sharks, whitetip reef sharks, leopard sharks and wobbegongs. If that isn't enough, between June and November you may be lucky enough to swim alongside humpback whales.
---
17. Fulidhoo Island, Maldives
The Maldives is another dive location which isn't exactly unusual, but staying on a local island rather than a private resort or luxury liveaboard is a more unusual (and cheaper!) way to do things. Fulidhoo has access to world-class shark night dives and almost daily manta ray sightings. Read more about our time spent diving in Fulidhoo.
---
18. Galapagos
Okay, this one isn't exactly unusual, but it's the dream. Schools of hammerheads, dolphins and rays make these islands a highlight for many divers. Will your diving dreams come true in the coming year?
---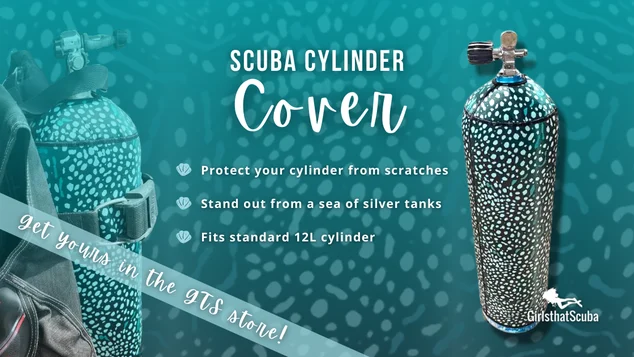 ---