Galapagos – the dream scuba destination for many! But why is scuba diving in the Galapagos so sought after? What can you expect to see there and what are the best dive sites there?
What makes Galapagos' biodiversity so interesting? Just picture this: you can dive with tropical fish after hanging out with penguins on the beach; you can see marine species that can't be found anywhere else in the world, and you could even spot pelagic species such as hammerhead sharks and spotted eagle rays close to shore, which isn't possible elsewhere in the world. GTS member Kristin from Be My Travel Muse tells us why she's heading out there this year
About the Galapagos
The Galapagos was declared as a UNESCO World Heritage site in the '70s. The designation was later extended to include the Galapagos Marine Reserve, which is the second largest in the world. Endemism (the ecological state of a species being unique to a defined geographic location) in the Galapagos Islands is some of the highest in the world. Examples include the Galapagos tortoise, flightless cormorant, and the Galapagos shark.
According to Galapagos.org, "About 80% of the land birds you will see, 97% of the reptiles and land mammals, and more than 30% of the plants are endemic. More than 20% of the marine species in Galapagos are found nowhere else on earth."
The biodiversity found in the Galapagos is caused by its geographical location. The chain of islands is isolated from the Ecuador mainland by about 600 miles. It is also positioned on the equator, which has a temperate climate, yet stirred with cooling water from the south and west, and warm current from the north. Finally, various habitat zones including marine, shore, arid, and transition, make the Galapagos a perfect breeding ground for some of the most interesting species in the world.
Scuba Diving in the Galapagos
So what can one possibly see when diving the Galapagos? Over 450 species of fish, whales, dolphins, sharks, marine iguanas, turtles, rays, seals, sea lions, plus colorful coral reefs, dancing seaweeds, and so much more.
Kicker Rock: Also known as Leon Dormido, Kicker Rock is one of the best dive sites in the world. This unique rock formation, which is an extinct volcano, towers several hundred feet above the ocean and is home to a cornucopia of marine life. It is common to see hammerhead sharks, Galapagos sharks, whitetip reef sharks, spotted eagle rays, sea turtles, sea lions, barracudas, eels, and schools of fish so large that they block out the sun. it is possible to see all of them in one dive. This area is heavily regulated and a guide is required. You have the option to dive or snorkel.
Gordons Rocks: Gordon Rocks is known as arguably the best place in the world to see schools of hammerhead sharks. However, this dive site is only for experienced divers with more than 30 documented dives, though some dive shops may allow 25+ documented dives. It's nicknamed as "the washing machine" thanks to its incredibly strong currents. You'd really want to have good buoyancy, and you won't have much time to equalize at the surface, as you need to descend quickly to avoid getting swept away. Be realistic with your capability as a diver if you are interested in Gordon's Rocks. If you are inexperienced but would like to see the hammer sharks (and I don't blame you!), North Seymour is a good alternative.
Darwin's Arch: Accessible only by liveaboard boats, most liveaboard tour companies in Galapagos use Darwin's Arch as their biggest selling point, and for good reasons. Within 30 feet, you may encounter eagle rays, Manta rays, turtles, dolphins, and if you are extra lucky, whale sharks. Hammerhead sharks, Galapagos sharks, and reef sharks are all commonly seen in Darwin's Arch. Divers often dive here over and over again – it is that magnificent of a dive site. The currents in this dive site are unpredictable, so be sure to go with a reputable company with experienced guides.
Check out liveaboards in Galapagos here. And if you are apart of our GTS membership card you get 5% off liveaboards – sign up and save!
Shark Point: There are a number of great dive sites on Wolf Island, but Shark Point is the most sought after. Similar to Darwin's Arch, this dive spot is only accessible from a liveaboard, and you have to be an experienced diver to manage this dive site, as the currents are harsh and visibility can be quite limited. It is all worth it when a majestic whale shark swims right by you, though.
---
---
Water Conditions in Galapagos
Galapagos is generally considered as a diving spot for experienced divers because of a few conditions:
Currents: Many of the best dive sites in Galapagos, like Darwin's Arch and Shark Point mentioned above, have strong and unpredictable currents. Intermediate to advanced divers will get the most out of their trips. If you are not very experienced, go with a reputable dive company and adhere to the guide's instructions.
Water temperature: On the surface, you can expect about 64°F – 77°F year round. However, you may encounter 56 °F in the colder parts of the islands. A 5-7 mm wetsuit is recommended. Take a look at our female gear guide to pick your perfect cold-water wetsuit.
Scuba vs Snorkelling in Galapagos
Can you still enjoy the marine life of Galapagos if you do not dive? The answer is yes! Many dive sites have visibility clear enough for snorkelers, such as the spectacular bay below Cerro Tijeretas, where you could potentially see sharks, countless species of fish, dolphins, manta rays, and turtles. One of the most unique snorkeling experiences in Galapagos is that you can watch from below the surface as blue-footed boobies dive underwater to catch fish.
Another popular snorkeling spot in Galapagos is Las Tintoreras, which is heavily regulated to keep the delicate ecology in balance. You can potentially see white tip reef sharks, marine turtles, manta rays, iguanas and sea lion while snorkeling in the hidden coves around the island.
In many cases, snorkeling can be just as good as diving, but obviously diving lets you go farther and stay down longer!
---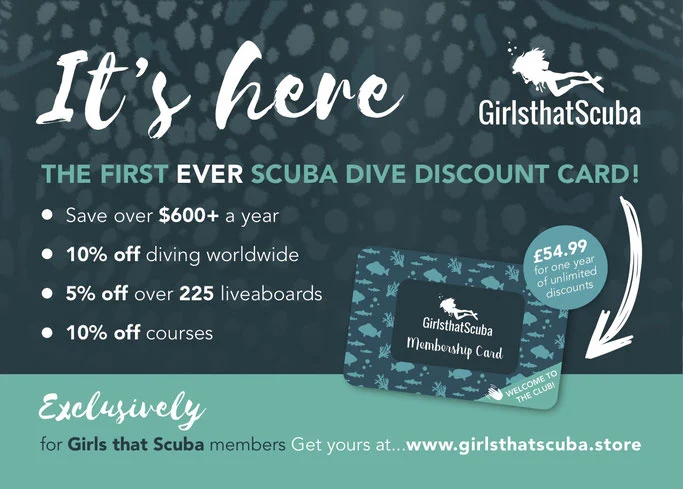 ---
Liveaboard vs Land-based in Galapagos
Liveaboards are a great way to access far off places. Certain remote dive sites are only accessible by liveaboards in the Galapagos. They also tend to come with very experienced guides that will keep you safe and ensure a pleasant diving experience. However, they are very expensive in galapagos and tend to book out quite far in advance.
I love liveaboards, but I truly believe that land-based diving tours are just as good in Galapagos. You'd want to keep some time for the activities on land, such as hiking, visiting the research centers, and surfing!
Want to dive the Galapagos?
I'm Kristin from Be My Travel Muse. I've been traveling, mostly solo, around the world since 2012. In that time I've gone diving all over Belize, Indonesia, Borneo, and the Philippines, learning to freedive as well, which I did with Humpback whales in Tonga.Last year I started running women's adventure tours and so far we've been backcountry hiking in Alaska, on safari in Namibia and Botswana, and hiked the Inca Trail in Peru. One of our upcoming destinations this year is Galapagos, where we will spend an entire week dedicated to scuba diving, and the other week to hiking, biking, surfing, snorkeling, and kayaking on what is widely considered one of the most beautiful islands in the Galapagos.
Our groups are kept small so we can all get to know each other and have access to smaller, local, more authentic and ecological local operators. You can find out more about the BMTM Women's Tour to the Galapagos here.