Scuba diving with whale sharks is high on most divers' bucket lists. Neither whale nor shark, whale sharks hold the title of largest fish in the ocean. They often reach a whopping 40 ft in length. Yet despite their huge size, they're incredibly docile in nature.
Whale sharks feed mainly on plankton, krill and small fish that they filter out of the ocean through their gills and swallow directly. They don't have any teeth to chew with!
They lack spikes and stingers which, combined with their incredibly gentle demeanour, has earned them the nickname of 'gentle giant' around the globe. Unsurprisingly, many ocean lovers are desperate to get a glimpse of these majestic creatures in the water.
Luckily, whale sharks can be found in tropical and temperate waters across the world. However, these lovable giants are a migratory species, so they're often on the move. A few fortunate countries are home to whale sharks throughout the year. But for most places, they only hang around for a few months.
It's worth doing your research to help boost your chances of seeing one of these incredible creatures up close. This is why we've brought you a month-by-month guide for where to swim with whale sharks – enjoy!
---
---
January – Tofo, Mozambique
You can spot whale sharks in Mozambique throughout the year, but October–March tends to be the best time. Tofo is an ideal place to scuba dive with whale sharks in January.
During these months, the plankton blooms occur, attracting whale sharks to feed. But it's not just whale sharks that stop by for a snack – manta rays are common sightings here too!
You can find whale sharks all along the coast, but Tofo Beach is known as the 'whale shark capital of Africa'. This is one of your best bets for a sighting.
There are plenty of tour operators running snorkel and dive whale shark excursions. Make sure you keep your eyes open for dugongs too – these wondrous creatures can also be found in the area year-round.
Check out dive resorts in Tofo here!
---
February – Donsol, Philippines
Looking for where to swim with whale sharks in February? They can be spotted around the Philippines from November to June, with sightings peaking around February and April.
If you want an almost guaranteed chance to go swimming with whale sharks at this time of year, then we recommend heading over to Donsol, Sorsogon. The Donsol River brings plenty of plankton and krill to the area. This means that the whale sharks return each year looking for some tasty snacks.
Donsol is paving the way for eco-friendly tourism in the Philippines. This means that the sharks aren't fed and there are strict rules on how to swim with them safely. But bear in mind that this will be a snorkel-only experience – scuba diving is forbidden in Donsol.
Take a look at these resorts in the Philippines!
---
March – Roatan, Honduras
Although you might be lucky enough to catch sight of a whale shark in Honduras at any time of year, the best months for whale sharks in Roatan are March – May and August – October.
Whale sharks can be found at many sites, but we recommend a trip to the Bay Islands. Roatan is particularly well known as a hotspot for diving with whale sharks.
These islands are home to the only non-profit research centre (the WSORC) to receive a permit from the Honduran government to study whale sharks. There's plenty of conservation efforts in the area!
Roatan captured your eye? Look at trips here!
---
April – Ningaloo Reef, Australia
The Great Barrier Reef has long-attracted scuba divers to Australia's east coast, but it's Australia's west coast which is home to one of the best spots in the world to swim with whale sharks. Ningaloo Reef is one of very few places where sightings are almost certain (at the right time of year).
Peak whale shark season is between March and July, but we recommend going to Ningaloo between March and May if you can. You might be lucky enough to witness a coral spawning event on the same trip at this time of year.
Corals from all over the reef release their sperm and egg cells at the same time during a spawning event. Some cells will collide, merge, and slowly fall to the ocean floor, and a new coral will begin to grow.
Scientists are still trying to figure out exactly how corals manage to do this at the same time, but the result is a spectacular show of multicoloured specks flying around the ocean. The event has been described as an underwater blizzard.
But be warned – this incredible natural phenomenon only occurs at night. You might want to get some night dive practice in before your trip!
Check out Australian liveaboards here!
---
May – Gladden Spit, Belize
If you're wondering where to go whale shark swimming in May, we recommend heading to Belize. Specifically, the protected Gladden Spit and Silk Cayes Marine Reserve (GSSCMR) in the centre of Belize's Barrier Reef.
During the months of April and May, a mass fish-spawning event (similar to the coral spawning event above) occurs here, attracting whale sharks from near and far.
The spawning is linked to the phase of the moon. If you really want to swim with the whale sharks, it's best to book a trip for just after the full moon. Tour operators in the area will be able to help you with this.
You can find Belize dive resorts here!
---
Whale Shark Encounter Calendar
Want to save the handy information in this article for later? Save this image for when you need to recall the best destinations to swim with whale sharks!
---
June – Koh Tao, Thailand
Thailand is one of the most affordable destinations on our list. It is known for incredible diving, great food, and vibrant nightlife.
If you want to enjoy all of these on your trip, as well as the chance to swim with a whale shark, we recommend the island of Koh Tao. The main whale shark season in Koh Tao runs from March to June, although you can sometimes find whale sharks here in September and October too.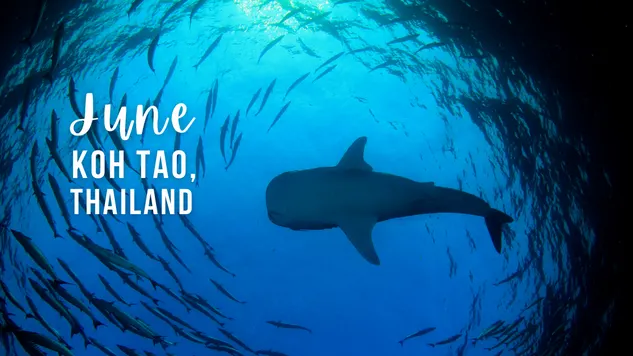 Whale sharks are often seen swimming around many of the dive sites. Chumphon Pinnacle and Sail Rock offer some of the best chances. There are other spots closer to shore where you can snorkel with the whale sharks too.
Heading to Koh Tao? Take a look at these dive resorts!
---
July – Hurghada, Marsa Alam and El Quisier, Egypt
The best time of year to see whale sharks swimming in Egypt is May- July. This also coincides with hammerhead season, so if you're lucky you may get to see both!
The great thing about diving with whale sharks in Egypt is that you don't have to try too hard. Whale sharks are regulars at many tourist destinations, including Hurghada, Marsa Alam and El Quisier.
If liveaboards are more your thing there are plenty of operators in the area. The rates also tend to be cheaper than in most whale shark destinations.
Egypt liveaboards can be found here!
---
August – Isla Holbox, Mexico
With two long coastlines facing different oceans, people often wonder where to swim with whale sharks in Mexico. Really it depends on the time of year, but if we had to pick one place it would be Isla Holbox, just to the north of Cancun.
From May to September, you can find whale sharks hanging around in the warm waters surrounding the island, and during these months you can often enjoy bioluminescence in the water at night.
The island itself is less developed than some of the other nearby islands (there are no cars allowed), making for a more relaxed experience.
Take a look at dive operators in Mexico!
---
September – Galapagos Islands, Ecuador
Galapagos is a dream destination for many scuba divers, and it offers visitors the chance to see huge aggregations of hammerheads, marine iguanas and some incredible corals.
If you want to make sure that you spot a whale shark among all the other wildlife you'll see, then the dive sites surrounding Wolf and Darwin Island are your best bet. The main season runs from June to November.
Booking on to a liveaboard won't come cheap at this time of year (or any time, for that matter), but you'll get the chance to swim with some of the largest whale sharks around as well as see some truly unique sights.
Check out these once-in-a-lifetime Galapagos liveaboards!
---
October – Mahé, Seychelles
The Seychelles archipelago is made up of 115 pristine islands scattered around the Indian Ocean. But with so many islands to choose from, it can be hard to know where to go whale shark swimming.
Fortunately, one of the best spots is on Mahé Island, the largest and most accessible of all the islands. Beau Vallon Bay in the northwest is a whale shark hotspot, and there are plenty of tour operators in the area offering the chance to swim, dive, and even freedive with whale sharks.
You can also find whale sharks around the neighbouring islands of Praslin and La Digue (again, there are plenty of tour operators offering trips).
Historically, the best time of year to see whale sharks around Mahé has been September–November, although this pattern is no longer as strict, and they can be seen at other months of the year too.
---
November – South Ari Atoll, Maldives
You can see whale sharks year-round in the Maldives, but if you go in November and December, you'll get to enjoy calm seas, sunny skies and great visibility too.
Although you can spot whale sharks all over the Maldives, there are plenty of locations offering exclusive trips far away from the crowds. These can be found in resorts on small islands such as South Ari Atoll.
Liveaboards are an ideal way to see the Maldives – take a look!
---
December – Ghoubbet al Kharab, Djibouti
Djibouti is a whale shark hotspot from November to February thanks to the plankton-rich waters of the Gulf of Tadjoura. Even more excitingly, Djibouti is one of the few places in the world where juvenile whale sharks are known to hang out.
The waters of Ghoubbet al Kharab are especially rich in plankton, and the bay is closed, so it makes an ideal nursery ground for these baby giants. Djibouti is a truly unique place to dive!
Where was your favourite whale shark encounter? Let us know in the comments below, and share this with a buddy who needs to head on a whale shark trip with you!
---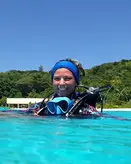 About the Author
Rose has spent the last few years living in Europe, the Seychelles and Kenya, working as a dive instructor, writer and conservationist. She's having trouble with her sinuses at the moment and can't dive, but she hopes to be back underwater soon!
---