The State of California is located on the west coast of the United States. It borders the Pacific Ocean and holds the title as the third largest state. With 840 miles of coastline it can be difficult to decide what part of California to visit, never mind where to dive!
Scuba diving in California is often overlooked for warm water's coral reefs. However, the nutrients that the cold water brings sustains large marine life that you will not see in warmer waters.
Here, we dive deep into everything you need to know about scuba diving in California. You'll learn what marine life you'll see, California scuba diving sites to explore, and what conditions to expect. Whether you're interested in boat diving, shore diving, oil rigs, kelp forests or shipwrecks, diving in California has it all.
---
California – The Basics
California is one of the most biodiverse places in the world. However, what most people tend to overlook is the magic of California's kelp forests. Divers might be put off by the cold, but you can dive in California year round with the right exposure suits.
Three international airports make it a convenient location for scuba divers travelling from the western US (and further afield). Marine enthusiasts are sure to have an experience they talk about for years to come.
---
What marine life can I see in California?
California is home to many must see marine animals – from nudibranchs, wolf eels, and giant sea bass, to pinnipeds and sharks. One thing is guaranteed, you will see the bright orange garibaldi wherever you dive.
In the summer, whale enthusiasts flood California in hopes of getting a glimpse of blue whales migrating. While unusual, it is not unheard of to run into whales and dolphins while you dive in California, even from the shore.
Shark Diving in California
There are lots of opportunities for shark diving in California. In Southern California, springtime brings the broadnose sevengill shark, while summer brings congregating leopard sharks. You can take charters to see blue sharks, mako sharks and the ultimate shark – the great white shark.
---
What are the diving conditions like in California?
The best visibility in California tends to be in the fall, when it can get up to 30m (98 feet). In the summer, the visibility tends to reduce to less than 6m (20 feet). Many amazing dives are accessible from shore, but the tidal changes and surges are something to be aware of.
California water temperatures vary from 14ºC (57ºF) in winter and spring to 20ºC (68ºF) in the summer and fall. These temperatures mean you will need a minimum of a 7mm wetsuit, hood, and gloves.
That extra neoprene of course comes with extra weight, so the majority of locals opt to dive in drysuits. If you've been thinking about getting your drysuit certification, California is a great place to do it.
---
Where should I dive in California?
There are countless California scuba diving sites to explore, spread across multiple areas. Here's a location-by-location breakdown of the best dive sites in California!
---
Scuba Diving San Diego
La Jolla Cove
La Jolla is an incredible spot for training and fun. Get there early, though, or you most certainly will not find parking. To make the most of this dive, do a surface swim to the north and drop into the kelp forest. Continue back into the cove to explore the rocky reef that's teeming with life.
You'll almost certainly see playful sea lions in La Jolla Cove. If you're lucky, you can catch a glimpse of a giant sea bass or guitar fish here. In the spring and summer, broadnose sevengill sharks and leopard sharks frequent the area.
Wreck Alley
Wreck Alley has 8 dive sites, all steeped in history. Decades ago the US Navy made this the graveyard for their old ships, deliberately sinking them in depths accessible for divers. These wrecks vary in difficulty and depths.
HMCS Yukon
The HMCS Yukon is a 111m (364 feet) vessel that lays on her side. She has proven tricky to penetrate due to tight corridors, stairwells, and lack of cargo holds. Penetrating this wreck should be left for advanced and technical divers.
Ruby E
The Ruby E has an interesting history from Prohibition to fish transportation and even drug smuggling! She sits in depths ranging from 15-25m (49-82 feet). The cargo holds are open making the Rube E easier to penetrate. It's also a great place to complete your wreck specialty.
NOSC Tower
This unique site was an oceanic research centre, but in 1988 a storm knocked over the topside platform effectively creating a wreck site at 21m (69 feet). The tower is covered in mussels that bring the ochre sea stars. NOSC Tower is a prime dive site for photographers and macro-lovers.
---
Scuba Diving Los Angeles
Catalina Island
Catalina Island is two hours off the coast of Los Angeles. Farnsworth, one of the most popular sites, is known for the rare purple hydrocoral. Sea mounts make up the topography. These underwater hills begin at 18m (59 feet) with visibility ranging from 10-30m (33-98 feet). Channel Islands Dive Adventures has charters known for their trips to Catalina and the oil rigs.
Oil Rigs
You can only access the oil rigs in Southern California by boat. This dive site has turned into a great artificial reef, and supports an array of marine life. Open ocean species are likely to stop by to eat and sleep. Oil rigs are another paradise for photography!
---
Scuba Diving Channel Islands National Park
This place should be at the top of your diving bucket list. The Channel Islands archipelago is a group of eight islands spread across 160 miles. Five of these islands are within the Channel Islands National Park, and the water surrounding the islands makes up the Channel Islands National Marine Sanctuary.
Scuba diving in Channel Islands National Park is only accessible by boat. These generally launch from Ventura, roughly 2 hours north of LAX. The Spectre Dive Boat is a favourite amongst Girls that Scuba Facebook group members. You can do three dives on either Anacapa or Santa Cruz islands, depending on daily conditions.
The kelp forests here are pristine, fish life is teeming, and it is a phenomenal spot for both macro and wide angle photographers alike. You can see the photogenic spanish shawl, brave crustaceans, the giant sea bass and of course, sea lions and seals. It's a dive you will be sure to return to again for years to come!
---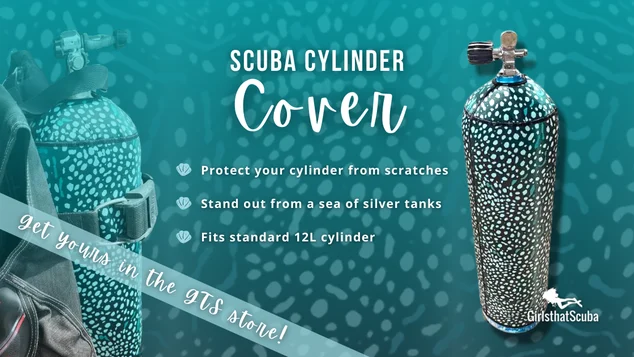 ---
Scuba Diving in Monterey Bay
Monterey Bay Canyon plunges to 2000m deep (6561 ft), which provides an upwelling of deep water nutrients and plankton. We all know what plankton means… large marine life! Seals, dolphins, whales, and sea otters frequent these waters.
Breakwater Cove
This cove is protected by both a harbour and marina, creating conditions that tend to be calm. It can be difficult to find parking here because the conditions are perfect for training and for inexperienced divers to gain confidence. With depths ranging from 3-18m (10-60 feet), this dive site is extraordinarily accessible.
Point Lobos
Point Lobos has a limited permit system. Whaler's Cove offers calm conditions and depths ranging from 18-30m (60-98 feet). There's a mix of rocks and kelp as well as sandy trenches with a wall.
Bluefish Cove
Bluefish Cove descends on a wall starting at 12m (39 feet) and sloping down to 30m (98 feet). This site is an amazing spot for you to see nudibranchs, rockfish, soft corals and crustaceans. It requires a lengthy surface swim and conditions can get choppy, so be prepared.
North Monastery Beach
This site ranges from calm and flat to a surf that packs a dangerous punch! A 180m (200 yard) swim from shore will land you in 60m (197 feet) of water on the Eastern rim of the Carmel Canyon. This canyon provides an upwelling of nutrients, making it a great spot for large marine life.
North Monastery Beach is an area where kelp is abundant. As you explore the wall be sure to watch your depth gauge, it's easy to exceed your limits. Keep an eye out for leopard sharks, lobsters, rockfish, nudibranchs and even great whites!
---
Farallon Islands Scuba Diving
Located 30 miles west of San Francisco's Golden Gate Bridge, the Farallon Islands are a marine sanctuary. The area is home to nesting birds, mating pinnipeds (seals and sealions) and the coveted great white shark. Cage diving with great white sharks is popular in the Farallon Islands from September to November and books up quickly.
Diving is only permitted around Middle Farallon and Noonday Rock, as the majority of the waters around the islands are protected. Recreational diving tends to happen in the spring and summertime as to not clash with shark season in the fall. The diving here is intermediate to advanced, and an enriched air nitrox certification is required due to the deep diving experiences at the Farallon Islands.
---
Are there liveaboards in California?
If you prefer to be boat-based, scuba diving California by liveaboard is possible. There are a number of liveaboards in California, which are typically 2 to 5 days long. The most popular routes dive throughout the Channel Island Archipelago. In Southern California, liveaboards to Mexico are easily accessible as well.
---
About the Author
Marly has spent the last few years living in Colorado and working as a social worker. She is a firm believer that there are 'no bad dives' which helps her to keep a positive attitude while teaching diving in Colorado's dark reservoirs. She dives recreationally in California's cold waters multiple times a year, with the kelp forest and Channel Islands being her favourite spots. Marly recently moved to the Florida Keys to be an instructor full time but is always planning her next California dive trip. Follow her on Instagram!
---
---