Picture white sandy beaches stretching as far as the eye can see, crystalline turquoise waters, and a wealth of exciting ocean creatures waiting to meet you. Sounds like something you'd enjoy? Then the Caribbean islands are calling your name.
If you're looking for the top scuba diving destinations in the Caribbean, you're in the right place. With so many countries and islands to choose from it can be overwhelming trying to pick just one. We're narrowing it down to scuba diving around Caribbean islands.
Whether your ideal dive holiday includes sharks galore or off-the-beaten-track Caribbean authenticity, one of these 12 islands will definitely catch your eye!
---
---
1. Roatán
For those who like a hassle-free approach to dive travel, Roatán offers some of the best Caribbean dive resorts. Roatán, alongside similarly popular Utila, is part of the Bay Islands off the coast of Honduras.
Like a number of the other islands on this list, Roatán is located on the Mesoamerican Barrier Reef System. It's the second largest barrier reef in the world, with an abundance of incredible marine life to discover. The island offers a vast array of corals sprawled across shallow reefs and deep walls. Critter hunters will love searching for seahorses amongst other macro creatures.
Fans of big underwater life won't be disappointed, though. Whale sharks are known to visit the island between February-April and August-October. Wreck lovers must not miss the El Aguila.
If liveaboard travel is more your style, the Roatán Aggressor allows you to explore the best of both Roatán and Utila. This includes offshore sites Coco's Sea Mount and Cayos Cochinos. These are considered some of the best sites in the area but aren't usually covered by land-based operators.
---
2. Cozumel
Cozumel is an island located to the east of Playa del Carmen on the coast of Mexico. It offers dive sites for all experience levels, with crystal visibility down to the depths of stunning walls.
Countless reef fish inhabit colourful coral gardens, with spotted eagle rays, turtles and nurse sharks commonly sighted. There's even the possibility of seeing bull sharks between November and March.
Cozumel is well known for drift dives. It's worthwhile brushing up on your drift diving knowledge if you're a beginner to diving in currents. Newer divers could benefit from taking an Advanced Open Water Course or a speciality course to build confidence in their skills.
---
3. Bonaire
Bonaire is often hailed as the shore diving capital of the world, and it's the perfect Caribbean island if you're looking to curate a DIY diving holiday. Part of the ABC islands of the Dutch Caribbean (Aruba, Bonaire, Curaçao), Bonaire is located 50 miles north of Venezuela.
Rent a truck, head to one of the many drive-through tank collections offered by dive operators, and seek out the 80+ yellow stones which mark the island's official dive sites. Top sites include Alice in Wonderland, Salt Pier, and the Hilma Hooker.
The Hilma Hooker is Bonaire's only wreck dive, and although it's possible to dive from shore, it's often tagged on to boat dive trips to neighbouring island Klein Bonaire. Our full guide to diving in Bonaire tells you everything you need to know, including where to stay, what to pack, tips for diving independently, and how much it will cost.
---
4. St Croix
St Croix is the largest of the US Virgin Islands and is quieter than many other Caribbean destinations. With more than 50 dive sites to choose from you'll be spoilt for choice. Situated close to an incredible drop off, St Croix is perhaps best known for some of its plummeting wall dives.
Frederiksted Pier is another standout dive – divers of all levels will be enthralled by the macro life on the coral encrusted columns. For an extra level of excitement, why not try it as a night dive?
When you've seen all you can see under the pier, head to Butler Bay to experience wreck diving in St Croix. There are ships at multiple depths for different experience levels, the deepest of which is the Rosaomaira (also known as the Rosa Maria) laying at 35m/117ft.
---
---
5. Bahamas
If you're looking for sharks in the Caribbean, there's one group of islands that should be top of your list. The Bahamas offer unbelievable visibility, stunning stretches of white sandy beaches, and if that's not enough, an enormous variety of shark experiences.
Depending on the season, you could easily hop from island to island and encounter a different shark species in each new location. Grand Bahama is home to Tiger Beach, which offers up – you guessed it – tiger sharks. You'll also meet lemon sharks and the occasional great hammerhead.
For more guaranteed sightings of great hammerhead sharks, head to Bimini. If Caribbean reef sharks in huge numbers are more your thing, take a trip to Nassau.
---
6. St Vincent
Located in the south of the Caribbean, St Vincent (along with the smaller islands of the Grenadines) is well known for macro diving. It's often referred to as "muck diving", although the Caribbean twist of incredible visibility makes it a little different from muck dives elsewhere in the world.
You can expect to find longlure frogfish and longsnout seahorses on these Caribbean muck dives, whilst other sites may still offer larger visitors such as Caribbean reef sharks, eagle rays, or even manta rays if you're lucky.
---
7. Tobago
Trinidad and Tobago both have a lot to offer underwater, although Tobago perhaps has the edge on its larger sister island as the visibility can be much better. Tobago also boasts over 50 dive sites to enjoy.
Most of eastern Tobago is a UNESCO "Man and the Biosphere" designated area including the Main Ridge Forest Reserve, the oldest protected forest reserve in the western hemisphere. With this in mind, it's an ideal destination for the eco-minded divers amongst us.
Gliding over the unspoilt reefs, you can expect to encounter plenty of schooling fish, lobsters, moray eels, and sea horses. Fans of larger underwater residents should be on the lookout for tarpons, barracuda, rays, nurse sharks, and turtles.
Underwater must-sees include the giant brain coral at the site Kelleston Drain (close to Speyside), and the Maverick Wreck. Since being sunk for divers in 1997 the wreck has become a thriving artificial reef. There's even the chance to see manta rays in Tobago – sites around Speyside offer the best chance of these sightings.
---
8. Cayman Islands
If you're looking for tech diving in the Caribbean, the Cayman Islands are where you need to be. Grand Cayman, Little Cayman and Cayman Brac offer incredible topography in the form of deep drop offs and seemingly never-ending walls. Cayman Brac in particular is known for its walls, and is quieter and less touristy than the other two islands.
It's not all deep dives with multiple cylinders, though. One of Grand Cayman's standout sites bottoms out at only 6m/17ft. Stingray City is perfect for underwater photographers and those looking to get up close and personal with the wildlife.
Another not-to-be-missed site is the USS Kittiwake which was sunk for divers in 2011. Sitting at around 18m/60ft, this enormous wreck is crawling with life and is at the perfect depth for Open Water Divers.
---
9. Grenada
Grenada and smaller neighbouring island Carriacou are quiet, volcanic islands in the south of the Caribbean with lots to see underwater. Carriacou is especially quiet and relatively untouched by mainstream tourism.
Grenada is often referred to as the wreck diving capital of the Caribbean, with 12 wrecks spread around the south west corner of the island. The Molinere Underwater Sculpture Park curated by artist Jason deCaires Taylor has also become a popular underwater attraction.
---
10. Turks & Caicos
The Caicos islands and the smaller Turks islands sit to the south east of the Bahamas. Expect incredible visibility, epic walls encrusted with sponges and corals, and a healthy population of Caribbean reef fish.
Whilst you're examining the walls for macro critters, don't forget to glance out to the blue. Open ocean species often cruise on by, including sharks and barracuda.
If you're looking for a particularly special experience, travel between January and April and add a trip to nearby Silver Bank for the opportunity to snorkel* with humpback whales.
*(Diving with whales is prohibited in many locations).
---
11. Dominica
Dominica (not to be confused with the Dominican Republic, also in the Caribbean) is another quieter Caribbean island, perfect for those who love a more culturally authentic travel experience. The north is particularly untouched by commercial tourism, and has some incredible diving which shouldn't be missed.
The Soufriere-Scott's Head Marine Reserve in the south west of the island has the largest concentration of dive sites, with enticing volcanic pinnacles and sweeping swim throughs. Amongst the exciting topography, expect to see jewel toned reef fish and turtles cruising by.
With a resident population of around a dozen sperm whales, Dominica is one of the best places in the world to see these gentle giants. However, like the aforementioned humpbacks they are protected, so can only be seen from boat tours.
---
12. Saba
For some of the best scuba diving Caribbean islands have to offer, holiday in St Maarten and tag on a trip to Saba. Saba lies to the south west of St Maarten, and is the smallest island in the Dutch Caribbean.
This volcanic island offers more than 30 dive sites to explore, with an assortment of drop offs, seamounts and pinnacles. Some of the offshore sites may be better suited to experienced divers due to strong currents.
Saba can be a sharky paradise, with common sightings of Caribbean reef, black tip and nurse sharks. If you're lucky, you may even have a rare encounter with a bull shark, hammerhead, or tiger shark.
If you're staying on St Maarten, you can even dive Saba as a day trip. Either take an early morning ferry, or a low-altitude flight which takes approximately 15 minutes. Although flying after diving is not usually recommended, countless divers taking this low altitude flight suggest that this particular flight after diving is safe. However, you should always dive conservatively and take the flight at your own risk.
St Maarten and Saba can also be explored by liveaboard.
---
Other Caribbean Countries
The diversity of countries around the Caribbean Sea is enormous, and it would be impossible to cover every single destination and island in one guide. Other larger Caribbean countries to explore underwater include Cuba, Puerto Rico, Dominican Republic, Belize, and the Caribbean coast of Costa Rica.
---
Have you dived around any of these Caribbean islands? Which is your favourite, and which are you making note of for your future travels? Share your adventures with our Girls that Scuba Facebook community!
---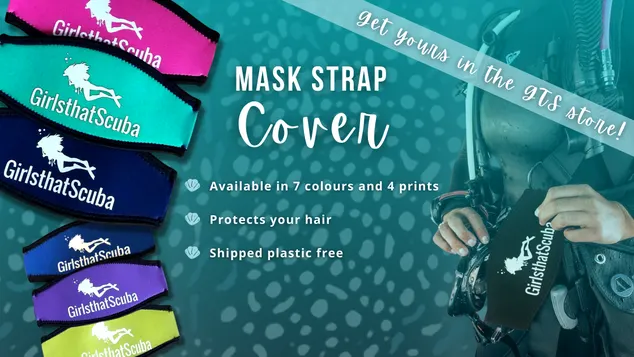 ---