Dominica, a small island in the Caribbean – not yet taken over by the tourism traps of all-inclusive resorts – may just be one of the most beautiful islands we have ever visited. So you can imagine how good scuba diving in Dominica must be too! Smiles, lush greenery, fresh fruits, soaring mountains and you've not even put your head under water yet.
Voted in 2017 as one of the top countries to visit in the world by Lonely Planet, it's surprising how many people don't visit this piece of paradise, and how raw and untouched it feels! We dive into scuba diving in this marine natural park of Dominica on a short 5 day trip sponsored by the Dominican tourism authority, Discover Dominica.
Scuba Diving in Dominica
There are TONS of dive sites all around Dominica so you'll have no chance to get bored, and while most of them lie around Scotts head – a protected marine reserve – littler known ones in the North of Dominica should also not be missed!
Dangle bends Pinnacle
A series of five pinnacles, Dangleben's Pinnacles sits on the northern edge of the Soufriere crater, which means it's relatively exposed to the deep channel west of the island. This is one of Dominica's deeper dive sites, with a minimum depth of 18 m to max of 30m. Here you will be able to see a variety of the Caribbean's creatures, big to small, as well as the mighty gargantuan barrel sponges.
Scott's head Pinnacle
Known to most as the most spectacular dive site of the island there is wildlife everywhere and incredible visibility The dive begins on a large rock formation called "Swiss Cheese" where a school of soldier fish always hang out around the arch. At a depth of only 10 meters, you will cross a second arch that will take you from "the other side", inside a volcanic crater sinking to 40 meters deep. Gorgonians are every where as well as many species of fish at every turn!
L-abymes
Also called La Sorcière is all about the magnificent wall. Starting at 25 feet with little current, divers of all skill levels can enjoy the incredible underwater topography and marine life.
Champagne reef
Probably the most well-known of Dominica's dive sites is Champagne Reef, a few miles south of Roseau, Champagne reef is great for both scuba divers and snorkelers as one of the few shore dives on the island. There's a remarkable variety of life, especially considering the elevated water temperature in the shallows. So why is it called champagne reef? Well, you will be surrounded by champagne of warm bubbles during the end/beginning of your dive where volcanic gasses vent through small fissures in the hard-rock coral. It's kinda like a bubble bath!
Diving in the North
The Portsmouth area has kept a more wild and authentic character than its two sisters. There are no less than 18 diving spots in this area, the most famous being Toucari Caves, Volcano or Five Finger Rock.
*Save $$ on dive centres and liveaboards in the Caribbean*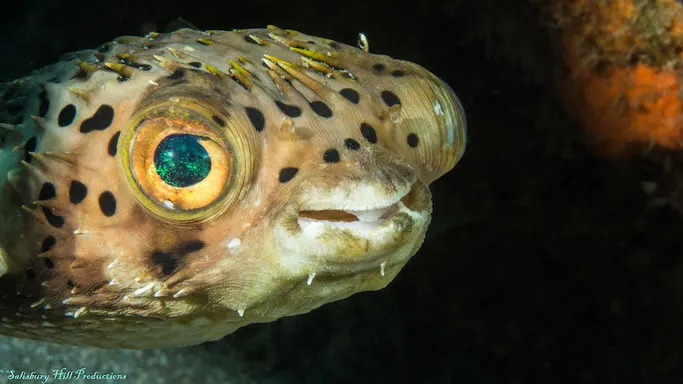 ---
---
Swimming/diving with sperm whales
Are you here to find out whether you can scuba dive with sperm whales in Dominica? Well, the short answer is no. The longer answer is they give out very few permits each year which allow a small group of 6 people to get into the water with them at one time. Permits are required to be applied for years in advance and cost around $3000, you then need to hire the boat and crew, also accommodation, transportation etc. The best way to do this is via a pre-organised group trip, however it's hard to get one cheaper than $8,000 per person each. If you do have the golden permit you can dive with them all year round – they are Dominican residents!
Whale watching tour
However don't feel deflated, you can still see sperm whales (and other whales) in Dominica – just from a boat, not in the water. Whale watching boats run every Sunday at 2pm from Dive Dominica and take you around the waters of the islands to spot sperm whales, orcas, dolphins, short-fin pilot whales, false killer whales, melon head whales, pygmy sperm whales, humpback whales and over pelagic animals! We saw three sperm whales and countless pods of dolphins on our tour with them! The tour costs $69 per person and is around 3 – 31/2 hours long.
Dive centres in Dominica
Since hurricane Maria there aren't as many dive centres as before, however the ones remaining are great!
We recommend Nature Island Dive in Soufriere, right on the shore of Scotts Head! Run by Brit Simon who has been living on the island for years he has tons of knowledge and stories of the diving and the dive sites in Dominica. It is a laid back dive centre with great local staff, and they even produce their own ocean-aged rum!! You definitely have to go there to check it out (as well as the lion fish sandwiches)!
If you are looking to dive in the North of Dominica you'll want to hit up SALT Dominica run by GTS member Kayla and her husband, based in Toucari. SALT Dive is open for business by reservation / pre-booking only.
Fort young hotel in Roseau also has it's own dive centre with a pool, so is great for those wanting to first learn to dive in Dominica. It is also home to GTS Fran who is the only local female dive instructor on the island!
There are no liveaboards that operator from Dominica however you can check out other liveaboards in the Caribbean here
What you need to dive in Dominica
The water is WARM all year round. Shortie/no wetsuit warm! On the first day we wore our custom-made Kalypse wetsuit and then swapped to a rash guard on the 2nd dive, and didn't feel the cold at all.
There are not usually many currents in Dominica but of course you should never dive without a SMB! Check out our GTS pink one here
You can hire you own gear at all dive centres in Dominica, but if you are looking at buying your own before you go check out our female dive equipment guide.
Brush up on your buoyancy and trim skills to comply with the marine parks' no-touch policies. Take in the big views then move in for a closer look at crevices, holes and ledges.
Other things to do in Dominica
Dominica is an island full of adventure, you'll definitely not be lost for things to do in the time you're not scuba diving! We got up to so much, including:
Cooking class
While we didn't get to do this experience (as we were diving) two of our group did and loved it! Traditional Caribbean cooking with a lovely local lady! Check her out at Experiences Caribbean.
Canyoning
Of course as divers we love extreme activities, so why not try canyoning through some of Dominicas rivers and waterfalls? Dominica has some of the most impressive canyons in the world; rainfall over thousands of years carved out deep gorges in the rock creating an ever-changing landscape of rivers, waterfalls and pools hidden in the rainforest.
Emerald Pool
Did you know there 365 rivers on the island (one for every day of the year!), but personally we like the waterfalls more! Check out our friends guide on everything you need to know about Emerald Pool here.
Indian River Cruise
Dominica has a whopping 365 rivers, and the Indian river is one of our favourite – and that's not just to do with the rum bar at the end!
Where to stay in Dominica
Roseau
Located in front of the Caribbean Sea and 1.2 km from Roseau City, Dominica hotel offers on-site dining, a spa and an outdoor infinity pool. Every room at Fort Young Hotel features a private balcony. You'll find this is where most people stay when arriving into Roseau as it offers everything you need as a traveller. There is also a dive centre located inside the hotel, with a pool, and a jetty right into the ocean.
Portsmouth
Standing on 6 acres of an old coconut plantation, these private cottages offer access to the beach and views over Prince Rupert Bay. We stayed here for 2 beautiful nights, with way too much room for just one person, it's a perfect couples or family getaway. It simply feels like a different country allttogether than on Roseau side, and this is where you want to head if you want a real unique slice of Dominica.
Girls that Scuba in Dominica
This is Fransica, the only local female dive instructor on the island Dominica
We met her at Dominica Dive Fest an event that encourages the local community to start diving. For a whole day they offer any local Dominican – at any age- a free try dive to experience the beauty of scuba diving. Fransica is 35 years old and has 2 kids aged 13 and 5, she's been diving since 2003 and she has only be able to dive in the Caribbean and it is her dream to dive "anywhere else in the world". She says girls here are scared of diving because of sharks and because they don't feel like confident swimmers. Fran is teaching them how to swim and telling them that Jaws isn't real and sharks don't want to hurt you – in fact we hurt them.
We gave her a pink GTS mask strap as she wants more colour in her gear and more women to start diving. Why are we telling you this? Because we are Girls that Scuba and whenever we meet our members who tell us there are not enough females diving where they live we want to spread the word for them and get more of our GTS girls involved!
So, If you visit Dominica (which you should!) come and see Francisca at Fort Young Hotel and show her that there are a lot of female scuba divers, she just hasn't met them all yet!
---
Thank you to Steve & Patti Rendell for their underwater photos used in this article. If you need any more information on underwater photography in Dominica, you can email them here.
This trip was hosted by Discover Dominica tourism authority, and all views are our own.
---
Save $$ on liveaboards & dive centres around the world
---