Searching for a place to scuba dive in Turkey where you can escape the crowds? A Kaş scuba diving trip might be just what you're looking for!
You'll have the chance to explore ancient relics and sunken wrecks, and you'll probably spot a few turtles too. There are plenty of awesome rock formations, tunnels, and even some cave diving to check out.
Tempted? We don't blame you! Here, we'll tell you everything you need to know for the ultimate Kaş scuba diving trip.
---
Kaş – The Basics
Kaş is located on the southwest coast of Türkiye and looks out over the Mediterranean Sea. It lies within the Antalya province and is just a few hours drive (roughly 2.5 hours) from both Antalya and Dalaman airports.
There are several islands just a stone's throw away from Kaş, including the Dodecanese Greek island of Kastellorizo (also known as Megisti). This island has been under Greek administration since the 1940s and draws many tourists to its picturesque shores.
One of the great things about Kaş is that there's an abundance of dive sites to explore just a short boat ride away. This makes Kaş an ideal diving destination for people who suffer from sea sickness.
Life above the turquoise water is great, too. Kaş is a laid-back town with super friendly locals. It's also the perfect place to satisfy your post-dive hunger – there are heaps of places serving up delicious meals around the clock.
A variety of accommodation is available for all budgets . From cosy self catering apartments to 4* adult only retreats, you'll be more than happy on your surface intervals.
---
What can I see when I'm scuba diving in Kaş?
Kaş is one of the few places in the world where scuba divers can explore archaic artefacts, incredible rock formations, and overgrown wrecks in just one day.
Over the course of several dives, you're likely to swim alongside barracuda, grouper, nudibranch, rays and even turtles. And, if you're lucky, you might catch a glimpse of an elusive seahorse between June and October, although numbers have declined in recent years.
---
What are the diving conditions like in Kaş?
One of the best things about scuba diving in Kaş is the incredible visibility year-round. The crystal-clear waters mean you can see up to 40m (131 feet) away, so no exciting sightings will pass by unnoticed.
The diving season peaks throughout the warmer summer months, with an average water temperature of 24°C (75ºF) in June, rising to 28°C (82ºF) in August. Although this is a pleasant temperature under the water, life above the water is sweltering. Make sure that you take plenty of water with you on the boat and wear sun protection.
February and March are the coldest months year, with average water temperatures dropping to around 16°C (61ºF). Most tour operators are closed during this time of the year, although you may be able to organise a trip if you book in advance.
If your schedule allows, we'd recommend diving in Kaş around September or October. During this time of year the water retains the summer heat but there are less tourists around. Plus, things have cooled down a bit on land. Alternatively, if you want to beat the crowds and you don't mind cooler water (roughly 20°C or 68ºF), then May is a great time to visit too.
---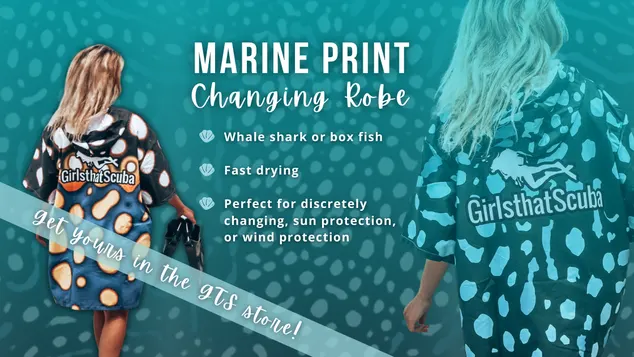 ---
Where should I dive in Kaş?
Ultimately, where to dive in Kaş depends on what type of diving floats your boat. Fortunately, there's a huge range of dive sites out there, so there a dive site to suit everyone!
Kaş Dive Sites With Relics
You don't have to go far to catch a glimpse of times gone by in Kaş – amphorae are scattered all over the seabed. However, some dive sites are particularly famed for their relics.
Neptune
This dive site is home to hundreds of amphora fragments as well as some that are almost unscathed. This is pretty impressive considering they're thought to be roughly 2,000 years old.
Amphorae are vessels that were used to transport goods, like wine and oil, by boat. Many of these tumbled overboard when seas were rough or were lost to sea when merchant ships crashed.
Both beginner and advanced scuba divers can admire the amphora scattered along the shallow slopes, although some of the more intact amphorae are a little deeper (around 20m or 66 feet).
The Lycia-Kaş Underwater Art Park
Love diving? Enjoy history museums? Then this one's for you. This fascinating dive site is the result of an ambitious project that brought more than 600 lost Lycian artefacts to the shores of Kaş.
The historical replicas were carefully constructed (from non-polluting and non-contaminating materials) using techniques from ancient times. They were then lowered, with the aid of scuba divers, to the seabed.
The result is incredible. The art park offers scuba divers the chance to marvel at Poseidon and his horses, a field of amphorae, and the Nereid Monument of the ancient city of Xanthos – all while blowing bubbles!
Wreck Dives in Kaş
If wrecks are your thing, then a scuba diving trip to Kaş won't leave you disappointed. There's a huge range of wrecks out there – ships, planes, or even military tanks, the choice is yours!
Lighthouse
This site is great for divers who are interested in wrecks but might not have much experience with them yet. A World War II C-47 DAKOTA plane was deliberately sunk here and is a great introduction to wreck diving.
The interior is spacious and can easily accommodate two divers at a time – just watch out for any pesky lionfish marking their territory!
Flying-Fish Reef
It might be inaccessible to most, but it would be wrong not to mention the famous Italian Savoia-Marchetti SM79 bomber wreck.
The plan was brought down by anti-aircraft weapons during World War II leaving no survivors. It sits approximately 55–70m (180–230 feet) underneath the water's surface and is beyond the realms of recreational diving limits. You'll need to get involved with technical diving to see this impressive wreck!
Neptune
You read that right, it's Neptune again! Not only is it an awesome dive site for amphorae, but it's home to a shipwreck too.
The former Turkish Coastguard boat spans almost 30m (100 feet) in length. It was intentionally sunk in 2011 to form an artificial reef. Now, it's covered with life, and you can find various creatures both inside and outside of the wreck.
The wreck was planned to sit just 20m (65 feet) underwater, but strong currents moved the wreck to deeper water. It now begins at 33m (108 feet), so advanced divers with deep dive specialties will get the most out of this dive site.
Rock Formations in Kaş
If you're after some incredible topography, then you're going to love diving in Kaş.
Canyon
This is probably one of the most popular dive sites in Kaş, and it's easy to see why!
Divers enter in the shallows, then make their way over a series of boulders to two formidable walls that plummet into the depths. These sit at roughly 20m (60 feet).
As you descend along the face of the walls, keep an eye on your positioning so that you don't contact the walls – they're teeming with life. As you travel horizontally along the bottom of the canyon, the walls slowly begin to widen.
While you're down there, you can also check out the Dimitri wreck. For those who are interested, it even has a little swim through. This small ship crashed into the island roughly 50 years ago, spilling cotton bales into the surrounding waters.
The Tunnel
Another firm favourite, this site features an unusual rock formation and gives divers the chance to enter a 10m (30 feet) underwater tunnel.
The entrance to the tunnel is located 20m (60 feet) below the surface. The passageway, also known as the 'chimney', is broad and drops vertically down to around 32m (100 feet). Here, you'll find the tunnel – a gap roughly 4m (13 feet) wide and 4m tall in the centre.
The lack of current makes for a relaxing dive, and as you slowly ascend you might notice a trickle of bubbles streaming to the surface.
---
Tips for Finding a Responsible Tour Operator
There are plenty of responsible tour operators in Kaş – for instance, Nautilus Diving Kaş makes sure that all staff and guests follow Project Aware's 10 Tips for Divers to Protect the Ocean Planet.
However, with so much choice, it can be hard to know how responsible a company is. If you're unsure, we suggest looking out for the following green flags:
Careful anchoring. Ensure they're not dropping anchor on sensitive marine life or topography.

Respecting marine life. They should remind you not to touch marine life during the briefing.

Disposing of waste responsibly. Trash should never be discarded into the sea.

Respecting history. As well as the marine life, there should be no contact with relics or wrecks. This is especially important in such a historical location.
Have you been scuba diving in Türkiye? Share your experience with our Girls that Scuba community!
---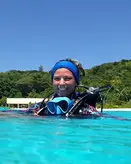 About the Author
Rose has spent the last few years living in Europe, the Seychelles and Kenya, working as a dive instructor, writer and conservationist. She's back in the UK at the moment and is slowly acclimatising to cooler waters!
---
---