We all know how important it is to wear a dive computer when we're underwater. But what about the humble dive watch? There are lots of benefits of a dive watch, and we checked out the new Abingdon Nadia Watch to learn why. Here are some of the reasons you might want to consider carrying both a dive watch and a dive computer!
---
1. It's a back-up time device
Redundancy is incredibly important in diving, so a dive watch makes an ideal back-up for timing. If something goes wrong with your dive computer, you'll still be able to know how long you've been down for. This could be the difference between being able to do your next dive or having to miss out. You don't want to be left on the liveaboard when everyone else sees your favourite shark!
Most dive watches, like Abingdon's Nadia Watch, have a rotating bezel which means you can easily track your bottom time. Simply align the zero on the bezel with the minute hand at the start of your dive. You'll then be able to read the minute hand against the bezel to see your elapsed dive time.
---
2. You can read the time at a glance
Whilst most dive computers will have the time available somewhere, it's often a few button presses away from your main dive display. One of the benefits of a dive watch is that you can read the time at a glance – no pressing buttons necessary!
This could be particularly useful for dive instructors, such as if you have a strict time to be back on the boat or a dry class to make back at the dive shop.
The new, improved face of the Abingdon Nadia Watch makes it even easier to check the time with a quick look. The crystal clear display and high-contrast hands make it easy to read, no matter the dive conditions.
---
3. It looks great above and below the surface!
Dive watches are wearable as an everyday accessory, as well as being useful timepieces underwater. In fact, the properties which make them suitable for exploring underwater also make them the ideal everyday watch for adventurers!
They're often much more hardwearing than any other type of watch, which isn't surprising when they're made to withstand huge amounts of pressure.
The Nadia Watch is water resistant to 660 feet (approx. 201m), and all of the Abingdon Co. watches are designed with adventure in mind – whether it's underwater or on land. The Nadia is also automatic, meaning there's no need to change the batteries.
And of course, as well as performing well, they look amazing too! Dive watches make quite the fashion statement. They look just as great with shorts and a scuba tee or with a more formal outfit, and are always a fun talking point. After all, us divers love any excuse to chat about our favourite hobby!
---
4. A dive watch is a collector's item
If you're looking for a piece of scuba equipment which can act as an heirloom, look no further than a dive watch. How incredible would it be to pass down a dive watch, and be able to tell the tales of the adventures it had been on?
Being so well constructed, dive watches are timeless timepieces which can be kept as collector's items, and handed down for generations.
Over a quarter of our Girls that Scuba Instagram followers said they wear a dive watch as well as a dive computer – so what's your favourite reason for wearing a dive watch?
Share this article on social media, tag @girlsthatscuba, and let us know why you love your dive watch!
---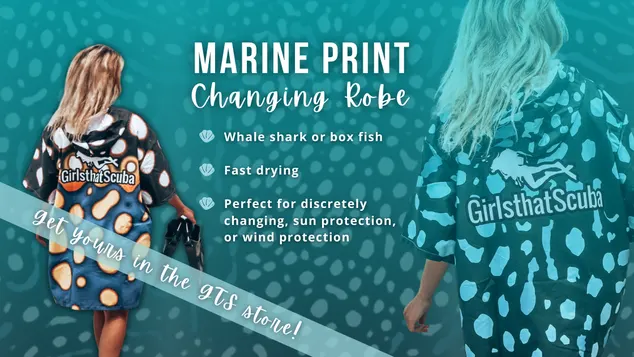 ---