On Girls that Scuba we share our achievements and support successes. We see photos of brand new divers who've taken their first swims into the world of diving. Experienced divers who are pushing their limits and creating great work. Women who are proud of family and friends they have brought into scuba diving, and instructors who are bursting with pride in their students. Every day you can see women posting with joy and pride in ourselves and each other.
So, we asked, what brings pride and what makes us proud in scuba diving?
We are proud of what we have learned and achieved … we've got skills, and we earned them
"Proudest moment… a confident no mask swim, after 100 dives of not believing I could really do it."
From first dives, to deep specialties and divemaster training, we want to talk about what we have learned. In caverns and caves, walls and wrecks … we want to tell you what it took for us to do it! Because learning can be hard and scuba diving is a wonderful challenge so, forgive us, but sometimes we just can't believe we are really scuba divers!
"never in a million years did I think I would make it this far, but it just goes to show what you can achieve if you have the right attitude and mindset."
The beliefs we hold about ourselves often prevent us from realising the things we are capable of, but developing as a diver means letting go of some of that:
"I finally started focusing on advancing my knowledge. … I love it and want to be better at it, as well as the best buddy I can be. .. I'm proud that I've learned to stop other people & situations holding me back."
We take pride in overcoming fears and rising to challenges
There are so many examples of women doing what it takes to overcome fear, here are just a few:
"I am proud that I am OW certified. It took a lot of crying and quitting before I finished."
"I'm proud that I even saw it through, after being so terrified on my first dive."
"My proudest moment was when I found the courage to jump with sharks swimming below. I swam with sharks for a whole week, it was awesome!"
"When I think back to how nervous I was this time last year, I can't believe how much I've accomplished in the past 6 months."
"I passed my dive leader this year and overcame a mental fear of going past 20m. The dive club I am part of really understood the pride I had in achieving this and celebrated my success with me."
---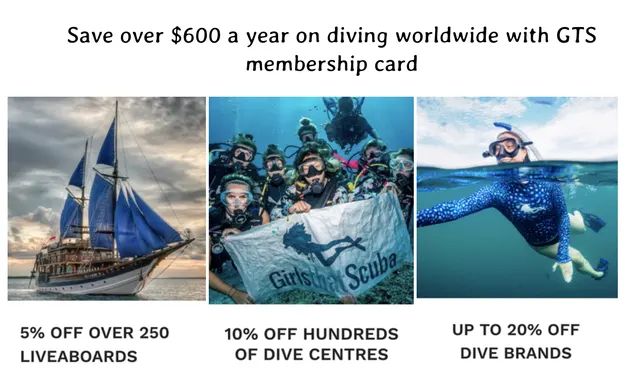 ---
It has taken huge personal power and we've earned the right to take pride in ourselves
Pride is often tied to achievement or struggle. Our relationship to scuba diving itself empowers us to tackle the mind gremlins like doubt and self-criticism. It guides us to do what matters to us even in the face of fear. So when we talk of being proud, it is not without gratitude for what scuba diving has done for us. Two stories that illustrated this beautifully:
"Im quite negative about myself by nature and frequently let people walk over me. My [divemaster] internship has not just given me skills that I can take into my dream job, but has also challenged me in the deepest and most personal way possible. I am now more confident in myself … I still have a little bit more to go but I have made steps towards self improvement that wouldn't have happened if not for diving."
"I promised myself that if I made it through chemo and came out cancer free at the other end that I would stop hesitating about learning SCUBA. I finally took control of my fears about body issues to walk around in a wetsuit/bathing suit in public. Cancer taught me to overcome my fears and address them head on. I love diving so much and if I die tomorrow, I'm proud that I can say I'm a diver."
Honestly, we are all just so damn proud to be scuba divers!
…and that we can say: "Finally, I'm one of them!"
We do not take this honour for granted and aim to live up to the title of scuba diver by:
Acting on values for safety – "Diving can be an amazing fun time, but it is also a sport in which you can ultimately lose your life. … I am proud that I take care to listen to the briefings, follow the safety rules and get back to the boat on time and with a safe amount of air remaining… I am proud to call myself a safe diver"
"Bailing on dives" when not fit to dive and not being afraid to enforce limits
Demonstrating dedication and determination – "in the commitment to our sport and especially for me, towards my local club. I am so proud of us, what we are, what we do and what we will be doing. Being engaging and including. Our awareness, our level of activity. It does make one proud 🙂
"Developing autonomy in our skills – "I was very proud of myself & my buddy the first time we got to dive without a 'guide' (DM or instructor) and we were able to navigate the dive site and surface (roughly) where we were supposed to"
Being independent and building confidence – "… when I started to be more independent and not rely on people" during training. Or having the courage to take a dive trip alone.
Thinking for ourselves as divers, like "being responsible for your dive profile and not just following the pack".
Sharing underwater life, whether by giving talks or taking other people diving, simply sharing love of the ocean and diving.
And for the professionals, taking pride in our privilege: "Helping people transition into UK seas, and that "ahhhh" moment that comes from watching them do a dive from start to finish, apply their mentoring and that leads to the next… seeing those who I've introduced now introducing others to the UK waters."
Because after all, that is what Girls that Scuba has always been about:
"Showing other women the world of scuba diving and helping them to live it with us" – Sarah Richard, founder of Girls that Scuba
P.S. Careful though, because pride never stays around for long:
"You know that feeling when you just fit into a wetsuit you got 20 years ago! So proud…
…Then [you realise that you] can't get out of it" 😉
---
About the author
Laura is a Scuba Diving Instructor and Clinical Psychologist with a fascination for the psychology of diving. She is also the author of the PADI Psychological Diver course. Learn about how psychology can improve your diving on her website www.scubapsyche.com and Facebook page.