Over 500 underwater life-size statues, whale sharks, and so much more – Isla Mujeres, Mexico has a lot to share with everyone from the experienced adventurer to the first-time diver. Located a short ferry ride from Cancun, Isla Mujeres is a quaint island of only 7 km from its northern tip to the first Mexican soil to be warmed by the sunrise each morning at its Punta Sur. Though the island is small, the vastness of experience awaiting to be explored is astounding and one of the best diving spots in Mexico!
Diving in a Garden of Statues
The Museo Subacuático de Arte (MUSA) is an easy open water dive that follows a breadcrumb trail of statues, including a life sized VW Beetle, to the main gallery. Here the dive tour pauses and allows for divers to come face to face with the sea encrusted expressions of the MUSA eco-project. Created to demonstrate the positive impact of eco friendly art, the statues stand as a home for sergeant majors, french angelfish, and an abundance of other sea life.
Don't forget to join our Girls that Scuba facebook group to find out more about scuba diving all over the world!
Snorkeling with Whale Sharks
No diving required – all you need is a guide and a snorkel to swim alongside the largest fish in the ocean as they skim just below the surface. The whale shark can grow to be over 12 meters long, but don't worry, their cavernous mouths are only interested in feeding on plankton as they migrate through the waters of the Yucatan Peninsula. While all summer months are sure to hold opportunities to float among these giants, the months of July and August are the most ideal.
---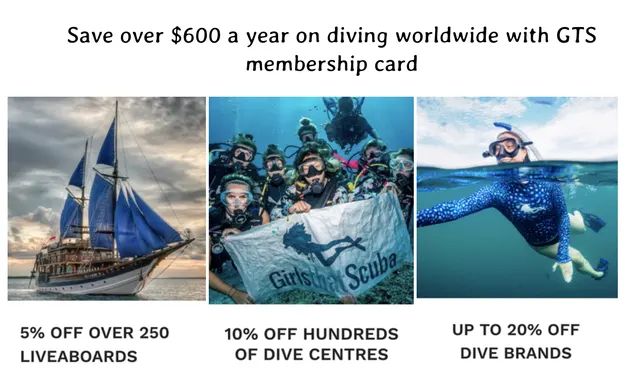 ---
Who To Dive With
There are many dive centres to dive with in Isle Mujeres. Make sure you take a look at our GTS Discount card first to see who you can get 10% off with!
We also like Sea Hawk Divers and Suites.
No matter the season, Isla Mujeres is a haven for all explorers, from expert divers to those just learning to snorkel!
Where else to dive in Mexico
We like to think of ourselves as experts on scuba diving in Mexico after diving most destinations and coats. While you are in Mujeres it makes sense to go diving in Couzmel, so check out our guide to scuba diving in Couzmel here.
And of course while in Yucatan you cannot miss the magical cenotes of Tulum and Playa del Carmen where you will be transformed to another time. You can also learn to freedive will in Tulum!
Check out our full Mexico destination guide here.
---
About the Author
Renata dove first in a Minnesota lake close to freezing over to receive her OW. Now she is gathering dive experiences in warmer climates as she finishes up her English degree at St. Olaf College.