Congratulations, you've completed your Open Water course and are now a certified scuba diver! So what's next? Many divers choose to continue on to do the Advanced Open Water Course at some point and here are 10 reasons why you should.
1. Practice makes perfect
The Advanced Open Water Course is designed to build on the skills you learned in Open Water. You learn a lot in the Open Water Course, so it's easy to forget things if you don't have the opportunity to practice them. In Advanced, you'll continue learning and enhancing your skills. Practicing skills and building on them will help ensure you remember and perfect them. It also helps to avoid developing any bad dive habits.
Experience is the best teacher, so the more you dive, the better diver you'll become!
2. Learn new skills that will help you for every other dive you do
In Open Water you learn the basic essentials, and in Advanced you learn skills to further improve and fine tune your diving. You'll learn skills, tips and tricks that will help you for every dive you do in the future.
Buoyancy: This course offers plenty of opportunity to practice and master your buoyancy! Buoyancy is one of the most important skills that will improve your diving experience. Buoyancy can be affected by a number of factors, and if you learn to master it, you'll have much more enjoyable dives. Many struggle with buoyancy, even after many dives, so having an instructor to help you develop this skill is beneficial, and again, practice makes perfect!
Navigation: The ocean is a wide open space, and learning navigation will help you get to and from the dive site and back to the boat or shore safely. It also improves your dive plan's effectiveness, so you know how to get to the dive site and spend more time seeing cool stuff, instead of wasting air searching for the site.
Deep Diving: Past the 18m/60ft maximum your Open Water allows, is a whole new world of dive sites. You'll see new marine life, and many wrecks sit at deeper depths. There are more safety concerns on deep dives, as air consumption increases, no stop time decreases and you may experience nitrogen narcosis. You'll learn how to deal with all of these things safely, which will open up more dive site options, and improve future dives for yourself and your dive buddies.
Drift Diving: Many dive sites around the world are effected by currents, so by knowing how to deal with them, you'll be safer and have more enjoyable dives.
Finning Techniques: You'll learn new finning techniques to help with air consumption, and avoiding stirring up the sand or sediment on the bottom. Nothing is worse than having great visibility, until someone kicks up the bottom and the vis is gone!
---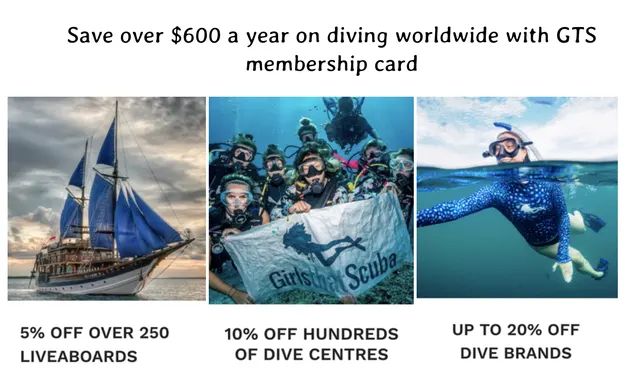 ---
3. Improve your breathing
Through the skills you'll learn and practice, you'll also start to understand more about air consumption and breathing techniques. Breathing is a huge contributing factor to buoyancy, and learning HOW breathing affects your buoyancy will help you control it.
Most importantly, your air consumption will improve. Everyone wants to stay down longer, and the better your breathing, the longer dives you can have. Learn breathing techniques that will conserve gas without feeling like you're starving for air. If you can learn how to control your buoyancy by breathing, you'll also use less air filing and emptying your BCD.
4. Gain confidence as a diver
You learn a lot during the open water course, and sometimes it can feel overwhelming. The first dives you do after certification may be intimidating if you are feeling unsure of yourself. Many divers deal with anxiety before a dive starts, and a lot of this anxiety can come from a lack of confidence. They are worried something will go wrong and they won't be prepared to deal with it.
In the Advanced Course you'll learn how to dive safer, and how to deal with the problems that might be causing you stress. By continuing your training, you'll feel more prepared and more knowledgeable. The more you know and learn, the more in control you will feel.
As your confidence grows and you realize you are a badass scuba diver who can handle the situation, your anxiety before diving will decrease. It also gives you an opportunity to speak with your instructor about those anxieties, and figure how to overcome them. Always remember that you are not alone in feeling anxiety, it's estimated that up to half of all divers feel it before they go down! Check out the Girls that Scuba Facebook group, and you'll read plenty of stories about anxiety, and feel the support from your fellow mermaids.
5. Overcome fears
Fear is normal, and even the most experienced divers can still get nervous. But overcoming fear can be incredibly rewarding, and will help boost your confidence in your abilities. It can also help you feel empowered in other areas of your life, and trust yourself in and out of the water. Fear is often about the unknown, and the more you learn, you realize the less there is to fear.
Read more: Fear in scuba diving; is it normal and how to get over it.
6. Taste the Specialties
Diving is so much more than strapping on a tank and breathing underwater. There are many different ways to dive and many different underwater experiences to be had, and the Advanced Open Water Course will let you sample some of the options. The dives you do in Advanced Open Water are considered the first dive of a specialty course, so if you enjoy a particular dive and want to learn more, you are already one step towards become a specialist diver!
7. Reach new depths
As an Open Water Diver, you are limited to 18m/60ft. Due to strong currents, deeper depths or more challenging conditions, some dive sites may be restricted to Advanced Divers.
Becoming an Advanced Open Water Diver will open up a variety of new dive sites, certifying you up to 30m/100ft! You'll be able to see different marine life and underwater environments, and wrecks which often sit at deeper depths.
You'll also have the opportunity to learn about night diving. Though it may seem daunting, night diving is a magical experience. See creatures that are active at night and hard to find during the day. See dive sites in a new light, and experience bioluminescence lighting up all around you. Once you've mastered night diving, you can try out UV night diving, and experience what it's like to 'dive through Avatar."
8. Utilize more gear
You'll learn about more dive gear, and how to utilize it to improve your dive experiences. In Open Water you learn about the essential gear that's required, and in Advanced you'll learn about specialized gear that enhances a dive.
Depending on the adventure dives you choose, you may be using dive lights, Nitrox, lift bags, dry suits, or a variety of other equipment.
Get discounts off your dive gear by joining the GTS discount membership card.
9. Go Pro – It's the next step on the learning ladder!
You've become an open water diver, fallen in love, and now you want to know how to live the life of your instructor, taking people diving every day. Well, the Advanced Open Water is the next step towards becoming a dive professional.
Open water and Advanced Open Water are both focused on improving yourself as a diver. Once you've completed those courses, you can go on to do your Rescue Diver Course, Dive Master, and finally instructor. In the Rescue course, you'll learn how to become a better dive buddy and practice your problem solving and prevention skills. During your Dive Master and Instructor training, you'll learn everything you need to know to become a Dive Professional.
10. Have fun!
The Advanced Course is one of the most fun and easiest courses you'll do. No quizzes or pool sessions, just knowledge reviews and fun, engaging lessons. Develop your capabilities and log dives as you have fun underwater.
So are you convinced? Read this article about what to expect during your advanced open water course!
---
---
About the author
Kayla got her OW Certification while working on board a cruise ship, and a year and a half later completed her Dive Master Training. Now she is travelling and diving around the world, blogging about her adventures and sharing them on Instagram!