Learning what to do with your hair when scuba diving and in the ocean is always a journey, and we've shared plenty of advice on scuba haircare in the past. Some hair types require more care when constantly exposed to water, and Black hair can be particularly sensitive to the damage caused by salt water.
It's important to note that there are many different Black hair textures and styles which will require different care, therefore every person will have to experiment with techniques and products to work out exactly what routine works for them. However, there are some tried and tested tips which came up repeatedly in our Girls that Scuba community for how to protect Black hair whilst scuba diving.
We've consolidated the wisdom of our GTS members into this guide to hair care for Black scuba divers – read on to learn which protective oils and products to use, how to style your hair and the importance of freshwater rinses.
---
1. Saturate with fresh water first
As most divers know all too well, salt water (and chlorinated water when pool training) is incredibly drying. For Black hair, this can be particularly damaging. Soaking the hair with fresh water prior to diving can help to prevent this, as Girls that Scuba member Régine Saintil-Johnson explains.
"One important thing I MUST do is every day before diving I ensure that my hair is completely wet with fresh water. I never enter the ocean [or] pool with dry hair. Wet hair ensures that the salt actually does not penetrate my hair as my hair is already saturated."
Some divers like to take this a step further, enhancing their soaking solution by adding moisturising agents. Alexys Long shares, "I try to soak my hair in aloe and a little bit of coconut milk the night before diving, then a quick seal with shea butter in the morning before getting back in the water as a way of keeping moisture in and salt out."
---
2. Protect with oils or reef safe conditioner
Once the hair is saturated with freshwater, a layer of oil can help to create a protective barrier. As Fatma Elshhati tells us, "I find that oil is good for sealing the hair and preserving some of the moisture". She favours olive oil and argan oil, but says that shea butter may be a better choice for thicker hair.
Some divers also choose to coat their hair in a layer of leave-in conditioner, with Stream2Sea's Reef Safe Leave-In Conditioner coming highly recommended by some Black GTS members. However, others note that it's not hydrating enough for all hair types in comparison to conditioners specifically formulated for Black hair. If you choose an alternative leave-in conditioner, ensure you look for reef safe ingredients when shopping.
---
3. Protective styling
Protective styles are often incredibly important for Black hair, and this is particularly true in scuba diving. Hair is continually soaking underwater, and equipment such as mask straps and regulator first stages can cause entanglements and breakage. Protective techniques can include braids, twists, and locs, amongst other styles. Diver Céline Amphitrite favours braids, telling us "I braid my hair in two parts that I pull at the back (top of my neck) for more convenience with the mask strap."
Extensions can also be an option to protect natural hair, as Camille Roy shares: "Personally, I usually go for braids or twist with extensions when I am going for long dive trips […] When I can't braid them with extensions, I twist them or do a few big braids with avocado oil and some mafura butter for retaining hydration and nourishing them every day after diving".
---
4. Protective tools
As well as styling the hair itself in order to protect it, there are a number of diving hair accessories which can help to ward off some of the salt-induced dryness. Buffs, hoods and hoodies can be used to protect Black hair from both sun and water. GTS member Debee Dubois "tied [her] hair down with a bandana or hood (to keep from getting caught in the mask strap)".
It's also a great way to seal in some of the moisture added into the hair before giant striding in, as Chrysta Wilson explains. "Once my hair has the oil and leave in conditioner in, I also dive with a buff. Buffs are cotton, so they can wick some of that oil away, but I don't like diving with a hood on in warm water so it works for me."
If this sounds like something which could help your hair, don't forget to check out our very own Girls that Scuba Dive Hair Accessory sets. These coordinated collections feature a mask strap cover, hair buff and scrunchie in a range of prints to mimic your favourite underwater creatures. Choose from whaleshark, lionfish, turtle or blue-ringed octopus patterns, and represent your favourite women's scuba diving community at the same time!
---
---
5. Rinse after diving
It turns out a thorough freshwater rinse is just as important post-dive as it is before jumping in the water. Flushing the hair through with clean water will ensure any salt deposits don't have time to dry into the hair.
Diariétou Touré gives us a glimpse into her routine. "I rinse my hair with fresh water before going in the water. I rinse it again right when I am back. I used to make a mix of water and cider vinegar and alternate spraying that mix or water. At the end of the diving day, I apply conditioner, rinse it. Then I put aloe vera and coconut oil."
Mixing multiple ingredients together to create a customised rinse solution is popular with a number of GTS members, and Quinnette E. Free also shared her magical recipe. "When I am done for the day, I do a super rinse and I make a mixture of blended aloe and water and a couple drops of coconut oil in a spray bottle and work through my hair." She recommends using generic ingredients so they can be easily sourced in any diving destination.
---
6. Stick to gentle washing
If you rinse your hair thoroughly after every dive, frequent washing with traditional shampoo is probably unnecessary. Opt for gentle cleansers (Dr. Bronner's Castille Soaps are popular amongst GTS members) or use a co-wash.
---
7. Revive between dive trips
After multiple days of diving, whether on a liveaboard or extended diving holiday, take some time to give your hair a little extra love. Alexys has some great suggestions for replenishing hair between trips: "When I know I'll be out of the water for a while, I give my hair lots of TLC with hot oil and protein treatments and deep conditioning."
We'd like to extend a thank you to all the women quoted in this article for sharing their advice, and to GTS member Stacie Boston for opening the conversation within our group.
---
Which of these tips will you be adding to your scuba hair care regime? Share your favourite techniques in the comments below, join our Facebook group to continue the conversation, or tag us in your scuba hair stories on Instagram – we're @girlsthatscuba!
---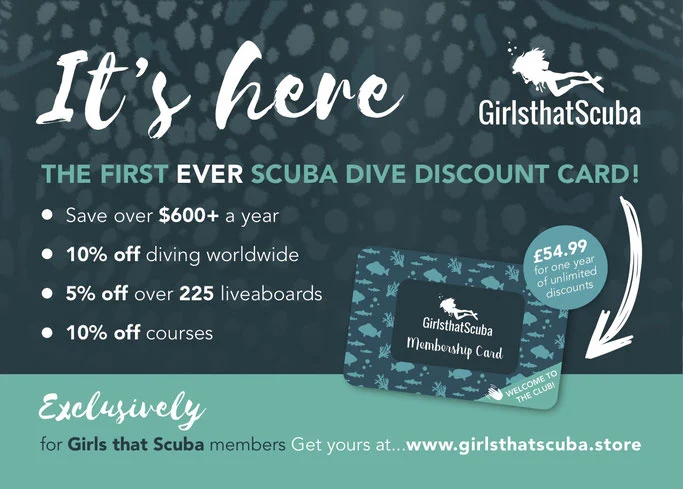 ---