Most scuba divers will agree that travelling to far-flung locations for a dive adventure is one of the best parts of this hobby. However, being able to choose from every dive destination worldwide without considering your safety is a privilege that LGBTQ+ scuba divers don't always have.
For many, the advice of "Just don't hold hands in public" or "Avoid any PDA and you'll be fine," is dismissive and trivialises the fact that they would not want to travel to a location where their relationship or gender identity is illegal. Every diver, and every person, should have the right to be themselves in all situations without fear of persecution.
With this in mind, we've put together a list of the best LGBTQ+ friendly scuba diving destinations. From drysuit diving between tectonic plates to tropical encounters with walls of sharks, there's an LGBTQ+ dive travel suggestion for every level of diver!
All experiences are valid
It's important to note that every LGBTQ+ person and their own experiences will be different, so we cannot assume that these locations will work for everyone. Even in the case of the most progressive and inclusive locations on this list, you can't generalise the outlook of an entire country or control the attitudes of individuals.
Equally, people may have had positive travel experiences in locations which may be more typically "unsafe" or have more harmful laws towards LGBTQ+ people. Some tourist locations within these typically anti-LGBTQ+ countries may be safer and more welcoming, therefore the conversation is more nuanced than "good" and "bad" countries for LGBTQ+ scuba divers. However, we have also included some popular scuba diving destinations which you may want to research carefully due to particularly damaging anti-LGBTQ+ laws and policies.
How do you judge if a country is safe for LGBTQ+ dive travel?
The folks over at Asher & Lyric put over 250 hours into producing a comprehensive LGBTQ+ Travel Safety Index, which we have used alongside testimony from the Girls that Scuba community to put together our LGBTQ+ dive destination guide. Their index takes into account factors such as legalisation of same sex marriage, transgender legal identity laws, and criminilisation of violence and hate speech against LGBTQ+ people. Countries lose marks for having any anti-LGBTQ+ legislation. Their full methodology can be found within the post.
Best LGBTQ+ friendly destination for technical and wreck diving
Malta is most definitely a Girls that Scuba favourite spot with its abundance of impressive wrecks, and it takes an impressive 4th place in the LGBTQ+ travel safety index. The underwater hunks of metal and deeper sites make Malta a technical divers' playground, but that doesn't mean it's off limits for newer divers who can hope to spot octopus, cuttlefish, parrotfish and even schools of barracuda. Visibility often reaches 40m, so the crystalline conditions are incredibly appealing for underwater photographers. Take a look at dive centres in Malta here.
Best for diving with pelagic species in Europe
Coming in just below Malta in 5th place, Portugal is an unexpected scuba diving gem. The underwater world surrounding the mainland is somewhat unremarkable, but head 1500 km to the west and the Portugese territory of the Azores offers some of the most incredible pelagic species encounters in Europe. The convergence of currents and climates means that the water is incredibly nutrient rich, drawing in larger predators and filter feeders. Between June and October you can hope to see whalesharks, mobula rays, blue sharks, mako sharks, and perhaps even hammerheads. Take a look at dive centres in Portugal.
Portugal has some of the most progressive LGBTQ+ rights in the world, however, individual attitudes may still reflect the fact that it's a conservative Catholic country.
Most LGBTQ+ friendly above and below water
Another series of volcanic islands to consider is the Canary Islands in Spain, which sits 8th on the travel index. Gran Canaria in particular is considered a gay capital of Europe and offers thriving nightlife above land as well as exciting experiences below water. If parties are your surface interval activity of choice, try to time your Gran Canaria visit during Maspalomas Pride in May. Underwater, the eastern Canary Islands offer the opportunity to dive with angelsharks, whilst turtles are common visitors around Tenerife, Fuerteventura and Lanzarote.
Best cold water LGBTQ+ dive travel destination
If you're more at home in a drysuit and looking for a unique underwater experience, Iceland is the LGBTQ+ friendly dive destination for you. Taking 12th place in the travel index, Iceland was one of the first European countries to recognise same-sex partnerships in 1996. The stand-out site to dive in Iceland is Silfra, the famed fissure which allows you to dive between tectonic plates in 100m+ visibility. It's not all about Silfra, though – for those who are comfortable in cold water there are many more unique sites to be explored including geothermal chimneys and rivers with equally impressive topography. See dive centres in Iceland here.
Other popular LGBTQ+ friendly dive destinations
Home to the Great Barrier Reef in the east and Ningaloo Reef in the west, Australia is a diver's paradise and is LGBTQ+ friendly (14th in the index), although some states are more conservative than others. Mexico sits lower at 33rd on the list but comes highly recommended by members of the Girls that Scuba community. You'll find hugely varied diving opportunities, from exploring the inland caverns of the cenotes to whaleshark encounters off the coast.
One of the most incredible shark diving destinations in the world also happens to be LGBTQ+ friendly, so if gliding alongside a wall of hammerheads appeals to you then head to Cocos Island, Costa Rica (36th on the index). Finally, Thailand is another location which sits lower on the list (53rd) but is culturally very welcoming to LGBTQ+ people and often recommended by GTS members.
Destinations to avoid for LGBTQ+ scuba divers
Some popular dive destinations may be more unsafe to LGBTQ+ travellers, reportedly including Malaysia, parts of the Caribbean, Egypt, the UAE and the Maldives. As with any destination, individual experience will vary. Tourist resorts in these locations could be more friendly options for LGBTQ+ travellers, but in most of these countries it's not recommended to be affectionate in public – regardless of sexual orientation.
Please note Girls that Scuba can only report on destinations that members have flagged up and understand there may be others. Some LGBTQ+ members may have had positive experiences in one of the countries mentioned.
---
It would be impossible to mention every incredible destination, so we'd love to hear about your favourite LGBTQ+ friendly scuba diving location! Share yours in the comments below, continue the conversation in our Girls that Scuba Facebook group, or tag us in Instagram stories of your diving holiday.
---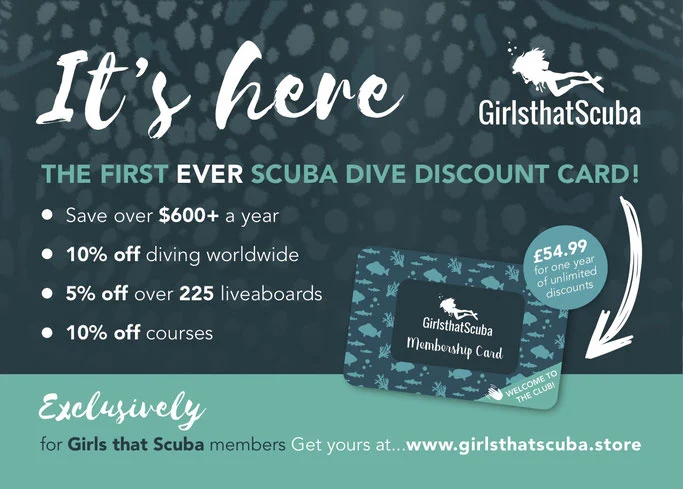 ---