If you're anything like us, you'll love keeping on top of what's new in the world of scuba diving equipment. We've had an exclusive look at the new eco-friendly Xscape collection from Aqua Lung, and we're excited to share these innovations with you.
Aqua Lung Xscape Collection
Xscape 3/4mm Wetsuit – If like us you've lusted after the fun prints and colours of surf wetsuits but found that they don't stand up to the pressure (literally) of scuba diving, you will be overjoyed to see the new Aqua Lung Xscape wetsuit.
Aqua Lung's "aim was to design the ultimate eco-friendly wetsuit", and they've succeeded in creating a comfortable, strong, sustainable suit which happens to also be great to look at. Designed with explorers in mind, this 3/4mm suit is suitable for diving in water between 20°C and 28°C, and the super four way stretch makes it just as practical for other ocean sports (such as snorkelling, freediving, and even paddling or surfing).
The stretch comes from their innovative, 100% neoprene free fabric – the suit is constructed from a natural rubber core layer (Yulex) laminated with water based glue and topped with fabric made from recycled bottles. Comfort is provided by the preformed neck, arms, and legs, whilst the silicone seals at wrists and ankles and the double flap back zip prevent flushing to keep you warmer. The inner fleece layer on the chest also works to keep you warm, as well as making the suit faster-drying.
With all that flexibility and comfort you might expect a weaker suit but don't be fooled – the reinforced knee pads and strong seams mean that this suit should see you through many years of ocean adventures.
Xscape Rash Guard & Leggings – Sporting the same palm print and vibrant colours as the Xscape wetsuit, the Xscape rash guard and leggings are designed to work alone or be worn as a base layer under a wetsuit. The rashie and leggings boast the same environmentally friendly properties as the wetsuit, being made from 100% recycled plastic bottles in a chloride resistant polyester which makes the bright design last longer.
Much like the wetsuit, these pieces are multi-use and can be worn for snorkelling, freediving, or even on-land fitness activities. Mesh panels under the arms aid in circulation to keep the body cool. Worn alone for scuba diving in warm waters, they will provide UPF 50 sun protection and a layer to prevent underwater stings. The loose fit of the rash guard makes it easy to put on as a sun protection layer after a dive, whilst the slightly raised neckline offers additional protection from both the sun and from BCDs rubbing against the skin.
Sustainability has been considered in all areas of these pieces. All of the items in the Xscape collection (3/4mm wetsuit, rash guard, and leggings) are packaged in plastic free, biodegradable packaging, with recycled cardboard hang tags. They also come in mesh bags which can be used to house wet pieces when you remove them, or even used as a trash collection bag underwater or on land.
Have you also seen the Aqua Lung Coral Guardian Hydroflex 3mm Wetsuit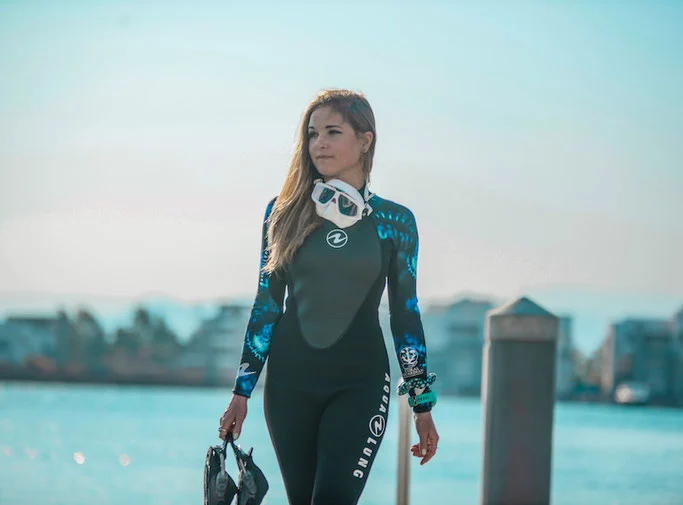 If palm prints aren't your thing, the new Coral Guardian design of the Hydroflex suit may be more for you. This 3mm wetsuit designed for warm water diving features a vibrant design based on an image of coral taken in Flores, Indonesia, by the co-founder of the charity Coral Guardian. They work to preserve reefs in Indonesia by empowering local communities, and Aqua Lung will donate €1 to their projects per Hydroflex suit sold. The suit is constructed from non-petroleum based neoprene, and like all Aqua Lung suits it's a comfortable, flexible material featuring seals at the wrists and ankles to prevent flushing and keep you warm throughout your dives.
Our review of the Xscape range
Where to buy new Aqua Lung products
These exciting new launches will become available over the next few months, so to be the first to get your hands on them you should contact your local dive store to request the items you're looking for. You can check for your nearest Aqua Lung dealer via the search function on their website.
Don't forget that our Girls that Scuba Facebook group is also a great resource for finding fantastic local dive shops to support – why not start a conversation in there to discover who's stocking these products close to your home, and perhaps make some new scuba friends in the process?
Which of these new products are you most excited about? What's going on your scuba shopping list? Let us know in the comments below, share in our Facebook community, or tag us on Instagram @girlsthatscuba!
---
Disclaimer: This article is sponsored by Aqua Lung, however all views are our own. Brand sponsorships help us develop and grow the Girls that Scuba community and continually offer helpful and inspiring content.
---