A poorly fitting BCD is a quick way to ruin a dive, but when shopping for plus size scuba gear it can be a challenge to know which BCDs will offer the best fit. We've pulled together the best plus size women's BCDs as recommended by real divers in the Girls that Scuba community. From the beloved modular Zeagle Zena to custom backplate and wing styles, this list will give you a huge variety of plus size women's BCDs to try out.
If you're left wondering if you can get plus size wetsuits, we've also created a full guide to the best plus size wetsuits, swimwear and exposure suits.
We recognise that some of these sizes may not be deemed as plus size for every diver, and we consistently use our influence to advocate for better size ranges in women's scuba equipment.
What to look for in a plus size BCD
The biggest consideration when shopping for a BCD is fit. For plus size divers, it can be more challenging to find a BCD which fits well across all areas – waist, bust, shoulders and hips. In a lot of scuba equipment, sizes are graded which means that all measurements get bigger as the sizing increases. This can be problematic for many divers – if someone is short with a larger waist, for example, they may need a size XL for their waist size but the back and shoulders of an XL may be too long for their height. For this reason, many of the BCDs recommended in this article are customisable or modular to ensure a perfect fit.
Another important consideration for a plus size BCD is the lift capacity. When choosing a BCD, you need to ensure that the lift capacity is correct for the amount of weight that you need to carry. This will also depend on what exposure suit you're wearing. If you're only diving in tropical waters with a shorty or 3mm suit, you will need less lift capacity than if you're wearing a thick semi dry or drysuit. We have included the lift capacity for all BCDs in this post to help you decide which one will work best for you.
Zeagle Zena (up to XL)
The Zeagle Zena is one of the most frequently recommended BCDs in the Girls that Scuba Facebook group. This jacket style BCD is known for being secure and comfortable due to the dual waistbands and wide front panels. It is a back inflate style but that doesn't mean it lacks in storage, as can often be the case with back inflate BCDs. The waist features two stainless steel d-rings and an expandable mesh pocket with two additional plastic d-rings on the shoulder straps. The Zena has a lift capacity of 34 lbs/15.4 kg.
This BCD is especially loved by plus size divers thanks to Zeagle's "Personal Fit System". The modular style means that you can choose waist size, chest size and torso length independently to create a perfect fit. Modular pieces are available up to an XL. However, if you're shopping the Zena in standardised sizing, it may only go up to LG. Plus size divers within our community note that it is generously sized, and some divers also recommend the Zeagle Ranger BCD for the same customisable fit.
Aqua Lung Lotus & Pearl (up to ML)
Another popular back inflate BCD for plus size divers is the Aqua Lung Lotus. Much like the Zena, the Lotus offers a great balance for someone who wants a back inflate model but still needs the organisation of a jacket BCD. It features two sizeable pockets and a total of eight d-rings (four plastic, four stainless steel). The chest strap on the Lotus is removable, which is a simple yet helpful feature to make it adaptable for different bodies. The lift capacity for size MD and ML is 33 lbs/14.9 kg.
If you prefer a true jacket style BCD – or find that the Lotus isn't a great fit for you – you can also try the Aqua Lung Pearl. Like the Lotus, the Pearl sizes up to a ML but GTS members note that this largest size is quite generous. The Pearl features less d-rings than the Lotus (with a total of four), but has slightly larger pockets due to the jacket style. Inside the back of the BCD, the waistband is adjustable to customise the fit. If you're diving in a thicker exposure suit and require more lift, the Pearl may be a better choice with its higher lift capacity of 39 lbs/17.7 kg (in size ML).
Aqua Lung Rogue and Omni (up to L)
Another Aqua Lung offering which is popular with plus size divers is the Rogue. Like the Zeagle Zena, this can be customised with different modular pieces to create a perfect fit for each individual. The waistband, back and shoulder pieces can all be purchased separately from the bladder with a total of 27 possible size configurations. There are four stainless steel d-rings, as well as a webbed "daisy chain" strapping across the shoulders to allow even more space for attaching accessories. This is in addition to two expandable pockets. The Rogue's lift capacity is 35 lbs/15.9 kg.
For jacket BCD lovers who want the benefits of a modular system, the Aqua Lung Omni may be the answer. The Omni features zip pockets, four stainless steel d-rings, an octo holder, quick release integrated weight pockets and a knife mount point. Optional extras include additional trim pockets, an SMB pocket and a waistband extender. As with most jacket styles, the Omni has a higher lift capacity than its back inflate counterpart, offering a generous 47 lbs/21.3 kg of lift (size L). Note that when purchasing the Omni you have to also add the colour kit (with back pad, reusable mesh bag, weight pockets, console holder, inflator velcro, zipper pulls and chest strap slider) to complete the BCD.
All Aqua Lung BCDs can use a waistband extender to add extra inches to the waist size. This extender also gives the bonus of an extra pocket. For the Rogue and Outlaw this is a model with 1.5 inch clips, and for all other BCDs there is a version with 2 inch clips.
Scubapro Bella (up to XL)
The Scubapro Bella is a classic wraparound jacket style BCD which offers comfort and great support for plus size divers. With two large zippered pockets and six d-rings, it has plenty of space for attaching accessories. It also offers integrated weights as well as two extra trim pockets which are extremely helpful for perfecting your buoyancy. The Y-Fit shoulder design gives great range of motion in the arms, although divers with larger busts may find that this is too restrictive across the chest. The XL size has a lift capacity of 34 lbs/15.4 kg.
Custom Backplate and Wing
For the most customisable option possible, consider switching to a backplate and wing setup. Although they originated from more technical diving, many recreational divers are switching towards a "tec-reational" style of equipment for increased customisability and safety. For plus size divers, this means that you can make your equipment perfectly sized for you in different areas – usually with a cheaper price tag than modular jacket or hybrid BCDs. Wings are often fitted with a crotch strap, which can be helpful for plus size divers with larger hips.
Whilst these systems are generally custom built, they can also be bought as a complete unit. Styles such as the Tecline Ladies Edition and the X-Deep premade options (Ghost, Zen) have been recommended in our community. Girls that Scuba member Emma shared a full rundown of her experience switching from a jacket BCD to the X-Deep Zen, with some valuable lessons if you choose to change to a wing.
---
Have we missed your favourite plus size BCD from the list? What else do manufacturers need to take into consideration for plus size divers? Continue the conversation in our Girls that Scuba Facebook group, or share your story with @girlsthatscuba on Instagram!
---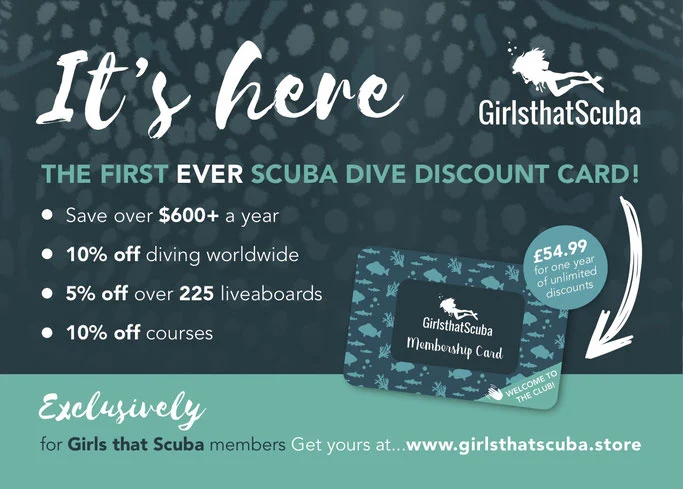 ---