Right now our scuba diving travel is somewhat more restricted than we're used to, meaning many of our Girls that Scuba members are starting to explore the option of local diving. Local scuba diving can often be a totally different experience from your usual holiday diving adventures, and if you're not yet part of a diving club in your local area it can seem a little difficult to get into.
If there's one thing we all want as scuba divers it's more time underwater, and local diving could be the key to that. Read on to learn why you should consider local diving as an option, where to look to discover your local dive sites, how to find buddies near you, and suggestions for safely planning a local dive.
Why should I dive locally?
There are so many benefits to local diving, so what are you waiting for? From discovering new dive friends to sharpening your skills, here are some of the top reasons to consider.
Extend your dive season
It's always a bittersweet moment when you return from your final dive holiday of the summer and say goodbye to your equipment as you pack it away until next year – but it doesn't have to be that way! If you get into the world of local diving, you can extend your diving season and continue to dive even when you're not travelling further afield. Imagine the freedom of being able to just pop for a dive on a day off, or head on a short dive trip for a weekend.
Widen your skill set
Assuming that you often dive on holiday in good visibility and relatively warm water, it's likely your local dive conditions at home will be a little different. Whether it's lower visibility, colder water or fresh water instead of salt, learning to dive in different conditions will allow you to develop new skills and therefore become a more well-rounded scuba diver. Diving more frequently will also mean you're consistently practicing your skills and not becoming rusty in between dive trips, making your diving much safer.
Get involved in the dive community
A lot of us divers seem to be afflicted with the same problem – we want to talk about the underwater world 24/7. However, our non-bubble-blowing pals don't always want to play along. This is where local dive friends come in! Local scuba diving is often centred around dive clubs, which, as well as arranging regular local dives and long distance trips, usually come with a buzzing social calendar. You'll make plenty of new dive friends and be able to talk about diving as much as you like – without the funny looks from land-locked friends!
Support your local dive businesses
If you're diving with a local club or learning with a local dive school, you're directly contributing to your local economy. Dive businesses are often fairly small, and right now it's more important than ever to ensure we're supporting small local businesses. You may also find that by shopping smaller and more locally for your dive equipment, you'll get more personalised recommendations and overall better service.
Where can I dive locally?
If you're not lucky enough to live by the coast, it's easy to think that local diving won't be accessible to you. But diving isn't restricted to the ocean; many of the best dive sites can be found inland, and almost any body of water can be suitable for scuba diving!
Many local lakes are open to scuba divers, and whilst there's a misconception that it's somewhat like diving in a muddy puddle, they can offer up some interesting, diverse underwater life. Flooded quarries are also often an option; many end up being adapted for use specifically as scuba diving locations, with sunken platforms perfect for drilling your dive skills, or small scuttled wrecks. Dive-specific inland locations usually have facilities for tank fills, gear servicing, scuba shopping, and dive education, as well as practical facilities such as cafes, toilets, changing facilities and showers. If you're a UK diver, check out our post here on some of the inland spots on our doorstep.
If you do happen to live somewhere coastal, you may well have some fantastic diving a short distance away! Read on to learn how to look for local dive sites and get involved with your local dive scene.
How can I get involved in local diving?
Find a club
As we mentioned, making scuba diving pals within a dive club is one of the top benefits of getting involved in local scuba adventures. But where should you begin looking for them? The internet is your best friend here; a simple Google search is a great place to start, as well as search functions on the websites of dive training agencies to see what dive providers are near to you. You can also try searching social media – try a Facebook search of "[your area] dive" and see if any local groups pop up.
For UK divers, the British Sub-Aqua Club (BSAC) runs a network of dive clubs across the country and champions local diving in a club environment. They are also a training agency and run their own courses, but are open to divers from other agencies too.
In other locations, you may find that your local dive community is based more around a dive school or operator than a "club" environment, but these sort of dive operators may still offer similar opportunities for group dives and non-dive related social meet-ups!
---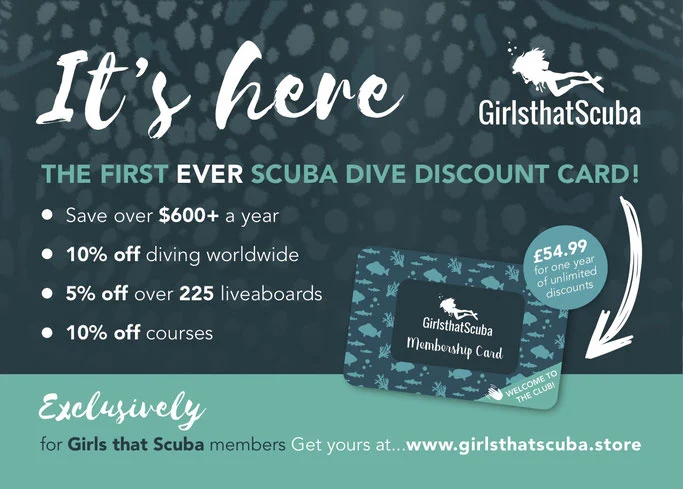 ---
Search for buddies
If you're struggling to find a specific club don't worry – GTS has got you covered. Knowing the stress of finding local dive buddies, we set up our Girls that Scuba Together group! Join the group, post where you are based and when you potentially want to dive, and our network of women will reach out to buddy up with you. Whilst you're there, don't forget to join our main Girls that Scuba Facebook group and immerse yourself in our supportive community of nearly 50,000 ladies! Our original group is also a great resource for local diving information – a quick keyword search of where you're based should bring up any existing posts for your local area, and if not, feel free to start a thread and find out what's going on!
Buy a book
Seems a bit old-school to be saying this in 2020, but hear us out. Do a bit of research to find if any guide books have been written for local dive sites near to you, whether inland or coastal. You might be surprised by the wealth of diving opportunities available to you, and the knowledge of what you're missing out on could be the push you need to get you into your local waters!
Are you a local diving expert, or have you yet to find your local diving community? Let us know in the comments below, share your local diving adventures to our Instagram @girlsthatscuba, or join us on Facebook to discover local buddies!