It will come as no surprise that we get lots of questions about dive courses within our Girls that Scuba group, and whilst most queries about the Open Water course can be answered quite simply, Divemaster course questions require us to dive a little deeper (if you'll excuse the pun). With that in mind, we're sharing a whole series of posts on the Divemaster course to break down exactly what you'll want to know when taking the first step to becoming a dive professional.
Within this GTS Divemaster Guide series, you can expect to learn more about the Divemaster course itself, whether you should be considering a paid course or a Divemaster internship, the difference between Divemaster and Master Scuba Diver ratings, as well as sharing the experiences of some of the GTS team during their Divemaster courses.
In this first post we'll be running through the divemaster course outline and sharing what you'll have to complete along the way, from theory to practical skills as well as the prerequisite requirements for the course. So buckle up your weight belt, and read on to learn more!
What does the Divemaster course teach me?
Becoming a scuba divemaster is the first step to becoming a scuba diving professional. Yet there's so much more to it than that, as well as a plethora of rewarding skills to be gained by taking on the challenge. Whilst training as a divemaster, you will develop the traits required to be responsible for keeping others safe underwater, as well as facilitating others' learning and becoming a role model for new divers. Once certified, you'll be able to assist brand new scuba divers on courses alongside an instructor, and safely and responsibly guide certified divers on their underwater adventures. As well as elevating your practical diving skills and becoming the best diver you've been so far, you'll develop transferable skills in leadership, time management, planning, and organisation.
Which agency? PADI Divemaster?
The certification agency our community most often asks about is PADI, and in keeping with that, most of the skills and requirements referred to in this article will be specific to the PADI Divemaster course. However, due to scuba diving courses being standardised by WRSTC (World Recreational Scuba Training Council) many of these skills will be similar across different certification agencies. Despite choosing to focus on PADI in this instance, Girls that Scuba is not affiliated with one specific training agency, and we encourage you to seek out the course and instructor which will serve you best when completing your divemaster training.
Divemaster Course Prerequisites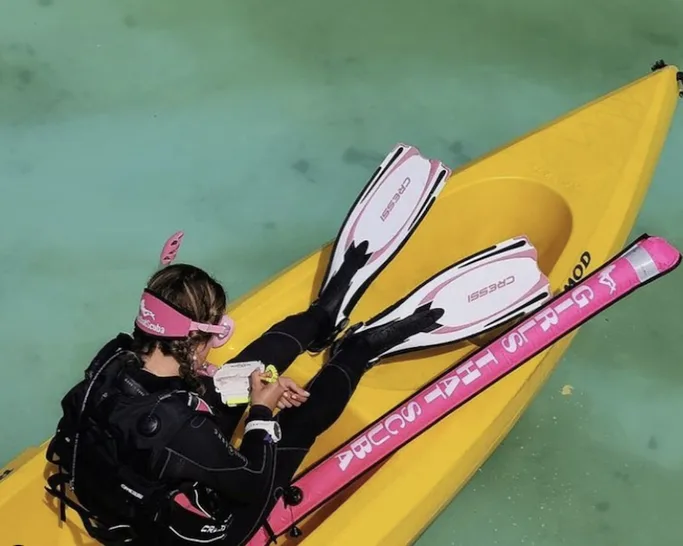 Being the first professional level scuba certification, the divemaster course has more prerequisites than earlier courses. Divemaster candidates must be a minimum of 18 years old, certified as a Rescue diver, have completed valid CPR and first aid training within 24 months of starting the course, and have medical clearance to dive.
For the PADI course, candidates must begin with a minimum of 40 logged dives – read about the importance of logging your dives here – and need 60 logged dives to complete the course. Many divers believe this is a low number of dives to be taking on a challenging course, so you should thoroughly review your own skills before deciding if 40 dives is enough for you to begin. There's no shame in seeking out more fun dives and gaining more varied experience before embarking on the divemaster course! The advice in our Rescue course post may be relevant to you here when working out if you're ready.
Whilst not strictly "prerequisites", it's worth noting that you might need some of your own equipment for your divemaster course. At a minimum, most schools recommend you have your own dive computer and DSMB with reel. If you want to represent GTS whilst you're at it, we have our very own SMB available here! If you're looking to buy more than just the basics, be sure to check out our full article on choosing dive equipment.
---
Waterlust leggings – 10% of profits donated to Marine Megafauna Foundation
---
Theory
Like any dive course, your divemaster training will require some theory elements. This theoretical knowledge will refresh and build on what you've learned in every preceding course. You can expect to gain a deeper knowledge of the physics of diving, decompression theory, dive related first aid, and the underwater environment. Depending on your course and instructor, this may include self guided study from textbooks, videos, and e-learning, as well as knowledge reviews discussed with your instructor and final exams.
Another theoretical element is one which you should be familiar with from your Rescue course. You will be expected to create a thorough Emergency Action Plan, or EAP, to understand what's required of you as a dive professional in an emergency situation.
Water Skills – swim test?
Lots of divers ask about the divemaster swim test when looking into taking their divemaster course, and the swim test is just one of a group of water skills which must be signed off. You will be required to complete a 15 minute unaided water tread, a 400 meter swim, an 800 meter snorkel, and a 100 meter tired diver tow. Each test will be scored based on time or performance.
You must also complete an equipment exchange with a buddy, swapping all elements of your scuba kit whilst both alternately breathing from one regulator.
Skill Circuits and Rescue Assessment
Once you're certified as a divemaster you'll be allowed to assist on courses alongside an instructor. In order to do that, you'll need to be able to demonstrate your skills to an extremely high standard for new divers. You will be tested on each of these skills (including skills such as mask removal and replacement, regulator recovery, deep water entry, emergency air sharing) until you can perform them slowly and clearly, exaggerating your movements, and doing so with ease.
You will also be required to refresh your rescue skills and demonstrate that you can successfully rescue an unconscious diver, including towing them for a distance whilst performing rescue breaths and removing their equipment.
Practical Skills
Throughout the course you will continually practice and develop the skills required of a professional divemaster. You will need to be signed off on successfully setting up and managing a dive site, which includes conducting diver flow and ensuring all safety equipment is prepared and available. You'll also be tested on briefing a dive – there's a bit of an art to learning how to conduct the perfect dive briefing, so your instructor will help you to find your flow.
The specific underwater skills which you'll develop are search and recovery and deep diving. Search and recovery will involve learning to tie knots underwater, developing your compass skills, and using lift bags or other tools to recover items from underwater. You'll also be required to demonstrate proficiency and confidence in diving beyond 18m. If you have completed specialities in these skills, they may be credited towards your course (at the discretion of your mentor or instructor, and dependent on your certification agency).
You'll also have to put your artistic skills to the test. Alongside a buddy, you'll also be expected to thoroughly map a dive site. This will involve surveying the area and creating a map which can be used to help new divers understand and navigate the site.
Divemaster-led workshops
Some of what you learn as a divemaster trainee will be demonstrated in a workshop environment. These workshop scenarios will include dive professionals acting as new divers, to test your skills without putting uncertified divers at risk. These workshops will include conducting mock try dives in confined and open water environments, guiding certified divers, assessing and refreshing the skills of already certified divers, and supervising snorkelling activities. Some of these are activities which you will be qualified to conduct independently once certified as a divemaster.
Assessments
The final assessments to mention are ones which involve assisting instructors with real life student divers. This will include assisting on a variety of courses, from brand new Open Water divers to Advanced courses, and you'll be expected to demonstrate the ability to help students overcome specific problems underwater.
Your instructor will help you to better understand the difference between your role and theirs, but you will predominantly act as a role model for the students, and a bridge between them and the instructor. You should be someone the students feel they can come to in order to understand skills or theory better, which is why your own education and understanding is so critical to being a fantastic divemaster.
Choosing which dive centre to do your Divemaster with
Most dive shops offer you your Divemaster certificate on an intern basis, where candidates spend anything from a month to six months learning the ropes, so choosing the right shop is an important decision – after all it's going to be your new home. We've got a whole article on choosing the right dive centre to do your Divemaster with, so read that here.
---
So that's our run down of the skills involved in taking on your Divemaster course. Which skill are you most excited to complete? Let us know in the comments below, and if you have any more questions about becoming a Divemaster then don't forget to join our fantastic Facebook group community to chat with 48,000 other female divers!
---