Florida diving trips are always on the brain for lots of our Girls that Scuba members. We've already covered the best dive sites in Key Largo, but it would be rude not to answer the people who are crying out to know the best dive operators in Key Largo.
Whether you're travelling with family, taking a giant stride into technical diving, or you're after an intimate small group to dive with in Key Largo, we've got you covered. Read on to find out everything you need to know on the best dive operations in the Florida Keys!
Read also: Scuba Diving Florida Springs
---
Scuba leggings from Florida
---
Best dive shops in Key Largo for small groups
If it's a small group you're after for your Key Largo dive packages, look no further than Quiescence Diving Services, who also offer snorkelling trips for non-divers. They pride themselves on taking divers to "off the beaten track" sites, and being a go-to shop for equipment servicing in the Florida Keys.
For a truly personalised small group choice, check out Lucky Fish Scuba Key Largo. Owned by one of our very own Girls that Scuba Facebook group members, they're always especially excited to host GTS guests! Whilst we haven't dived there personally (yet!), we love their flexibility in bookings and ability to create a schedule which suits your diving needs. Their well-equipped boat can host up to four divers and two non-diving guests, so your snorkelling pals or family members can tag along too.
Best dive centre for tech diving
Key Largo is known for having some fantastic wreck diving opportunities, and if you want to make the most of this then technical diving is the way to go. Horizon Divers are the choice for divers who are looking to further their education, stay deeper for longer, or explore the interiors of the Florida Keys wrecks. With courses from PADI, TDI and IANTD, they can cater to all levels of technical diver (as well as recreational courses too). To learn more about the world of tech diving, join our Girls that Tech Dive group on Facebook.
Best dive shops for dive equipment sales in Florida
You never know when you might need to pick up a new piece of dive equipment on a trip, so it's important to know the best place to buy scuba gear if you're in the Florida Keys. Divers Direct Key Largo comes highly recommended by the divers in our community. Boasting the widest variety of equipment in the area, and also offering air fills and equipment servicing, it's an obvious choice for your dive gear needs. Bonus – it sits on the doorstep of many of the hotels in the area for super easy access!
Best dive operator for dive travel in Key Largo
As beautiful as the local area is, sometimes we want to expand our diving horizons a little further! For Key Largo locals wanting to travel out of the area (when we can do so safely), many dive shops offer a dive travel club with chartered trips to some of the top diving destinations around the world.
Did you know we also offer our own Girls that Scuba trips? If you fancy joining up with women divers from across the globe and embarking on a once in a lifetime trip, we've got you covered. Check out our dedicated trip page, you can sign up to be the first to know when we launch new locations, explore the adventures we have on offer for next year, and read reviews from previous GTS trip attendees. For more, don't forget to follow us on Instagram too, @girlsthatscubatrips!
Best dive shops for families in and around Key Largo
If you're a diver travelling to Key Largo with your family, there are a couple of shops worth adding to your list. Sea Dwellers have a large boat which can accommodate divers and non-divers so family members can tag along – older kids are even welcome to snorkel whilst parents dive. Although their boat is large, they keep group sizes small and don't overfill the boat in order to keep your experience fun and personalised. *younger children must be supervised at all times
When visiting Sea Dwellers, keep an eye out for a familiar Girls that Scuba face! Our GTS Ambassador Amber is part of the team there, and she always loves to meet divers from our Girls that Scuba community. If you'd like to know more about Amber's journey when learning to dive in the Florida Keys, click here.
Another fantastic Key Largo option for families is Pirates Cove Watersports, which offers a multitude of watersports as well as scuba diving and snorkelling trips. If you need to occupy different family members with a variety of activities, including paddleboarding, kayaking, and parasailing, they're conveniently located on the site of the Key Largo Bay Marriott Beach Resort. If you want to keep the family close by when you're heading underwater, non-divers or snorkelers can join on the dive boat at an additional cost.
Best dive resorts in Key Largo
As well as being fantastic for families, Pirates Cove also tops our list as one of the best resorts in Key Largo. We know lots of divers enjoy having all elements of their trip in close, walkable proximity, and resort-based dive shops really excel in this area. As we mentioned, being on the site of a large resort means that you have everything your family could need (and your all important dive boat access!) right on the doorstep of your accommodation.
Another dive resort which comes highly recommended within the GTS group is Amoray Resort. Known for their friendly and accommodating dive crew, Amoray has recently undergone a refurbishment and offers a relaxing environment as the base of your diving holiday. Like most resort dive settings, they offer great combined packages for your accommodation and diving, as well as options for completing courses during your stay.
---
In the interest of transparency, we'd like to note that whilst some of these dive operators may feature on our GTS Membership Card, none of these mentions are paid-for features or advertisements. The businesses included in this post were chosen based on discussion threads in our Facebook community and the recommendations of our GTS Ambassador Amber.
---
We'd like to extend a thank you to GTS Ambassador Amber Blount for the contribution of her local knowledge to this article. Who will you be diving with on your next Key Largo dive trip? Let us know in the comments below, share your trip in our Facebook group, or tag us in your holiday snaps on Instagram – we're @girlsthatscuba!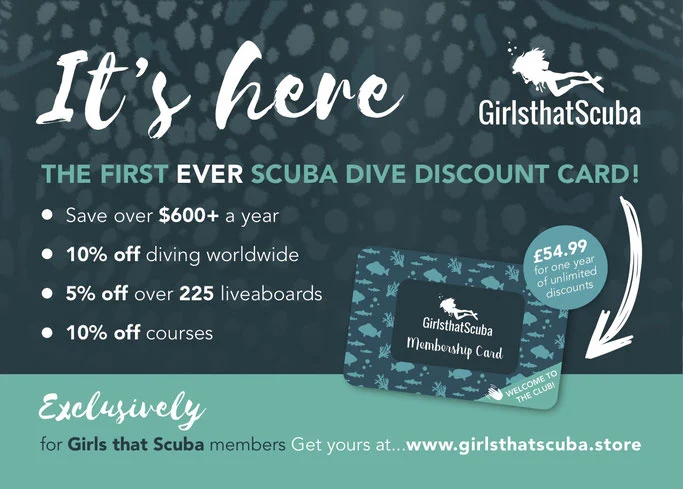 ---