With scuba diving involving often heavy and sometimes cumbersome equipment, it would be easy to think that it's not an inclusive sport. However, this misconception is completely wrong. Amongst our Girls that Scuba Facebook community we have many members who are Disabled themselves, some who dive alongside Disabled buddies, and some who teach adaptive scuba diving as instructors.
The mental and physical benefits of scuba diving are well documented, and these benefits can be particularly profound for Disabled scuba divers. The weightlessness experienced underwater can make the effects of some conditions much less pronounced. Over time it can even potentially reduce muscle pain and increase mobility.
We explored more on how scuba diving can help with physical disabilities. Here, we'll be shining the spotlight on the specific adaptations people have used in order to be able to dive. It often takes less adapting than you would think.
Read on to hear first hand accounts from some of our GTS members, learn how an adaptive scuba instructor changes her teaching style when needed, and explore how you can get involved with adaptive scuba diving.
---
Scuba Diving With Limb Loss
Amber Blount is an active member of our Girls that Scuba group. Learning to dive with only one leg meant that there was some trial and error during her certification journey. She shared her story with us – from realising that scuba was an option for her, to the equipment she uses, and how she helps other divers with limb loss.
In March 2013 Amber was on a motorcycle which was hit almost head-on. "After 30 days in the hospital, and 10 surgeries, I was let out – missing my left leg above the knee, a collarbone being held together by a plate and 9 screws […] and a healing lung from collapsing during the wreck." Feeling as though her world had ended, she had to leave the job she had known for eight years and adapt to her changed life.
Trial and Error
Four years on from her accident, Amber relocated from landlocked Oklahoma to live in the Florida Keys. Despite knowing nothing about the dive industry (yet), an employer took a chance on her. Amber landed a job working the desk of a dive shop.
The excitement of booking in other divers for their courses was contagious, and she knew she wanted to add scuba diving to her activities. "I thought that since I was able to adapt CrossFit so easily, I would be able to adapt scuba diving and pick it up really quickly. Boy, was I wrong."
Having got stuck into her manuals, her first three pool dives were certainly more of a challenge than she anticipated. "Thankfully, I learned something from every session. The first one was awful. I was in a rear inflate BCD that we couldn't get the weights right in. I kept rolling like a seahorse. It was uncomfortable, I was scared, and so nervous and frustrated that I just scrapped the whole thing. I gave up. My next pool session, we tried a jacket BCD and played with the weights in a meter of water until I felt comfortable."
These early lessons taught her the importance of being patient and trying new things. She would also need to find exactly what equipment would work best for her as she learned to scuba dive.
Finding the right instructor
Amber's training took a back seat until she could continue her education under the watchful eye of her instructor boyfriend. Following more time getting comfortable in the pool, they eventually got to take her training out into open water where she was still facing some discomfort.
It turned out that pinpointing the issue alongside a patient instructor was the key. "Figuring out my weights, and where exactly to put them to compensate for not having a limb was probably the hardest and most frustrating part for me."
The resilience of Amber and her instructor was what got her through: "Either way, we got it. Yes, it took me longer than most, but living here, I have that amazing option." She now has the freedom to choose when she wants to dive. Amber makes the most of the great Florida weather, and avoids any "lumpy" days out on the water!
Adapting equipment
As she's grown as a scuba diver (having surpassed 100 dives in just under a year!) she's learned a lot about what gear works for her. "My entire set-up is set specific to me and my needs. I have an Aqualung Pearl BCD with a Safe Second. I use Atomic X1 fins because I need something stiff and powerful for a single leg kick, and I have a Bare Evoke suit. We had to cut the leg off of and sew it closed so I can stay streamlined. I also have a pair of Dark Fin webbed gloves that stay in my pocket if I need to use them in a current."
Adaptations can be minimal
Although it sounds like a lot, Amber stresses to new divers with limb loss that they don't have to adapt that much in order to dive. "With the exception of webbed gloves occasionally, and where my weights go, I haven't had to adapt much. We don't really have to adjust much for leg limb differences. For upper extremities, if they're missing a right arm, [we] switch their hoses and have everything come over the left instead of right".
Ask for help when needed
As you might imagine, a giant stride from a large boat isn't ideal when you're working with one leg. But Amber isn't afraid to ask for help, and finds that dive operators are helpful and understanding.
"Getting on and off a boat can be a challenge, but so far, I have noticed that if I talk to the DM or crew beforehand, they're more than willing to help me."
Amber adapts her entries by being helped to jump in. She then has her gear thrown to her which she puts on in the water. If she's on a smaller boat, or one with a platform, she simply gears up on the boat alongside the rest of the group and then "side rolls into the water with a little help from the crew so [her] tank doesn't hit the platform".
If you're new to adaptive diving, seek out an understanding dive school to get the most out of your experience. Some programs to research are listed at the end of this article.
Disabled divers all have different abilities
Amber's experience has been helpful amongst her dive shop's customers, but she stresses that that doesn't make her an expert in all situations. "I like helping with other amputees, but at the same time, not all disabilities are the same, so you can't just throw them all into the same box."
---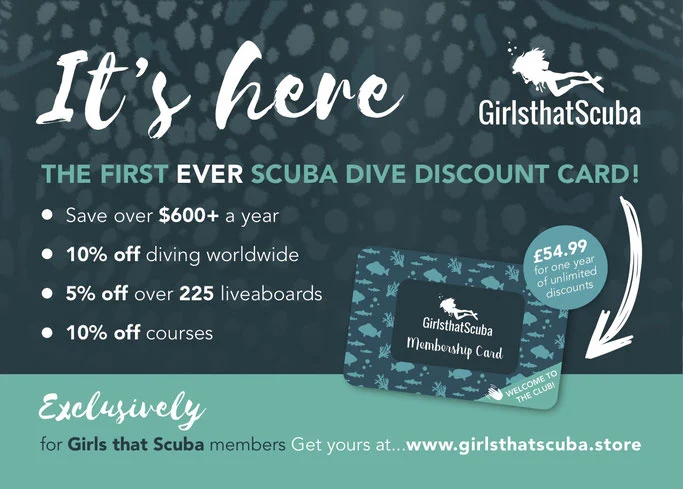 ---
Scuba Diving With Cerebral Palsy
Girls that Scuba member Aubrey Kailyn was born with cerebral palsy, a lifelong condition which affects movement and coordination. In 2018 she completed her Scuba Diver course in Grand Cayman with a program called Stay-Focused. The project aims to empower teens with disabilities by gaining independence and confidence through scuba diving. She went on to complete her full Open Water course in a lake back home in the US, and has since returned to Grand Cayman as a fully certified diver!
Similarly to Amber she doesn't use a giant stride entry, but aside from that doesn't use any adaptations. She told us that "Diving makes me feel weightless and most of the time my pain goes away." Not every Disabled diver will require lots of adaptations in order to get comfortable underwater.
---
Teaching Adaptive Scuba Diving
Chloe Strauss, one of our GTS moderators, is an adaptive instructor and has taught many young people with varied disabilities. Whilst working as an instructor at Indiana University, she was certified through Disabled Divers International. This allowed her to teach summer programs at a local outdoor center with specially-built accessible facilities.
The participants are often surprised by their own skills. Chloe shared, "I love taking these kids scuba diving. A fair few of them actually didn't think it was possible, but as soon as they get familiar with the equipment they start having so much fun."
She also finds that it helps keep her instructing skills in top shape. "Adaptive instructing gives you a chance to be creative. You have to teach skills a little differently, or create adaptations to the equipment to accommodate the abilities of the diver you're working with. It's a lot of fun for everyone involved."
---
How Can I Get Involved?
As well as divers with limb loss and cerebral palsy, we also heard from people who dive with autism, Down's Syndrome, varying levels of paralysis, multiple sclerosis, hearing loss, and many more. The scuba diving world is open to all, it's simply a matter of finding the right instructor and program for you.
Many non-profit charities run schemes around the world in order to certify disabled divers and adaptive dive buddies. Many divers in the US work with Diveheart who focus on abilities not disabilities, and The Scuba Trust run courses in the UK.
If you're looking for a more widely available option to support a Disabled dive buddy, you can also check out PADI's Adaptive Support Diver speciality. If you're a PADI professional, you can take the Adaptive Techniques course to aid Disabled divers on their journeys. Other certification agencies will offer similar courses, too – check with yours to find out more!
---
Do you dive with a disability or alongside a Disabled buddy? Join our Facebook group to share your story, or tag us in your posts on stories on Instagram, @girlsthatscuba!
---
---