The sparkling freshwater pools of the Florida Springs offer some of the best dive sites in Florida. With unique sites such as the Blue Grotto and Ginnie Springs, it's a fascinating area and would make for a fantastic Floridian scuba road trip. Read on to learn what makes the springs so special, what equipment to pack for your adventure, and most importantly the best springs to scuba dive or visit in Florida. We've also included a handy Florida Springs diving map alongside our tips for how to make the most of your visit.
Why visit the Florida Springs for scuba diving?
With Florida lying on top of an aquifer (a large underwater river system), there are countless freshwater springs to explore for all levels of scuba divers. These mesmerising pools make for some of the best dive sites in Florida – offering crystalline visibility, year round consistent temperatures and conditions, and some unique wildlife to share the waters with.
The area also offers the rare experience of getting a glimpse into the world of cave diving for lower certified divers. Whilst there are some world-class cave dives for the accomplished explorer, many of the sites in the area are caverns as opposed to caves. This means that you can consistently see light from the entrance and you're not in an enclosed overhead environment. With some great diving off the coast of Florida, too, the Springs can be a great addition to a longer dive trip.
So if adventuring alongside manatees and freshwater turtles whilst getting a taste of cavern diving sounds like something you'd love, it might be time to add the Florida Springs to your scuba bucket list.
General advice and Florida Springs diving map
As with many dive spots, planning is key when it comes to a successful diving trip to the Florida Springs. An important point to note is that whilst some of the springs are within national parks, many of them are on private land. For some of the springs, such as the popular Blue Grotto, this means they have become dedicated areas to scuba diving, whilst in others it means you may have to plan your dive a little more carefully to avoid trespassing on private property.
If you prefer to dive in a less crowded environment, avoid the weekends. With such fantastic visibility many of the sites are perfect training spots for new divers, and a lot of local schools take advantage of this. This can result in reduced visibility from new divers kicking up sediment, as well as the sites being busier above land with lots of people vying for the best spot to gear up. If your trip does happen to fall on a weekend, arriving at the sites and getting into the water earlier will serve you well. Equally, if you're diving on a weekday ensure that you call ahead to your planned sites to check that they're open as some are closed during the week.
When planning what time of year to visit, the colder months (December-February) generally have slightly better visibility and are less busy with other tourists. Some of the springs offer more activities than just scuba diving – including kayaking, tubing and snorkelling – and during the warmer months they can be extremely busy with holidaymakers. A number of springs are also popular spring break spots, so this may be another period to avoid if you want to dodge the crowds.
We have included a Florida Springs diving map below to give an idea of how best to plan your trip. Please note that this is not to scale, but is intended to give you an idea of the proximity of these popular sites to one another.
What equipment do I need to dive the Florida Springs?
Unless you're a certified cave or cavern diver, you shouldn't need anything too specialised for diving in the Florida Springs. However, we would highly recommend having your own equipment if you're touring around these sites independently (as opposed to completing courses or guided packages with a dive school). Many of the smaller springs don't have any on-site rental facilities, so your own equipment is a necessity.
Another option would be to rent your equipment from a local dive operator for each of your dives. If you choose to do this, we'd suggest renting from one central location and returning the equipment at the end of your trip; this saves you constantly driving between sites and dive shops, saves valuable time adjusting equipment to fit your body, and generally gives you better rental rates when renting for a week versus a day or two.
Planning your exposure is relatively easy as the water temperature is consistent year round, with most springs staying at a cool 72°F/22°C. For most divers this will mean layering up under a 5mm or donning a 7mm suit. Gloves and hoods may also be helpful if you tend to get cold whilst scuba diving. Depending on the air temperature at the time of your visit, some warm clothes topside may be helpful too. Our Girls that Scuba Changing Robe is handy for keeping the chill off when you're staying suited up between dives in warmer months, whilst a sweatshirt and GTS Beanie will save that all-important body heat when it's cooler outside.
One equipment addition which you may not usually carry is a torch or dive light. These can be useful for peeking in the nooks and crannies of the darker caverns such as Devil's Den, however, some springs will only allow you to carry torches if you're cavern or cave certified (to prevent the temptation of diving into more challenging areas). GTS Loves: Mares EOS 5RZ Dive Torch.
Whilst not strictly "equipment", we can't go without mentioning the importance of using reef-safe sunscreen and personal care products whilst diving in the springs. All water eventually makes its way to the ocean, so whilst there's not strictly "reef" to be damaged in the springs, traditional suncare products are still extremely harmful. We're big fans of Stream2Sea's reef safe sun protection, and we deliver their products worldwide (and packaged plastic free) from our sister shop, A Waste Free World.
Scuba diving safely in cavern environments
Although many of the Florida Springs diving sites are suitable for beginners, it doesn't mean diving them is totally risk free. We're not here to scare you, however you should definitely exercise some caution when diving these environments if you're unfamiliar with them. Your most basic training should have instilled the idea that you never dive beyond your experience and limits, and that advice most certainly applies to cavern environments.
Many of the sites are shallow, but in deeper springs ensure that you're not exceeding the depth of your certification level. Most importantly, do not be tempted to enter overhead environments if you're not trained to do so. Areas of some of the springs are blocked off to lower certified divers for good reason. If you're eager to learn more about caverns and caves and keen to start your journey into diving them safely, seek out a local instructor who can guide you through a speciality course.
Best dive sites in Florida Springs
These spots are the sites not to be missed according to the community in our Girls that Scuba Facebook group.
Ginnie Springs/Devil's Eye/Devil's Ear
Sitting on private property which has been specifically developed with water activities in mind, Ginnie Springs diving is high on most peoples' lists. The property is well suited to scuba diving, with a full equipment rental offering and a safety conscious approach. (Please note that equipment rental may be unavailable due to Covid-19, and the shop is currently unable to fill cylinders). Whilst there's no formal training offered on site, the dive shop can offer guided orientation dives or pair you with a local instructor if you're looking to complete a course. On site camping is available. Certified divers will pay $32 for one day entry, and full cave (or equivalent) certified divers pay $24.
One of the most well known spots here is the Ginnie Ballroom. This is a large amphitheatre opening inside the rear of the cavern and is accessible to all levels of divers. There's a permanent guideline installed around the back of the cavern to ensure you can return to the entry, and you are encouraged to carry a dive light to see all that the site has to offer. If you're looking to add to your freshwater adventures, this spot is also popular for night dives.
The Devil's Eye and Ear are extremely popular spots for more accomplished divers. You are only allowed to carry lights into these caverns if you're suitably certified. Devil's Eye is relatively small and shallow, but certified cavern divers will be rewarded by exploring a small cavern with stunning natural features. Within the Ginnie Springs area there's also the opportunity to drift dive the Santa Fe river when visibility allows.
Devil's Den
Not to be confused with Devil's Eye and Ear at Ginnie, Devil's Den is another extremely popular site to visit. The structure of the cavern gives a unique "night dive by day" experience as there's limited natural light available in comparison to other springs. This is another privately owned spring which is set up specifically with diving in mind – there's a full dive school on site, equipment rental available, and cylinder fills. Admission is $38 per diver with cylinder hire at $12, or $8 for a fill if you have your own tank. Divers must enter with a buddy, and the site is more suited to recreational divers (twin, rebreather and sidemount set-ups are prohibited). On site camping is available. The site is also open to snorkelers, so it may get crowded at times.
Manatee Springs
There are a number of popular dive sites located within Manatee Springs State Park, and these are accessible at a cost of $6 with no additional charge for diving. Divers must register with the office on entry.
The most popular site is Catfish Hotel, which is covered in a distinctive layer of duckweed. The duckweed can cause some limitation in visibility, as can the silty bottom if disturbed by poor buoyancy. The Headspring is also accessible to divers but is less popular due to the strong water flow. During the winter months manatees migrate into the headspring (giving the area its name), but diving is prohibited when they're present in the spring as manatees are a protected species.
Blue Grotto
Much like Ginnie Springs and Devil's Den, Florida's Blue Grotto is another area of private land specifically developed for scuba divers. Camping and cabins are available on site, there's full rental equipment if needed, and instructors are available for orientation dives or training. Entry is $45 per diver per day, with cylinders available at $13 or $9 for a fill if you have your own (Nitrox is offered at an additional cost).
The Blue Grotto is one of the deepest and largest springs in the area, reaching a max depth of approximately 30m/100 feet. It's best known for the incredible visibility; some divers claim that you can look up beyond the surface to watch birds in the sky. One of the more unique features is a diving bell at 10m/30 feet, which divers can surface into to have a mid-dive chat. This is safe as there is fresh air consistently pumped into the bell, but please note that breathing in an air space isn't recommended under normal circumstances! There are a number of platforms in the entrance to the grotto which are a perfect training ground for new divers, so be aware that the site can get busy with courses on the weekends. As well as the popular cavern, there is a cave system accessible to cave certified divers.
Rainbow River
If it's river diving in Florida you're after, Rainbow River is the place to be. This popular drift dive will have you gliding over sea grass alongside freshwater turtles and water birds, whilst immersed in a mesmerising light show through the crystal water. Accessed via KP Hole Park, there are no diving specific facilities available on site so you'll need to come fully prepared. Catch the Rainbow River Water Taxi upstream and glide your way back down through the shallow water. Be mindful towards the end of your dive – if you overshoot the exit you'll end up on private property. For this reason we'd suggest getting a guide to see the best of this site, particularly if you're a less experienced diver.
Other popular sites include Paradise Springs, Vortex Spring and Morrison Springs.
---
Have the Florida Springs made it onto your dive bucket list? Which spring are you most excited to visit? Let us know in the comments below, or share your past Florida Springs adventures with us on our socials – we're @girlsthatscuba on Instagram!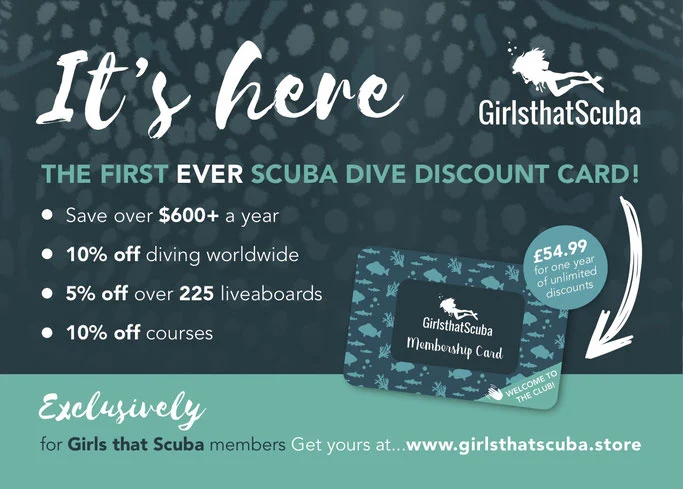 ---