In this ultimate Panama dive guide, we'll discover this country's unique dive sites, marine life, dive conditions, and which coast wins top spot for your next diving holiday!
---
Panama Scuba Diving – The Basics
Panama is located south of Costa Rica, and north of Colombia. It is sometimes known as the "Miami" of Central America. The country has a tropical climate with hot and humid weather. Its rainiest season is between May and September, and driest season between January and May.
Panama City hosts the country's main international airport (Tocumen International Airport – PTY), and there are many other airports providing inbound flights for easy access from coast to coast.
Diving in Panama – Pacific or Caribbean?
Panama's two coastlines provide a mixed variety of marine life, along with suitable diving conditions for any level of experience.
Located on the Caribbean coast is Bocas Del Toro. This small Archipelago provides an array of dive operators, accommodation, and lovely food experiences for a variety of budgets. Bocas del Toro is located outside of the Atlantic Hurricane Zone, meaning it avoids the large Caribbean storms other dive locations get.
Looking for a secret tip from a Bocas Del Toro expert? Visit in May, September, or October for ultimate Caribbean sunshine and great visibility.
---
What marine life can I see diving in Panama?
Panama is not the most well known dive spot, so you won't find it on most scuba diving bucket lists. However, due to its two contrasting coastlines, diving in Panama has a lot to offer!
The Pacific coast is a lot more dramatic when it comes to marine life. Your diving experience begins the moment you step onto the boat. Humpback whales can be seen breaching, and their beautiful song can be heard underwater during your dive. Dolphins are almost guaranteed to be seen on your boat ride.
Manta rays also call Panama their home. There is a variety of reef sharks, along with turtles, barracuda, and eagle rays. If you're lucky, orcas and pilot whales are also known to swim through this area.
On the Caribbean coast the marine life is a lot more relaxed, although still breathtakingly beautiful. There are a lot more colourful fish, lobsters, and octopus. For all you small marine life lovers there are seahorses, flamingo tongue snails, and Spanish dancer nudibranch!
Although this coast is home to the smallest of species, don't be fooled into thinking that's all there is. There are also dolphins, spotted eagle rays, fevers of mobula rays, barracuda, and reef sharks. There have also been lucky sightings of hammerhead sharks, and even whale sharks!
---
What are Panama's scuba diving conditions like?
Panama's Pacific and Caribbean coast have different conditions, but both provide excellent scuba diving.
The average water temperature is 26-28ºC (79-82ºF). For morning dives, a short wetsuit or even rash-vest is suitable. By the afternoon it is recommended to wear a long 3mm wetsuit for more warmth as the sun begins to set.
The Pacific coast is slightly cooler, but provides larger wildlife and more extreme diving with perhaps trickier conditions. This coastline does have a gentle drift and much deeper waters. The diving here is mostly boat diving and focused on the largest island off this coast, Coiba.
The Caribbean coast is a lot calmer and shallower, which are perfect conditions to learn in. The main area for diving off this coast is Bocas del Toro. The archipelago's structure provides shelter from any strong current. Most dive sites start at around 5m (16ft) and progressively get deeper, with an average depth of 15m (49ft).
---
Best Scuba Diving in Panama
The total number of dive sites in Panama is unknown, however, Coiba alone has 30 beautiful spots to dive. With there being so many to choose from, here are the top spots we think you should add to your scuba itinerary!
Coiba
Coiba is the largest island in Central America, which also shares the name of the Coiba National Park. The park includes Coiba and 38 smaller islands, all off the southwest coast. As a UNESCO World Heritage Site, Coiba benefits from protected status.
Isla Pachequilla
This island has multiple dive sites. Amongst the volcanic rock, you can find many colourful fish. You may even see manta rays in the island's warm waters!
Isla Ladrones
Around this island there are many beautiful coral reefs, reef sharks, and sea turtles.
---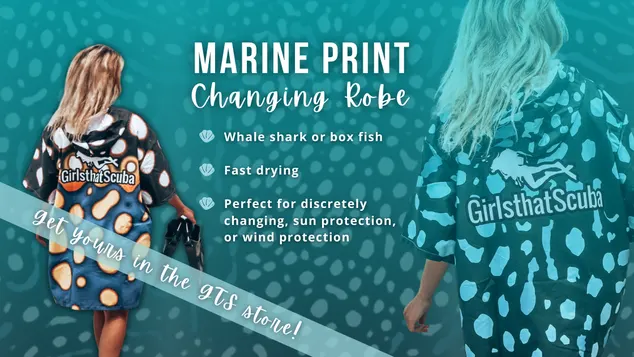 ---
Bocas del Toro Diving
The main island in Bocas del Toro is Isla Colon. This is home to the archipelago's main town, airport, and several different dive operators. When diving in Bocas del Toro, you will see some of the most diverse coral reef systems in the world, as 95% of hard and soft corals are found here.
Bocas del Toro is home to some amazing dive spots. Expect sunken ships, deep ledges, cavern formations, and an abundance of coral reefs. There are 15 dive sites in total – here are our recommendations!
Barco Hundido
Meaning "sunken ship", Barco Hundido is a sunken ferry just off the coast of Isla Colon. This boat rests between 8-10m (26-33 ft) and is home to a variety of sea creatures including a small family of seahorses! This site also has a beautiful coral reef and is perfect for beginner and experienced divers alike.
Buoy Line
This sunken catamaran off Isla Solarte is quite difficult to navigate, so make sure you have an experienced guide with you. The catamaran lies between 12-18m (39-59 ft), a perfect depth to enjoy the wreck without worrying about your no decompression limit.
It has an abundance of marine life including octopus, barracuda, spotted eagle rays, and nurse sharks. It's also common to see mobula rays breaching. This site also makes a great spot for a night dive!
Grandma's Garden
A garden it is! Also situated off Isla Solarte, this site has a beautiful coral reef which is also perfect for snorkelling. As you dive deeper there have been sightings of fevers of mobula rays passing by.
Manuel's Wall
This is a much deeper dive, with a ledge descending to 25m (82 ft). With little to no current, this dive site is perfect to look for the deeper-dwelling weird and wonderful marine life. Lionfish are an invasive species to the Caribbean, and this spot is great to do some lionfish culling.
Coral Key
Approximately 45 minutes by boat from Isla Colon, Coral Key is the bigger sister of Grandma's Garden. This vast coral seascape has crystal clear waters, and many reef sharks. It is recommended to take a smaller boat to get there as there are shallow sandbanks.
Polo Caverns
This dive site has a variety of swim-throughs and caverns, providing beautiful lighting during your dive.
Tiger Rock
This 30 metre rock breaches the surface and has a vast array of sea life at a variety of depths. There have been sightings of hammerhead and bull sharks here.
---
Have you been scuba diving in Panama? Share all your top Panama tips with the Girls that Scuba community in our Facebook group!
---
About the Author
Tianna is a PADI Instructor and has been in the industry for 5 years diving in Mexico, Greece, and Bali. She taught in Panama for a year before returning to the UK to complete a degree in Sustainable Tourism. She is currently out of the water studying a master's degree in Journalism.
---
---