This is part of a series of guest posts by Andi Cross, whose incredible expedition is telling dive stories from around the globe. Check out the previous story, and join us as she takes us to the Edges of Earth!
---
How Natasha D. Marosi Redefined Success
Dive deep into the heart of Fiji, and you'll find a narrative far from the familiar tales of beach resorts and scenic views. Behind the allure of Fiji's picturesque landscape, we surfaced an equally compelling story of Natasha D. Marosi, the New York lawyer turned shark conservationist and active PHD candidate.
Her journey provides not only an exceptional understanding of bull sharks and their crucial role in marine ecosystems, but also tangible lessons for every woman that loves scuba diving as much as achieving professional ambitions. On the Edges of Earth expedition, we spent hours shadowing Natasha, learning about her major life upheaval that changed her definition of success.
---
Embracing the Pivot
Natasha's initial trajectory seemed worlds away from Pacific Harbour, Fiji – one of the most biodiverse places on earth and known for its active shark populations. Thriving in her career, her life was following the status quo for many New Yorkers.
Being part of the corporate grind is often considered a rite of passage, and something that defines success on the east coast of the United States. But beneath structured suits, the ocean was relentlessly calling Natasha.
Her move from the courtroom to the coral reefs was more than a career change; it was a pivotal transformation. The bull sharks of Fiji, creatures both awe-inspiring and misunderstood, became her new focal point after a month-long volunteering stint in the island nation.
For Natasha, there was no such thing as "too late" to pivot towards her passion. After her conservation-centered visit to Fiji, an opportunity arose to reside on mainland Viti Levu and become an advocate for sharks and their ocean habitats. Of course, she took it without hesitation.
Giving up everything she knew, she found the courage to change course—which often is what it takes to uncover our most rewarding life chapters.
---
Challenging Preconceptions
To most of us, bull sharks symbolize danger. Their somewhat inaccurate reputation for being unpredictable and their presence in both fresh and saltwater near coastlines where humans spend time, make them some of the world's most notorious sharks.
Upon arrival in Fiji, and armed with a few firsthand encounters, Natasha aimed to challenge these perceptions through her new line of work. Today, she's spending more of her time with bulls in these protected waters to continue on the journey of demystifying sharks.
Natasha's first project in conjunction with the United Nations Development Program was the creation of an adoption program called "My Fiji Shark," which offers named sharks visiting the Shark Reef Marine Reserve for adoption.
Becoming a shark parent has its perks, but the main objective of this program is two-fold: to generate income for shark research and conservation work and introduce people to a side of sharks they had never known existed.
By showcasing sharks as individuals with personalities and life histories as unique and you and I, My Fiji Shark aims to change peoples' perceptions of sharks, support ocean conservation initiatives throughout Fiji, and support shark and ray research in the first-ever Fiji Shark Lab.
Natasha's anecdotal observations of shark behavior were first used for the benefit of My Fiji Shark and then to educate divers on shark behavior. She credits sharks for her natural progression to her current PhD research, because she was intent on proving what she was seeing during her dives in the scientific context and sharing her discoveries with the world.
---
Investing in Local Potential
Beqa Adventure Divers (BAD) is not just a scuba operator, but rather a conservation group first and foremost. Upon inception, BAD founder and intrepid diver, Mike Neumann, noticed a general decline in marine ecosystems globally on each successive dive trip. He had a dream to create a shark sanctuary in Fiji by protecting the area and making it self-sustaining akin to safari tourism in Africa.
The focus would be on sharks for two reasons: first, because they are fascinating megafauna. Secondly, they are ideal ambassador species that can help to bring people closer to the ocean. Mike and the BAD team collaborated with a local village to establish the Shark Reef Marine Reserve.
From there, they integrated additional ways of investing in the local communities. This included the creation of village youth employment programs that provide education and sustainable income, training unemployed youth to become dive professionals and sponsoring the training of fish wardens, enabling BAD staff and other locals to act as ocean stewards in their communities.
Combining community growth with conservation practices, the country continues to elevate as one of the top places to see multiple shark species on a single dive and in their natural environment. Natasha's team has been instrumental in setting the gold standard for dive safety with these wild, apex predators.
Today, anyone who dives with this team can adopt sharks through My Fiji Shark, which provides a continuous flow of funding for future research.
When talking with Natasha and her crew about their never-ending work to protect sharks and bring people closer to them, there was no shortage of passion. Some of the local divers had been working with the research center for decades, which says a lot in itself.
---
---
Living Outside the Box
In Natasha's experience, we see the beauty of a path less traveled. From New York's towering concrete jungle, to Fiji's vast ocean, she's managed to find homes in both of these contrasting worlds. And in doing so, she's broken the mold and redefined success on her terms.
Natasha's story is not just about her personal journey, but about the power of fearlessly pursuing one's ambition. People like Natasha illuminate the path to living a life not limited by conventional boundaries or dictated by societal norms. Her story is a reminder that we can push our limits, redefine our narrative and transform our lives in unimaginable ways when we dare to follow our gut.
When asking Natasha what's one piece of advice she'd give to women interested in pursuing a career in ocean conservation, she said be tenacious and find a mentor, because it all comes down to connections.
To reach your goals, don't be afraid to connect with other people who have done it before and who are in the field. Ask questions and stay curious. Before you know it, you might be spending your days diving with bull sharks too.
---
About the Author
Andi Cross is a growth strategist, divemaster, founder of impact consultancy WILDPALM, and lead of the Edges of Earth expedition, highlighting stories of remote ocean conservation communities and organizations in 50 destinations worldwide. To keep up with the expedition and see where the team is going next, follow the team on Instagram, LinkedIn, TikTok, YouTube and their website.
---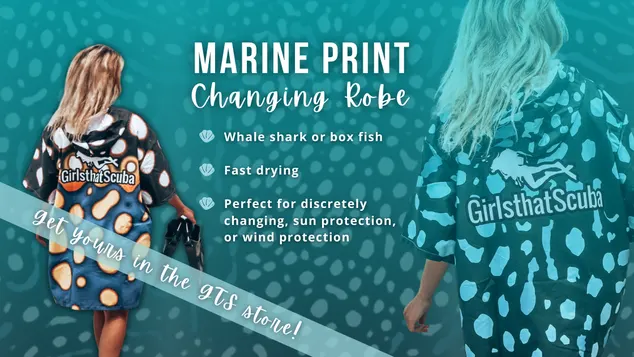 ---