The Seychelles archipelago is located in the heart of the Indian Ocean and is made up of 115 unique islands. Seychelles scuba diving is warm year-round, and the water temperature is typically a very agreeable 25–30°C. What's more, it's home to huge expanses of protected waters, and the result is a spectacular abundance of marine life.
Unsurprisingly, the Seychelles has long attracted scuba divers from all over the world. It's generally considered to be a world-class diving destination. But with so many islands to choose from, it can be hard to know which is the best island in the Seychelles for scuba diving.
Here, we'll give you all the information you need for a Seychelles scuba diving trip. We've got details on the conditions, marine life in the Seychelles and topography as well as some incredible dive sites – enjoy!
---
Seychelles – The Basics
Mahé is the largest island of the Seychelles and, along with several other islands, forms what are known as the 'inner islands'. These islands are mostly formed from steep granite boulders covered with luscious vegetation and surrounded by sparkling turquoise waters. But the boulders aren't only impressive on land – they form a distinctive part of the underwater topography too.
In contrast, the outer islands are surrounded by pristine coral reefs, largely untouched by humans. These islands can be hundreds of kilometres from Mahé.
You can hop around the inner islands via ferries or short flights, but if you want to head to the outer islands you'll have to book yourself on to a private flight (or a very long boat ride). There are also liveaboard options in the Seychelles – more on that later!
---
What marine life can I see in the Seychelles?
The inner and outer islands vary a lot when it comes to marine life. In the remote outer islands, barely touched by humans, one of the most striking things you'll notice on a dive is the sheer abundance of marine life . Seemingly endless schools of blueline fusiliers, humpback snapper, red toothed (vampire) trigger fish, just to name a few, are everywhere.
You're also more likely to spot larger pelagic species in the outer islands. Look out for bluefin tuna, wahoo and even sailfish if you're lucky! Around October, you may get the odd humpback whale dropping by to rest in the warm Seychelles waters. They're often accompanied by a calf.
Sadly, human impact (mainly fishing and destructive coastal development) means there's less marine life to see in the inner islands, but the biodiversity remains impressive. You'll see many of the usual faces you'd expect to find on a reef in the tropics. Expect oriental sweetlips, grouper, green and hawksbill turtles – on pretty much every dive.
There are some cool wrecks to check out around the inner islands, too. Keep your eyes open for schools of enormous bumphead parrotfish, which are rare in the outer islands.
---
Can you see whale sharks in the Seychelles?
If you're wondering whether you can see whale sharks in the Seychelles, then the inner islands are the place to be. The best chance of sightings is between September and November.
---
What are the diving conditions like in the Seychelles?
Although the sea temperature rarely drops below 23°C, the Seychelles has two distinctive seasons, depending on where the wind is coming from. During the north-westerly monsoon from November to April, island life is hot and sticky. But the visibility is at its best, and 40m+ vis is a common occurrence.
During the south-easterly, which spans for the rest of the year, life on land and underwater is slightly cooler. Although the break in humidity can be a welcome respite, the visibility around this time of year isn't quite as good. It generally stays above 20m, though!
Rough seas can occur during both monsoons, but there are so many awesome diving spots you can nearly always find one that's out of the wind.
The coral plateaus of the outer islands can be spectacular at depths of just 12m, and you'll find awesome boulders at that depth in the inner islands too. This means that beginner scuba divers can experience some of the best the Seychelles has to offer.
Advanced divers won't be disappointed, either. There are plenty of never-ending drop-offs to explore as well as some wrecks at deeper depths.
---
Where should I dive in the Seychelles?
There are so many islands to choose from, so which is the best island in the Seychelles for scuba diving? Here's a guide to the major areas you'll want to think about adding to your Seychelles dive itinerary!
Inner Islands
Mahé Island
Mahé Island is home to the main international airport of the Seychelles, so you'll almost definitely pass through it on your trip. If you fancy a dive there, Beau Vallon in the northwest corner of the island has a lot to offer.
There are plenty of tour operators offering trips to local dive sites. These sites are awesome for beginners. Aside from some of the wrecks, you don't need to go below 12m to see some spectacular life. Many of the sites are in small bays protected from strong currents. Plus, thanks to the protection of the nearby marine park, these areas are teeming with marine life.
This area is known for whale sharks and it has some cool wrecks to explore too, such as Twin Barges. If you're into sharks, check out Shark Bank – you'll usually see at least a couple of finned friends there.
Praslin Island
Praslin is the second largest island in the Seychelles but it has a super laidback vibe, making it popular among holiday makers. It's also home to the Vallée de Mai Nature Reserve where you can see the rare black parrot (the national bird of the Seychelles). Best of all, it's just a stone's throw away from two of the best inner island dives sites – Booby Island and Aride Bank.
Aride Bank lies just off the shores of Aride Island, a nature reserve surrounded by protected waters. The bank itself is littered with mountainous boulders, and you'll often spot lazy nurse sharks hidden away among them.
Booby Island is little more than a small rock protruding out of the ocean (in fact, it's sometimes known as simply 'Booby Rock'), but under the water it's a different story. The sloping island walls feature plenty of crevices, often filled with reef sharks, lobster and octopus. Just watch out for the currents – they can get pretty intense, and it's a good idea to have a reef hook handy just in case.
Rays are regulars at both sites, and even majestic manta rays cruise through these waters from time to time. Plus, if you're really lucky, you might catch sight of a whale shark.
La Digue Island
La Digue itself is an incredible island to explore. There are no cars on the island, and bicycles are the main form of transport. There are plenty of dive sites around La Digue, including Channel Rock (a whale shark hotspot) and Ave Maria (where you'll encounter granite boulders and huge schools of fish).
La Digue also makes a great base for trips further afield, like the dive sites surrounding South Marianne which are famed for their drifty currents.
Outer Islands
Trips to the outer islands come hand-in-hand with private flights and exclusive accommodation. Desroches, Alphonse and Astove are some of the most popular outer islands offering scuba diving trips, and they feature impressive wall dives, an astonishing amount of marine life and the chance to see the best coral the Seychelles has to offer.
For those that can afford it, the outer islands offer a truly unforgettable diving experience.
---
Are there liveaboards in the Seychelles?
Many visitors like to explore the nooks and crannies of the islands above land when they aren't underwater so opt for land-based trips, but there are liveaboard options in the Seychelles too.
One of the huge advantages of liveaboard trips is that you can visit dive sites all over the Seychelles, but the major drawback is that you won't have much time to explore the terrestrial wonders of the Seychelles.
---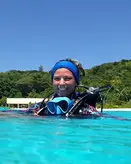 About the Author
Rose has spent the last few years living in Europe, the Seychelles and Kenya, working as a dive instructor, writer and conservationist. She's having trouble with her sinuses at the moment and can't dive, but she hopes to be back underwater soon!
---