Diving Socorro island by liveaboard is every diver's dream. If you've decided to take the plunge and book a scuba dive trip to Socorro (Revillagigedo Islands) Mexico, you're in the right place to start planning and get prepared.
We cover what you need to dive in Socorro, how to dive Socorro, what to do when you are in Cabo San Lucas waiting to board your Socorro liveaboard, and so much more!
---
Socorro Liveaboards
There's only one way to dive Socorro and that's by liveaboard. It is a 26 hour sail from Cabo San Lucas, so there are no dive operators or "shore diving" out there.
There are around 10 liveaboards currently operating in Socorro, which you can explore here. Most liveaboards have the same itinerary and will cover all of the best dive sites in Socorro.
Check out our video tour of Nautilus Under Sea, which we travelled on in January 2020.
We love Socorro so much it's a regular on our Girls that Scuba Trips schedule. Check the button below to see where our trips are heading in the upcoming year!
---
What dive experience do I need to dive Socorro?
We advise divers to be Advanced Open Water certified with over 50 dives to scuba dive in Socorro. You can expect conditions like currents, and most dive sites you will visit are 25m (82 feet) or deeper.
---
How to get to Socorro
The only way to get to Socorro is from Cabo San Lucas in Mexico. Cabo has its own airport which you will have to fly into – Los Cabos International Airport (SJD). From there you will need to get a transfer to where your boat departs.
All boats depart from Cabo harbour and start the 26 hour sail to the Revillagigedo Islands. Your liveaboard to Socorro will most likely depart in the afternoon or evening from Cabo. This means you need to stay in Cabo the night before, or arrange an early flight before your boat departure.
Why not arrive early and do some diving in Cabo San Lucas to get warmed up? We always stay at Cabo Vista Hotel when in Cabo which is only around $40 a night for a spacious private room!
---
What to pack for diving in Socorro
The best time of the year to dive in Socorro is between November – May. At this time of year the water temperature can be cold – anywhere from 21ºC – 27ºC (70ºF – 81ºF). Based on this, here is what you need to pack for diving in Socorro. Note, you can also rent dive gear from your liveaboard provider – just make sure you organise what you need to rent in advance.
5mm Wetsuit
Socorro isn't know for warm waters – but that's why the pelagic creatures love it there!
Make sure you bring the right thickness suit with you to avoid any cold dives. 5mm is ideal, and if you are in the market for a new women's wetsuit check out the ones we love!
Strong Fins
Good, strong fins are recommended, as you're likely to hit some current on your dives in Socorro.
Ditch the snorkelling fins, and opt for powerful fins which you're confident diving in. Our full guide to choosing new fins includes some great options!
DSMB
Even the dolphins loved our GTS DSMB! Every diver needs an SMB in Socorro – currents can be strong and you may be in a group without a guide. You can usually rent one on your liveaboard, but a large bright one like our GTS one is recommended.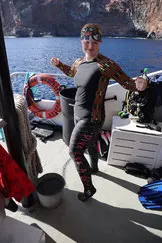 Warm Undergarments
A key to keeping warm whilst diving is to wear the right undergarments!
Make sure you are wrapped up underneath your suit. Our guide for how to stay warm when diving will help you choose the right dive accessories.
Seasickness Tablets
It's a long old journey to get to Revillagigedo Islands, with 26 hours of crossing open ocean.
Whether it's a rough ride or smooth sailing, you don't want to be caught off guard by motion sickness. Don't forget your sea sickness tablets!
Wondering what else to pack for your liveaboard?
We created a whole checklist for you!
---
What animals can I dive with in Socorro?
Socorro is known as one of the best dive destinations in the world. This is largely due to the animals you can see whilst diving there.
Socorro will blow you away if you're a shark lover. Depending on what time of year you travel, you can expect to see schooling hammerhead sharks, tiger sharks, silky sharks, Galapagos sharks, or oceanic white tip sharks.
If that's not enough, you'll swim through clouds of jacks, barracuda, tuna, wahoo and marlin, whilst gliding alongside bottlenose dolphins on your safety stops.
Oh, and did we mention the whale sharks and manta rays? LOTS of manta rays. Essentially, Socorro will tick off most of your bucket list encounters in one trip.
---
Scuba Diving in Cabo San Lucas
With your trip embarking from and returning to Cabo San Lucas, it would be rude not to explore (ahem – dive) the surrounding area.
Right outside the marina, just a 5-10 minute boat ride from downtown, you will find plenty of interesting dive spots. Schools of grunts and jacks, and a variety of stingrays and eels, inhabit the rocky terrain and sandy slopes. On top of that, you can find nudibranchs, seahorses, lobsters, angelfish and coral, too.
Pelican Rock is home to sheer walls and rock formations which are packed with life. There are even underwater sand falls at North Wall. You can see guitar rays and colourful macro life at Neptune's Finger, and watch pelagics pass over the shipwreck at Land's End.
During the early summer and late autumn months huge schools of acrobatic mobula rays enter the bay for courting and breeding. You will see a spectacular show of jumping, flipping and splashing on the surface. There's nowhere else that you can be surrounded by hundreds of rays while freediving!
The Corridor
Between San Jose and Cabo San Lucas, where the bays and beaches are dotted with lavish resorts, the water teems with life. Coral and reefs are more abundant here and tiny critters and reef fish hang out among the boulders. Additionally, eagle rays and electric rays are a common sight, and sharks often cruise the area.
Gordo Banks
The best dive site in Los Cabos for pelagic marine animal sightings. You can see hammerheads, silky sharks and mako sharks, manta rays, turtles, tuna, wahoos and even whales here.
The deep submerged seamount gets strong currents filled with nutrients, which attract fish of all shapes and sizes. Most of the dive is spent drifting in blue waters, as the top of the mount is quite deep (about 35m/115 feet). This is also where most of the big animals spend their time hunting and swimming.
---
Who should I dive with in Cabo?
There are many dive and tour operators in the region, but we've picked the GTS approved (and highly recommended) one – Dive Ninja Expeditions!
Dive Ninjas arrange scuba diving, whale watching and whale shark snorkelling tours in Los Cabos, with a personal touch. The team also conduct recreational and technical scuba courses with experienced instructors, as well as organising worldwide dive trips and expeditions.
They are also part of our discount card offering GTS members 10% off diving!
---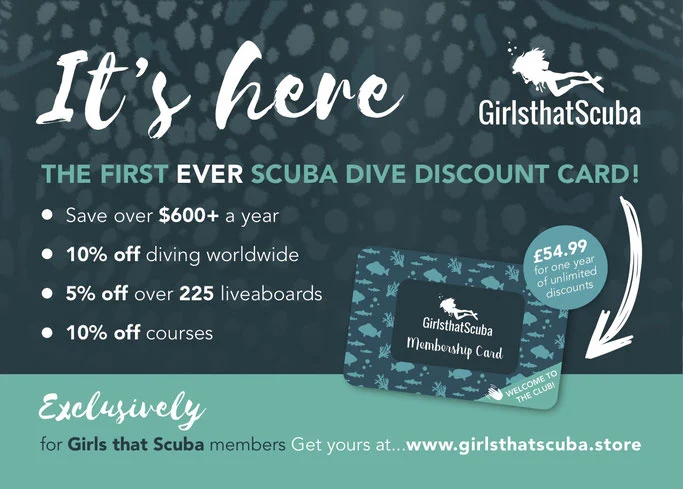 ---