We're big fans of scuba diving in the Philippines here at Girls that Scuba. With its incredible shark hotspots, awe-inspiring wreck diving, and a multitude of other stunning sites dotted around the country's 7000 plus islands, what's not to love?
Luckily for us, one of our fantastic new Girls that Scuba Ambassadors calls the Philippines her home. Jan Salise is a PADI Divemaster currently based in Mandaue, Cebu City, who takes the opportunity to get underwater in Mactan whenever she can escape the city on the weekends.
We caught up with Jan to learn more about the specifics of her underwater passions – read on to learn more about why diving in Mactan is so accessible, why clean-up dives against debris are imperative to the health of her local underwater environment, and why she hopes dives against debris will help more Filipino divers develop a passion for the ocean.
Mactan – the perfect accessible city dive destination
When we asked Jan what made diving in Mactan so special for her, it really seemed like she had the best of both worlds. Easily accessible from the bustling Cebu City, it has a lively and vibrant feel, combined with the best parts of an island lifestyle and amazing diving on the doorstep. Jan shared: "Diving in Mactan is special for me for some important reasons. For one, as someone who lives in the city, it means dive accessibility. Diving in Mactan is the quickest escape for my much needed water therapy! From where I live, travelling to Mactan island is a convenient 30 minute land trip thus making dive trips with my dive buddies easier to organize."
Having Mactan on her doorstep also means she can make short term trips there on the weekend, and preserve longer trips for her wider goal of exploring further in the Central Visayas region. "Diving in Mactan also allows me to save precious vacation leaves at work for much needed long weekend dive trips outside Cebu. Finally, it saves me money from paying for accomodations. One simply needs to pack the dive gear and change clothes and go".
Jan, you've officially sold us all on the Mactan diving lifestyle; when can we join you?
Mactan sites for new scuba divers
Scuba diving in the Philippines is often recommended for new divers, and Mactan is no exception. Jan told us a little about her early diving journey and why Mactan was the perfect spot as a beginner scuba diver. "Most of my dive certifications were completed at the Kontiki Marina House Reef in Maribago, Mactan. Being an easy shore dive of mostly sand, pebbles, and scattered tropical corals, a good part of the site is enclosed within marker buoys, making it an ideal environment for underwater skill demonstrations."
However, this doesn't mean that it's exclusively for beginners – "With a wall that drops to 50 meters, the dive site is also known as one of the best sites within the island for night dives."
The experiences in these dive sites early in her dive career led Jan to become the compassionate diver she is today. She told us: "I've not always had the smoothest learning curve when it comes to diving. I recall I was quick to panic at things such as low visibility coupled with strong currents. But it was in these same moments when I felt most grateful for the people I dived with because I've always received that support and encouragement. It was this same thought that led me to pro diving. I understand diving may not initially be a fun experience, and I'd love to be that person to support others making diving a fun experience for then."
We couldn't agree more, Jan, and we're sure this attitude makes you a great Divemaster!
The plastic problem in Cebu City
Jan had shared with us how passionate she is about clean-up dives and completing regular dives against debris, so we wanted to learn more about why it's an issue close to her heart.
Unfortunately, the cause of the waste in the area is one which is all too common around the world. "Being a highly urbanized city, there have been challenges on how to effectively carry out a multisectoral approach to waste disposal in Mactan. It's unfortunate how the simple task of properly disposing our garbage to their proper bins has developed an attitude of just throwing waste anywhere at our convenience. Sadly, some of this waste ends up in our oceans."
What can divers do to help?
Whilst the cause of the waste problem is a little out of our reach, we can certainly play our part as scuba divers to reduce the damage that plastic causes in the oceans. Jan is a firm believer that every dive is an opportunity to clean up.
"Diving recreationally or guiding as a Divemaster for me is always an opportunity to dive against debris. If we truly appreciate the unparalleled beauty and joy that our ocean provides us , then we should also understand that protecting it is our responsibility as divers. Develop the habit of always bringing with you your ocean debris bag and make every dive extra meaningful knowing you're a part of the solution. Start and continue to support local dive shops that give high importance to marine conservation."
Jan's words are words for every diver to live by. We should definitely be prepared to pick up waste whenever we find it on dives, so carrying a mesh bag and a cutting tool is a great place to start. We love this awesome wearable solution offered by Trshbg. As Jan suggested, we should also look to support dive shops which prioritise environmentally friendly practices and conservation. Look out for accreditations such as Green Fins, and the PADI Green Star award when choosing your dive operator. For more ways you can become a more sustainable diver, check out our 9 top tips here.
Encouraging new divers through Dives against Debris
As well as being passionate about clean-up dives, Jan's other mission as a Divemaster is to encourage more Filipino scuba divers to take up the hobby. She hopes that combining the two will have a real impact on her local diving community. Price is often a barrier to local divers in the Philippines, but Jan tells us that by offering clean up dives this is making it easier for more people to get involved – and so the benefits are twofold.
"While scuba diving may be an expensive hobby for many Filipino divers, we are fortunate to have the opportunity to get discounted dive rates by participating in monthly Dives against Debris through Dive Funatics. This approach encourages Filipino divers to dive because you not only dive at a more affordable rate and become more comfortable with your dive skills, but more importantly it instills that important habit of being constantly mindful about how we are responsible for our ocean's waste. I can only hope that more and more dive shops develop such programs that encourage people, especially the locals, to dive, while guiding divers on how to become stewards in underwater conversation."
To see more of Jan's Divemaster adventures as she encourages more Filipino divers to become passionate about Dives against Debris, follow her on Instagram @misswallflower84, and don't forget to tag us in your own clean-up dive adventures by tagging @girlsthatscuba!
---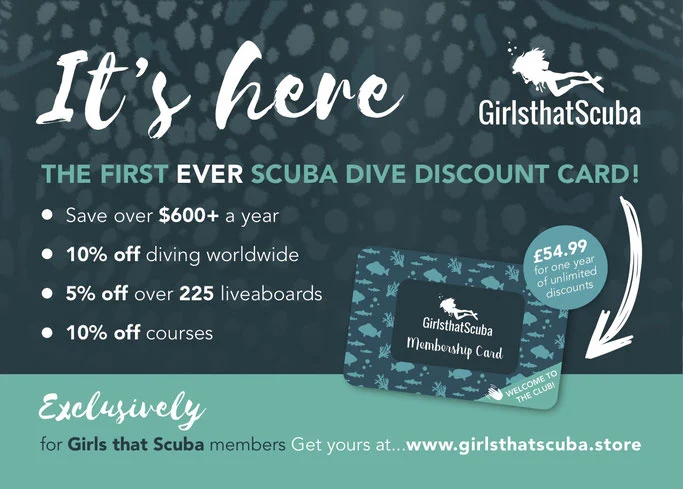 ---