Did you know that divers get anxious sometimes? In fact, something like half of divers experience panic or near-panic at some point in their diving. Half! That is either you or your buddy. But how often do we talk about this? Who do we ask for advice?
It can be really hard to find information about anxiety and panic in diving . These days many of us turn to social media for advice, but responses are not always supportive. Conversations are often shut-down, leaving the person feeling bad, and doing nothing for their skills or confidence as a scuba diver.
This is changing!
On Girls that Scuba we are not afraid to talk about our worries and mistakes. We can share our stories and support each other to learn to deal with anxiety in diving. Join the group and you can't fail to notice that divers are frequently asking for help.
I get really anxious about descending into the water, how can I deal with this?
Taking off the mask is so stressful, I feel like I can't breathe!
I got freaked out over nothing on my last dive, I really want to get back into diving, but I'm so nervous it will happen again, what can I do?
Whether it's someone going through their introductory dives or someone with thousands of dives, we are always learning and growing as divers and having a safe and supportive place to ask questions is incredible.
We are all nervous sometimes
It would be weird if we weren't! We climb into heavy equipment, strap on some lead for good measure then happily drop ourselves in to 20 .. 30 … 40 or more metres of water. That is not normal human behaviour and our poor brains sometimes get a bit alarmed!
Girls that Scuba know that fear is perfectly normal! Being aware of our mental and emotional state is important. We can learn to check in with ourselves and take our psychological fitness-to-dive into account ( a bit like we check our air and depth). We can improve our skills in diving so that we are more able to deal with the problems that are creating stress.
The trouble is we sometimes think we are the only one who is having problems. When we've had a bad experience with anxiety or panic in the water, then it can make us want to hide our difficulties.
You are not alone!
"It's good to hear from those experienced divers who have accidents or panics… this can happen to anyone at any time and it's good to know we aren't alone."
Panicking is horrible. It can leave you feeling useless and embarrassed. You start to convince yourself you are not good enough to be a diver. After a scary experience or anxious reaction we need to connect with other people to feel better. We need to know that we are not the only person to feel this way and be told that we are still OK. Having a safe place to talk openly about what happened can help us get back on track.
You don't believe your instructor
Even the nicest instructor in the world can't always reassure you. When you are learning to dive it can feel like the apparent(!) scubagod/goddess that is your instructor is so far above you, they can't possibly know what it is like. They can tell you that of their students feel this way, or that what you did was a common reaction. But it can seem like they are just trying to make you feel better. There is nothing more powerful than hearing from someone else who experienced the same thing that you did, and got through it. When you post about your fear of rolling back or stepping into the deep ocean on Girls that Scuba, you get 10s if not 100s of women saying "yes, I felt like that too!".
We've all been there
" Knowing that even the people who love to dive still struggle with these anxieties makes it easier to bring up the conversation."
Girls that Scuba have lots of great ideas for becoming a better diver and stories about our own anxious moments in diving. Sharing these examples of problems and how we got through them means we can learn from each other. Have you read our funny article on "Girls that Scuba share their most embarrassing stories"?
Together we can think about what might be causing the anxiety and raise some ideas about what to do next. There could be lots of things you didn't even know were options. In many cases, the answer is to work with your instructor, but telling them about the issue can be a barrier. Knowing that other people have had the same problems and are supporting gives you the confidence to be open and ask for help from your scuba professional.
BTW: you don't have to follow all the tips, you'd be tying yourself in knots trying to avoid anxiety by counting your breaths, and focusing on this that and the other. If something resonates with you, great, use it. The important thing is gathering some hope and resilience and taking that back with you. Oh, and don't forget to tell us how it went!
On a serious note
As divers we need to be physically and mentally fit-to-dive. If you think your difficulties are related to something more serious, for example depression or an anxiety disorder, please consult your doctor or healthcare professional. We do want to support you but, in some situations, a professional opinion is needed. Stay with us though, working towards learning to dive or getting back into diving can be an amazing motivator. Plus we would love to hear about your future scuba successes.
Do think carefully about what you want to share in the group. Girls that Scuba are a helpful bunch and are likely to be supportive, but there are some things you may not want to discuss on social media. Of course, you can always join a GTS meet-up or find a buddy through Girls that Scuba Together . Getting to know Girls that Scuba in person will give you the opportunity to build relationships with mutually supportive buddies.
How Girls that Scuba can help you
Say hello! Sharing our stories and supporting each other is what Girls that Scuba are all about. If you have a question, someone else probably has the same question so don't be afraid to ask.
Remember to use the search bar in Girls that Scuba , if you use words like "anxiety" together with what you are struggling with (e.g. "mask") then you will find other people who have had the exact same issues you do. GTS is like the Google of scuba diving – we've got most things covered! If you can't find a conversation on your concern, start a new one!
What we really want to tell you is: you are okay! Yes, you hate clearing your mask or you had a wobbly moment and floated up to the surface. We still like you! And we really want you to be a scuba diver and keep going so you can experience all the amazing things diving has to offer.
" I am a brand new diver and this group has been wonderful. I felt very emotionally supported when before my open water certification dive I was so nervous after a bad experience with panic mask clearing during pool skills. It really helped to see that even experienced divers occasionally experience anxiety and that this skill is difficult for many. After lots of my own practice, I felt confident and it felt great to have GTS's support from all over the world, knowing I could do this and conquer my fear! … I got certified 2 weeks ago and I look forward to seeing where I can go with my new hobby! Thanks girls, you inspire me!"
All photos here were taken at one of our latest GTS meet ups in Gili T. 48 GTS women got together and celebrated women within the scuba industry – from Open Water divers all the way up to course directors. This is just another way we support and celebrate each other and where a lot of our friendships are made! Join us in on one of our next ones by keeping up with our events on our Facebook page! Thanks to Alfred Minnaar and Manta Dive Gili T.
---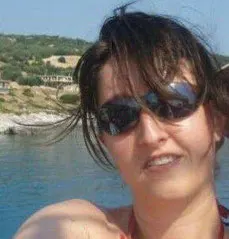 About the Author
Laura is a Scuba Diving Instructor and Clinical Psychologist with a fascination for the psychology of diving. She is also the author of the PADI Psychological Diver course. Learn about how psychology can improve your diving on her website www.scubapsyche.com and Facebook page.