To keep up with future Girls that Scuba group travel opportunities, take a look at Jordan trips here, check out our trip site for other destinations, and follow us on @girlsthatscubatrips on Instagram!
I'm Weeze, a long time GTS members living in Hong Kong and first time GTS group tripper. I'm here to tell you all about going on a GTS group trip – spoiler alert – it's INCREDIBLE!
My decision to join a GTS trip
Jordan – a destination that I'm pretty sure is high up on most people's bucket list – it certainly had been on mine for years. I'd spoken to non-scuba friends that wanted to explore the ancient city of Petra and stay overnight in the desert, but I thought, how could I be that close to the Red Sea and not go diving?
So, when the Girls That Scuba email landed in my inbox, 'Join us in Jordan to dive the Red Sea and explore ancient history' I knew somehow I HAD to make this happen! And just four days later I'd put my deposit down – lucky enough to secure the last spot! I was beyond excited and couldn't really believe now I was actually going. Sarah, the founder of GTS, sent round a group email so we could all introduce ourselves and after starting to get to know the group I could not wait to meet everyone face to face, and start exploring the magical Jordanian land and sea.
Arriving into Jordan for my first day
I arrived 36 hours early, giving me time to explore the capital, Amman. With visas already sorted by the GTS local rep who met me on arrival, it wasn't long before I was checked in to my hotel, near the famous Rainbow Road in time to watch the sunset from the rooftop, overlooking the ancient Citadel. Thanks to Sarah's blog I had a list of great places to eat and decided to try a falafel wrap from the infamous Al Quads on Rainbow Road. After wolfing it down, I went in for a second, and the man serving me gave me a knowing smile and asked, 'another?' before I could place my order! TOP TIP – always order two!
The consistent warmth and hospitality of people in Jordan was one of the highlights for me so far. As a solo female traveller (at this point) I felt safe, and making my way home via the bustling markets and through the winding, cobbled streets and I enjoyed chatting with the locals often eager just to say hello, and or have a friendly chat.
That night I met Lindsay, a fellow GTS here for the trip, who would become my fabulous roomie for the week, for a luxurious dinner at Sufra but at a very reasonable price. Conversation flowed, and as would be the norm when meeting the other girls, it seemed like we were already friends talking about the past – love, life, work, and future plans! Going to sleep that night I couldn't believe the actual GTS trip hadn't even started yet – I was already having the most amazing time.
The girls are here – all 14 of us!
Before we'd even all met it felt like such a tight knit group – because of our very active Whatsapp group we had going a few weeks before arriving. Welcome drinks watching the sun go down across Amman from a rooftop bar on Rainbow Road really was a special backdrop. As someone that travels solo a lot, who generally shies away from larger gatherings, in all honesty, I was a little nervous about going on a big group trip, but reassured myself that as divers as generally friendly, and Girls That Scuba is such a wonderful community, there would no doubt be a few people I'd really get on with. All apprehension quickly disappeared – from the moment the group met there was non stop chatter and laughter – unsurprisingly everyone had a lot to say, on a lot of different things, but with interest, kindness and humour.
Coming from all over the globe we shared our personal, travel and diving stories and experiences – the good, the bad, and the downright hilarious! We were also joined by Omar, the owner of Diverse Divers who would also join us throughout the trip telling us about life in Jordan.
The trip begins – From Amman to Dead Sea
The next morning we met our tour guide and driver and excitedly bundled into the bus and headed off to Madaba to view a 6th Century mosaic map of the area. It was quite amazing to look at something so intricate that had been made so many centuries ago. We then headed up to Mount Nebo admiring the dry, vast, awe inspiring landscape that span most of Jordan. The view down into the valley was absolutely breathtaking, and worthy of many, many photos!
We ended our day at the Dead Sea, the lowest point on earth, being more positivity buoyant than any of us have ever been! It's an experience quite hard to describe – lots of bobbing and rolling around mainly trying to keep our faces out the water! I loved standing, being completely vertical, but not touching the bottom – just weightless. Attempting, and largely failing, through giggles to take choreographed photos – it was a truly awesome experience. After we'd had enough of the salt and the natural mud masques, it was time for cocktails and dancing in the hotel pool before another delicious Jordanian dinner.
Heading South – and the little touches
The following morning we headed to Dana village, situated on the edge of Wadi Dana, Jordan's largest nature reserve. En route we stopped at what is now without a doubt my favourite toilet stop in the world! We were served coffee by a super smiley barista in his isolated outdoor café overlooking the valley – with many of us seemingly giddy from the beauty of the view, and disbelief of where we were and what we were looking at. After a delicious traditional lunch (are you seeing the pattern here?) we climbed higher up to Shobak Castle, and spent the next few hours exploring the hilltop ruins, learning about the fascinating history of it and also, as always chatting – about absolutely everything… and taking photos – funny photos, arty photos.. and of course.. selfies! It's hard to capture, let alone describe the majesty, the beauty, the vastness of the landscape that was around us. I knew it would be spectacular, but even then, what I was seeing and experiencing surpassed all expectations.
But the day was far from over! We then headed to what is known as 'Little Petra' for a wander around, and a taster of what was to come the next day. And, what a taster! The ancient carvings looked almost new, but it wasn't even these I was most impressed with. The actual rocks themselves; the colours, the shapes, the sheer size and grandness of them – took my breath away. I couldn't believe this was only 'little' Petra. We headed to our accommodation whilst the sun was setting; a magical view over the towns below us. And wow – our accommodation was a tour highlight of its own! A private stone walled villa, with an open courtyard; it was absolutely divine. We were welcomed with huge smiles by the ladies working there, to which we all responded with cries of 'Oh wow!' "oh my god, this place is amazing!' and then treated to, another, delicious Jordanian buffet meal complete with Kanafeh freshly made in front of us. After dinner many of us had gorgeous henna tattoos inked on whilst chatting with and getting to know the locals ladies.
Girls that visit Petra – a wonder of the world
The next day was Petra. And, at the risk of constantly repeating myself, it's hard to really describe how incredible this place is. A UNESCO World Heritage site, we spent the day walking along the 1.2km gorge, with it's 80m cliffs, exploring and admiring the rock cut tombs, treasury, temples, altars, theatres – all cut out of the rock faces. The colours so deep and vibrant – the swirls and laying looking like fine art paintings. At some points I felt as if I was on a Star Wars movie set! It truly is a special, special place and I felt so grateful to share the experience with such amazing people. The climb up to the Monastery was well worth the extra steps – with less people around, coupled with a huge sense of satisfaction on getting up there.
Though sad to be leaving Petra behind – there was no doubt we were all very excited to be heading to Aqaba and the Red Sea – I mean we were all brought together on this trip because we are Girls That Scuba!
It's time to dive!
Omar had been with us for the whole trip, but now was his time to shine – and shine he did! As the owner of Diverse Divers it was his dive boat, Diversity that we would be using. Even before getting on Diversity we were wowed by the dazzling shades of blue that the sea had to offer, and this was just in the harbor! Our excitement of being on this luxurious boat just about to dive in the Red Sea was furthered even more when we were gifted our personalized Girls That Scuba mugs! The group was a huge mix of abilities, ranging from some who'd just finished their Open Water Course, to others who were full-time Dive Instructors and guides. But of course, this made no difference – we were all there to have fun, support each other and just enjoy the beauty of the underwater world!
As well as their amazing boat the crew of Diverse Divers looked after us like royalty. Great coffee, food, clean towels – and most importantly equipment and guides, one being a fellow Girls That Scuba, Sarah! We spent the next two and half days underwater exploring reefs and wrecks. Surface intervals were spent happily chatting about what we'd seen, learning from each other or just taking it easy, having a snooze, a sunbathe – but always eagerly looking forward to the next dive! Being with such a supportive and open group of divers was really something special. A Rescue Diver at the time, it was great learning from more experienced divers, and also finding out they had sometimes experienced some of the same anxieties too – and then being able to give advice and support to less experienced divers, also a wonderful experience.
I personally was SO excited about seeing a tank (M42 Duster), and plane (C130 Hercules) underwater. We even spent some time inside an air pocket of a sunken ship, able to take out our regulators at 12m under the sea! Though diving is a sport many of us love for the peace and tranquility, we also know there is nothing like having a great dive buddy to share the experience with… and on this trip, everyone was that great dive buddy. Passing the other groups with big waves and smiles – I'd never experienced so much community under the sea before! And there was so much marine life to smile about – frogfish, rays, boxfish, cuttlefish, squid, Napoleon fish… just to name a few – and the visibility was fantastic. You can read more about specific dives sites and diving in Aqaba here.
And to top it off, one night we went down in the dark – night dives are my absolute favourite dives! (Well, along with all my other favourite dives….!) Some of the girls hadn't done one before, and needed a little encouragement and support – which of course they got in plentiful quantities, and absolutely loved it.
I felt a sense of pride seeing the mask rinsing bucket full of Girls That Scuba mask straps – how truly blessed I felt to be where I was, with all the people I was with – it had only been seven days, but lifelong friendships had been made during once in a lifetime experiences!
In to the desert for our final day
After our final dive we drove to Wadi Rum, 'Valley of the Moon.' We loaded up on to 4×4's and headed out into the Jordanian Desert for a ride up and down the sand dunes (SO-MUCH-FUN), with plenty of stops to enjoy the landscape and feel the sand beneath our toes. We then settled for an hour to watch the sunset. There really is no way to describe how beautiful and spiritual this moment was. Some decided to sit alone and just be with their thoughts in the silence, whilst others shared beers, or tea, watching the sunset together. It was absolutely perfect.
Many of us had come on this trip moving from one life chapter to another, others – just wanting a break, an adventure – and where better to ponder and reflect than in the middle of a desert! Being such a small being in a vast desert, feeling insignificant brings a great sense of calm and perspective on life.
Heading back, we checked in to our amazing desert accommodation, Bait Ali – super cute, but spacious bungalows. After another Jordanian buffet dinner we headed up the viewpoint path to celebrate Sarah's birthday with some cake, music, beers and of course, singing, overlooking the desert! What an incredible last night to the trip.
Heading back to Amman the next day none of us could decide if the trip had gone super fast, or slowly – it seemed much longer than a week before we first met; we'd done so much, and got to know each other so well. Even time on the bus was precious – either nattering away, learning about Jordan, or just gazing out the window taking in the incredible natural beauty all around us. Looking back at the photos now it's still hard to take in all I saw, and I think really, I just need to go back. I'm pretty sure all the others feel the same, so look forward to an underwater reunion sometime soon!
You can read some other reviews on our GTS trips here, and check out more Girls that Scuba Trips here!
Watch the full vlog here
---
About the Author
Weeze, originally from the UK, is a GTS moderator and Divemaster. Not only does she love to explore the underwater world, but up top too, especially learning about local cultures and social history whilst seeking out vegan ice cream! She writes about her adventures in her blog Weeze x Christina, as well as sharing photos on her Instagram.
---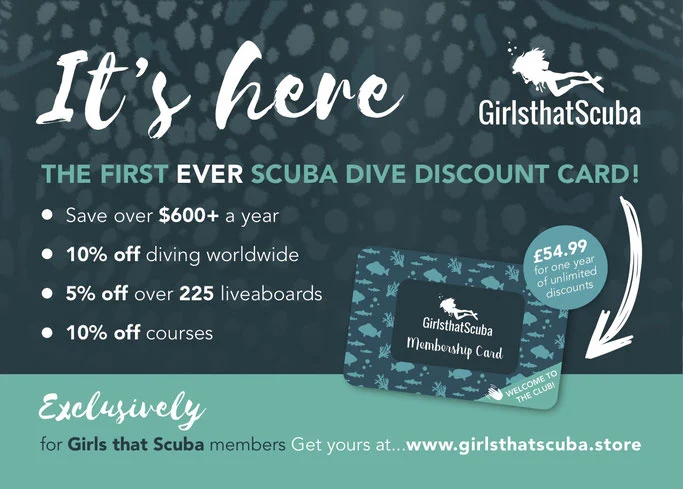 ---