Scuba diving in Zanzibar is high on the hit list of many avid scuba divers, and it's easy to see why.
In this Zanzibar scuba diving guide, we'll run through the locations of some of the top Zanzibar dive sites and the best time to dive in Zanzibar. We'll also highlight what marine life you can hope to encounter on your trip. Whether you're into macro or pelagic species, wall or reef dives, Zanzibar has something for you!
---
Zanzibar – The Basics
Comprised of several idyllic islands surrounded by crystal clear waters, Zanzibar boasts an impressive range of dive sites. What's more, the marine life is incredibly diverse. You can encounter anything from tiny leaf fish to pods of dolphins on a single dive.
A warm climate and plenty of palm-fringed white sand beaches make Zanzibar a haven for beach goers. And, if you want to mix things up a bit, you can hop over to mainland Tanzania for a safari trip in between dive days.
---
How to get around Zanzibar
The Zanzibar archipelago is made up of three inhabited islands and several uninhabited ones. Most of them are part of Zanzibar, a semi-autonomous region.
Together, Zanzibar and mainland Tanzania form the United Republic of Tanzania. They're separated by just 50 km (30 miles) of Indian Ocean. Yet Zanzibar's laid-back nature makes it seem a million miles away from the hustle and bustle of the mainland.
Unguja Island is the largest and most highly populated island in Zanzibar, and it's also called Zanzibar Island. You can reach Unguja by flight or boat from Dar es Salaam. Flights take roughly half an hour and boat trips can take approximately 1.5–2 hours.
Pemba Island is the second largest Zanzibar island. Thanks to its luscious vegetation, it's often referred to as the 'Green Island'. It's quieter than Unguja, and bicycles are the most common form of transport.
It's possible to catch a ferry to Pemba from Unguja, but the crossing can be rough. This means that most people choose a chartered flight instead. The flight takes roughly half an hour and is reasonably priced.
When in Zanzibar, many people also visit Mafia Island, which technically is not part of Zanzibar. You can get there via a short flight (roughly 30 mins) from Unguja Island.
You can't access the smaller islands by plane, you'll have to take a boat trip – remember your sea sickness tablets if you need them!
---
What marine life can I see in Zanzibar?
Home to more than 500 species of fish, Zanzibar's coral reefs are some of the most colourful in the world. You'll find all the usual Indian Ocean reef fish there, including butterfly fish, angel fish, fusiliers, parrotfish, and damsels. You can also spot plenty of quirkier residents on most dives too, like octopus, cuttlefish, and turtles.
One thing that sets Zanzibar apart from other world-class diving destinations is its abundance of smaller species. The reefs are teeming with nudibranchs, including the beloved Spanish dancer. You'll find pairs of seahorses with their tails entwined, and there are more leaf fish than you can shake a stick at.
Zanzibar is great for diving with pelagic species too. Dolphins are spotted regularly, and you can often find barracuda, wahoo, yellowfin tuna, and giant trevallies patrolling the drop offs.
Plus, if you dive at the right time of year, keep your fingers crossed for a glimpse of the following:
Hammerhead sharks – November to February
Humpback whales – July to October
Manta rays – December to April
Whale sharks – October to February
Dugongs – Year round on Mafia Island
---
When is the best time to dive in Zanzibar?
Thanks to its proximity to the equator, Zanzibar maintains year-round highs of 29–33°C (84-91°F) and the water temperature rarely drops below 25°C (77°F).
However, there are two monsoon seasons to consider when planning a dive trip to Zanzibar. One lasts from November to December and the other from March to May. April is typically the worst month of the year. During these times, rough seas and heavy rain can limit both water and land-based activities.
For this reason, most tourists visit Zanzibar between July and September, or December to January. February, March, July and August are generally considered the best time to dive in Zanzibar thanks to the excellent visibility.
---
Where are the best Zanzibar dive sites?
With so many islands to choose from, scuba divers are spoilt for choice when it comes to dive sites in Tanzania.
Unguja (Zanzibar Island)
Unguja Island is the first port of call for most people visiting Zanzibar, and it's surrounded by crystal clear waters dotted with tiny islands. The inner reef is ideal for beginner scuba divers or divers who just want to take things easy. There are plenty of deeper dives for advanced scuba divers too.
Kizimkazi Reef
Located right on the southwestern tip of Unguja Island lies Kizimkazi reef, part of the Menai Bay Conservation Area.
Unsurprisingly, the marine life here is thriving. There are plenty of beginner-friendly coral gardens to explore as well as some deeper wall dives.
Dolphins and reef sharks are often spotted in this area, and you might even spot manta rays or humpbacks at the right time of year.
Leven Bank
Located roughly 15 km (9 miles) north of Zanzibar Island, a boat trip to Leven Bank will take a little longer than to some of the closer dive sites – but it's worth it.
The 'bank' is essentially a gigantic mound rising up from the sea floor. Corals adorn the walls of the mound and host a range of reef species. Leven Bank is also a great place to catch a glimpse of pelagic species thanks to the deep water nearby.
These include dolphins, Napoleon wrasse, whitetip reef sharks, and several ray species – so it's definitely worth keeping an eye on the blue during your dive!
You can glimpse the tip of the mound at depths as shallow as 12m (40 feet). However, most divers spend their time exploring the slopes of the walls, descending as deep as 30m (100 feet).
The location of the site makes it prone to strong currents. Although this keeps the water fresh and the visibility clear, it means the site is usually offered to advanced scuba divers only.
---
---
Pemba Island
Pemba Island is located just north of Unguja Island and is home to some truly spectacular marine scenery.
The pristine barrier reefs are unspoiled by human interference, and there are enough coral plateaus, wall dives, and hearty currents to keep any diver entertained for days.
Coral Mountain
Here, you can explore a gradually sloping wall that descends from 5 to 20m (15 to 65 feet) before reaching a sheer drop-off. There's typically no current here, and advanced and beginner scuba divers alike can enjoy the spectacular scenery.
The biodiversity of coral and fish species at this site is incredible, and there's an abundance of macro life as well as larger creatures like rays, octopus, and turtles.
Mapinduzi Reef
'Mapinduzi' translates to 'revolution' in English, and this name accurately reflects the unpredictable currents surrounding this dive site. It certainly isn't for the faint hearted.
However, this site has a lot to offer advanced divers with experience diving in currents. The wall slopes down to around 30m (100 feet) and giant groupers, schools of barracuda, and Napoleon wrasse are often spotted here.
The edge of the wall leads to a sharp drop-off where you can sometimes spot hammerhead sharks and other large pelagic species.
Mnemba Island
Located just a stone's throw (less than 5 km) away from Unguja Island lies Mnemba Island. The water surrounding the island is protected and forms part of a marine reserve. Consequently, marine life here is flourishing.
Although staying on this private island certainly won't be within everyone's budget, you can easily reach here on a dive boat from Unguja Island. Dive sites vary from relaxed coral gardens to deeper wall dives, so there's something for every ability.
Wattabomi
One of the most famous dive sites in Zanzibar, Wattabomi dive site is a haven for marine life. The wall slopes gently from 6-30m (20-100 feet) with plenty to explore at every level. Unsurprisingly, it's a popular dive site among both beginner and advanced divers.
The wall itself is covered with pinnacles hosting a huge range of coral species. The turquoise water is filled with schools of reef fish, and you can spot octopus, stingrays and more.
If you're into macro, you'll love spotting scorpionfish, stonefish and frogfish hiding among the corals. But don't forget to take a break and look around you every now and again for passing dolphins!
Mafia Island
Although not technically part of Zanzibar, many tourists visit Mafia Island while they're in the neighbourhood. This island is rustic and remote, and the protected waters are home to some world-class coral reefs.
Mafia Island's biggest draw is whale shark sightings. They are common around the island, and almost guaranteed from October to February. In case that isn't enough, you can also spot dugongs and leatherback turtles in the lagoons and nearby waters!
---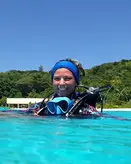 About the Author
Rose has spent the last few years living in Europe, the Seychelles and Kenya, working as a dive instructor, writer and conservationist. She's back in the UK at the moment and is slowly acclimatising to cooler waters!
---
---