You've always dreamed of going scuba diving in Maldives right? It's been on your scuba bucket list for years, and you are constantly seeing scuba ads to scuba in the Maldives, and thinking to yourself "but how can I afford this?". Girls that Scuba has spent the last few years visiting the Maldives to dive and have tried out all kinds of accommodations; luxury resorts, mid-range resorts, local islands and liveaboards to see exactly where the best diving was, and how our community can afford to come and dive here too! You're going to be surprised at what we found! Here we break down the benefits/drawbacks and price and costs of each option. It's a big guide – read carefully, save and share, and let us know which one you chose!
Local Island in the Maldives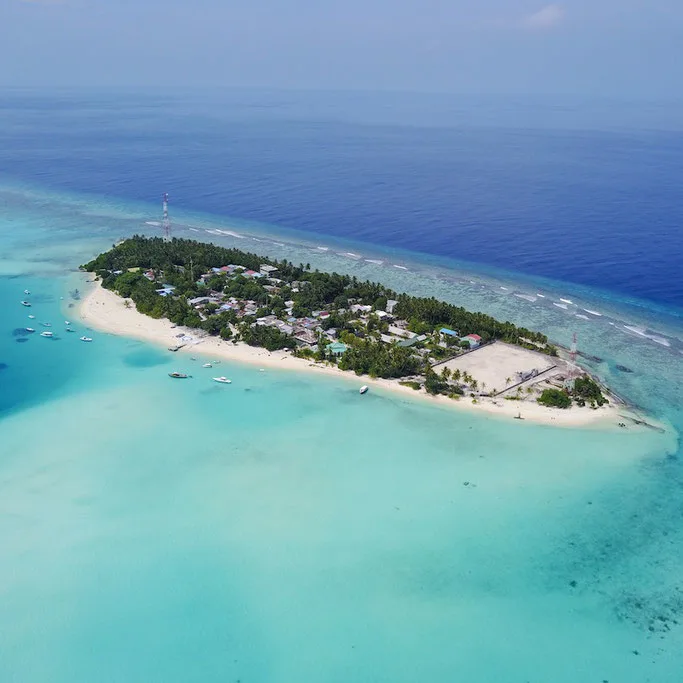 We are spilling our secrets straight away. Here's where you need to head if you are trying to scuba dive the Maldives on a budget – and not just if you are looking for budget; if you are looking for some amazing diving too! Local islands are Maldives emerging hot spots. Luring budget travellers and scuba enthusiast alike, their unique atmosphere and world-class diving is stealing the show. We headed to Fulidhoo island – famous for its night diving with nurse sharks and laid-back life. Here, is where we experienced our best diving in the Maldives, and our best memories – all on a budget. We're going to tell you a lot more about Fulidhoo island in another article, but here are its highlights:
Population: Approximately 200 people
Distance from Male': 57km (1.5 hours speedboat)
Atoll: Vaavu Atoll, also known as Felidhe Atoll (all atolls in Maldives have 2 names)
Atoll nickname: Maldivians call this atoll 'Wow' atoll, because of its beauty
Famous for: Night diving with sharks!
More local Maldivian islands that are great for diving
Thulusdhoo – Great for surfing too.
Thulhaadhoo – unique, incredibly preserved and rich marine wildlife
Maafushi – Popular and cheap with a big range of dive shops
Ukulhas – Eco-friendly local island.
Our verdict on local islands: A very affordable way to dive the Maldives with access to dive sites both liveaboards and resorts can go to in those Atolls (all islands in the area go to the same dive spots – whether you are staying in a 5* resort or an AirBnB), and the feel of local life.
Perfect for: The serious scuba diver, on a budget, or one that prefers staying on land rather than on a liveaboard. Either way, someone looking to do a lot of diving while on holiday.
Costs
Ferry to Fulidhoo: $3.5usd, 3.5 hours from Male
Speed boat to Fulidhoo: $50usd 1.5 hours
Fulidhoo Guest Houses: $40 – $100 per room, per night
Meals: $5 local meals
Diving: Boat dives with Fulidhoo Dive $58 (inc service charges – there are a lot of those hidden taxes in the Maldives, so beware when looking at prices).
Maldives Luxury Resorts
Let's not forget some of us are looking for a blow-out holiday and have some extra cash to spend on diving and staying in the Maldives – and this is where resorts come in! We all know Maldives is famous for its luxury, and we will be honest we've never seen luxury quite like it! But, what is the diving like around these resorts? Well, amazing of course – just like all diving in the Maldives! But if you really want to make sure it's best to find the Atol you want to dive in first and then take a look at the resorts around that Atol. For example, Hanifaru Bay in Baa Atoll, is one of the very few places in the world where whale sharks congregate to mate, and where tons of manta rays are more than present for a large part of the year. So if that's what you are into (erm, yes) then take a look at resorts near Hanifaru.
Our favourite resort in the Maldives for scuba diving is Mövenpick Resort Kuredhivaru a pristine sanctuary and tropical oasis that is nestled in the undisturbed Noonu Atoll. Diving from their house reef may mean you'll encounter sharks, rays, turtles and stunning corals before you've even got on a boat – that's where resort diving really comes into its own!
Our verdict on scuba diving while staying in luxury resorts: If you are spending thousands of dollars a night to be in possibly the best hotel room you'll ever sleep in, you tend to want to spend every penny wisely. Diving in the Maldives is great pretty much wherever you go, it'll be great around the resorts – but then so are the luxury dinners, the overwater spa and private beaches. For the serious scuba diver resorts can be distracting. If you only plan to do a few dives, and want flexibility on when to do them (aka at your own pace) then resorts are your place. In fact, resorts are the PERFECT place. Relax, dive, relax, and eat.
Perfect for: Anyone just wanting to do a few dives on their holiday and enjoy the resorts.
Costs
Expect anything from $500 – $10k a night (or even more) not including taxes, activities or alcohol. Our favourite Mövenpick Resort Kuredhivaru starts at $1,000 per night in an overwater bungalow. Some resorts will also let you charter your own dive boat starting at a sweet 10k for a two-tank dive day. And don't forget the TAX,TAX,TAX. Never added, always comes as a surprise.
Then there's food, alcohol, activities, spa days, boat days and anything else that you can think of in a luxury resort. We couldn't even say how much you'd need to 'budget' for a stay. But maybe the word budget shouldn't come into it.
The diving won't be included in the price at resorts. And they differ massively. Going from experience at Diver Butler Zen dives can start from $65 per person not including equipment, with offers if you do multiple dives
More scuba diving luxury resorts
Mid-range Resorts
Budget resorts in the Maldives, are they really a thing? Sure are! Remember, the Maldives is (trying) to open itself up to the masses now – from every budget and every country. But also don't forget 'budget' isn't the same as budget in Indonesia.
We headed to Ellaidhoo Maldives by Cinnamon during one of our stint diving in Maldives. We LOVED the diving there in the Ari Atoll ; tons of sharks, not too much current, huge schools of fish, whale shark sightings and more. Ellaidhoo is an extremely popular dive resort for German divers – many come back year after year. There is no denying the diving here is world-class- even their house reef boasts sharks, sharks and more sharks, rays, turtles and more. Talk about a nice try dive. You'll want to bring your own gear here – there's isn't too great and costs rack up hiring each day. The food isn't anything to shout out – basic resort buffet food, but does the job after a long day diving. The accommodation? The basic rooms are, basic, but provide everything you need. Their over-water bungalows are nowhere near the standard of the high-end resorts, but Ellaidhoo is not a high-end resort.
READ ALSO: Best wreck diving in Maldives
Perfect for: Great options for a mid-range priced scuba holiday. Here you can find the perfect balance of scuba diving and relaxing, and if you bring your our kit along you can just dive with your buddy on the house reefs when you want.
Costs
Prices at Ellaidhoo start at £200 per night in low seaon including buffet breakfast and dinner. That's pretty mid-range/ budget (for the Maldives) right? Well, don't forget the tax (12 % TAX , US$ 6.00 Environmental fee per person per night, US$ 202.00 Shuttle fee per person per stay). Hmm, yes, the big problem of the Maldives: THE TAX!
When it comes to everything else remember – you are still in a resort so whatever you buy is from the resort, which usually equals that little bit extra. Saying that beer here was $7 which is cheaper than in a lot of places around the world. Go, full board,/all-inclusive if you want to avoid any extra chargers.
Maldives Liveaboards
We tend to run Girls that Scuba trips to Maldives each year on a liveaboard – we chose this option as it's the most affordable option (we get you some great deals) for our guests who want to dive, dive dive! Our September 2022 liveaboard saw 26 guests do over 20 dives in one week with 3 meals a day, shared accommodation, coffee (needed) and soft drinks for only $2,100! The only extras that needed to be paid was the beer (also needed) and any equipment rental! Make sure you check out our Girls that Scuba trips website to see if there are any spaces on one of our next trips to Maldives! And if you are a Girls that Scuba member you get 5% off over 250 liveaboards worldwide! If not, take a look at this page for amazing Maldives liveaboard deals – there are some epic hidden deals there!
We also asked GTS and blogger Annika from Midnight Blue Elephant about her experience on a liveaboard in the Maldives (no Girls that Scuba trip) , and here's what she said.
Taking a dive trip with a liveaboard in the Maldives is an experience I can highly recommend. For once, you are not limited to dive sites that are in the vicinity of one island. Getting around in the Maldives can get quite expensive considering the distances and the travel modes (seaplane, speedboat or regular plane). If you want to see a variety of dive sites during any given season and really get a 'best of' overview, a liveaboard is the way to go.
I boarded the Yang by Scubaspa in August, usually considered off-season in the Maldives. More rain than usual and not so great visibility didn't sound too appealing, however, it is also the season for mantas and whale sharks and of course, discounted prices.
Regardless of expectations, the weather was amazing and the visibility was still really good compared to many other places I had recently dived before. Have I mentioned the never-ending stream of sharks already?
In addition to really great dive sites that were adjusted according to the weather en route, diving on a liveaboard like Scubaspa made for a real luxurious holiday above and below the surface. Massages, cabins with beautiful panorama windows, free Nitrox, proper cappuccinos to get you going for those early morning dives and fresh omelets upon return.
Our crew from instructors to the boat crew was incredibly knowledgeable and fun, and each of the divers was assigned a group according to certification and – something I appreciated – air consumption. With that, a camaraderie developed throughout the week which made the diving, even more, fun – important especially if you are a solo traveler.
And as usual, safety comes first here – all divers are required to do an intro dive and have a reef hook, computer, and SMB. And they will even show you how to deploy it if you haven't done it before.
Costs
Based on Annika's recommendation of the Scubaspa you can jump onboard for as low as £1758 per person and goes up to £2158 depending on which room you choose, BUT that is based on 2 people sharing. Single occupancy starts at £2637! Quite a price difference there! The great things about liveaboards are the price you pay at the beginning is usually all you are paying (unless you buy extras onboard) so actually, it could turn out as one of the cheapest options if you look at it as (based on Scubaspa lowest price) £251 per day inc all food, accommodation and diving. That runs similar to the mid-budget resorts but not as cheap as the local islands.
*Still reading? Let's reward you with 5% off this liveaboard and all liveaboards on Divebooker.com enter GTS5 at the checkout. But shh! This is only for GTS readers!*
Our verdict
We understand booking a trip to the Maldives isn't a spur-of-the-moment decision and lots of research is needed – so we hope this guide has helped. We also understand we all want different things, and some have different budgets.
What about you guys? What are your recommendations in the Maldives?