Here at Girls that Scuba, one destination on many scuba wish lists is Cozumel. The island is located off the Eastern coast of the Mexican Yucatan peninsula, opposite the equally popular dive destination of Playa del Carmen.
The Girls that Scuba community is often asked who to dive with in a particular location, and we were recently invited to dive with Salty Endeavors Cozumel to check out their Cozumel dive packages. We sent GTS member Marije along to check them out. Read on to learn all about diving in Cozumel with Salty Endeavors!
---
Location & Schedule
Salty Endeavors Cozumel, located in Cozumel harbour and run by Henry Schultz, calls itself a 'small boutique operation'.
Salty Endeavors offers up to 5 dives daily into the Cozumel Marine Park. They have a flexible schedule with morning, afternoon, and evening boats. Morning boats are reserved for certified divers only. Afternoon boats may be a mix of certified divers and students. They have multiple boats which hold a maximum of 6 or 8 divers plus staff. You can be assured you will always be in a small group of divers.
As it's a small operation, don't expect a big dive shop. In the marina you'll see them on the boat. They also have a location where all rental gear is stored. They'll safely store your personal dive gear if you are diving more than one day with them.
The rental gear looked to be in good condition, so if you don't want to bring your own gear you can rent it. If you are doing courses with them, they have a separate location with a classroom and pool. Salty Endeavors use a local dive site called Tiki-la for try dives, which is an easy spot for people who are new to diving.
---
Booking with Salty Endeavors
Booking your Cozumel dive packages with them is easy. Reach out to Salty Endeavors via email or use the contact form at their website to set up your diving. Their website contains all the information you need to know.
Take into account that the dive rates shown are without 16% Mexico IVA (tax), as stated at the bottom of the price list. We chose to do two dive days, one day with two morning dives and one day with two afternoon dives.
Salty Endeavors is a paperless dive store which means everything is arranged digitally, including filling in the paperwork. This can be done already before your trip starts to save you time and get you in the water quicker! You can easily upload a photo of your certifications, fill in the online waiver, and select your rental kit requirements.
---
Meeting Points
After everything was arranged, we received an email with pick up time and location. Salty Endeavors included detailed instructions for where to meet. The meeting point was at the Aldora pier at 8.05 am for the first day of diving. To use this pier, located at the boulevard, you have to pay $20MXD or $1USD per diver.
Check how far this is from your hotel and consider that you will have to carry your equipment to the meeting point. For me, this was about a 10 minute walk, and I didn't bring a dedicated dive bag with me! If you have a lot of equipment, Salty Endeavors are able to pick up and drop off your gear at any hotel or Airbnb on the island.
After our pick up, we had to pick up our final diver. If you're staying further from the main marina, you can be collected from one of the many pier pick up locations.
We used this 30 minute boat ride to kit up and get everything ready. When the group was complete, our guide of the day, Jose, did the briefing. The group consisted of six divers and one guide. We were happy to see that there were four Girls that Scuba on board out of the six divers!
---
Scuba Diving Sites in Cozumel
The first dive site of the day was Palancar Caves. You can read more about what Palancar Reef has to offer in this article. The dive was beautiful, with lots of swim throughs and colourful corals and reef fishes.
We dove conservatively to a maximum depth of 27m (89 ft). At 100 bar we shallowed to the top of the reef, and once someone reached 70 bar a DSMB was sent up and we slowly ascended for our safety stop.
Our captain Victor had kept a close eye on us, and as soon as we popped up at the surface after our 50 minute dive he came up to us to pick us up. It was fairly straight forward climbing back onto the Mental Floss – a great name for a boat! We handed our fins to Victor, and also our BCDs if we wanted, and then used the ladder at the side to climb back onto the boat.
---
---
Surface Intervals
During our surface interval there was enough cooled water, bananas, mandarins and biscuits to feed us. They also provide you with microfiber towels so you don't need to bring one yourselves. These are great touches which made the surface interval and dive day more enjoyable!
We stayed on the boat during our interval, but you can be dropped off at the beach to relax there. Keep in mind it can be very warm, so you may be more comfortable in the convenient shade of the boat. Wearing sunscreen while diving in the national park is not allowed, so this may be another reason to stay on the boat.
---
Diving Paso del Cedral
After about an hour we went to Paso del Cedral, which was more of a drift dive across the reefs. We found a green turtle, but sadly it was a bit of a challenge to get to see it up close due to the current. After another fun dive, the first day of diving was over for us. We were dropped off back at the pier around 12.30pm, leaving almost a full day ahead to enjoy the other things Cozumel has to offer! Our gear was left safely with Salty Endeavors for the next day.
---
Diving Palancar Gardens, Cozumel
The next day our pick-up time was at 13.35 pm at the same pier. This time Isindro (Isi for short) was our guide, and Victor was again our captain. We also had Francisco on board with a future Girls that Scuba member in the making. I was buddied up again with the same great buddy as the day before.
My gear was already set up for me when I arrived at the boat, so the only thing I had to do was do a check and get into my wetsuit. With a water temperature of 28ºC (82ºF), you only need a thin layer to stay warm enough during your dive. However, this is always up to personal preferences.
The dive site of the day was Palancar Gardens. This was the same reef as the day before, so another nice dive with a lot of swim throughs, beautiful reef, cute reef fishes, and big moray eels. Both of my diving days were spent on the south of the island, but it would have been great to have explored the sites to the north. These offer a better chance of seeing Cozumel's beautiful spotted eagle rays!
Overall, Cozumel is a great warm water diving destination and we definitely would recommend diving in Cozumel with Salty Endeavors Cozumel. They are extremely professional, and offer a variety of dive options with very kind staff.
---
About the Author
Marije is a Master Scuba Diver and has been diving in places all over the world. From cold water diving in the UK and Netherlands to the warm waters of Australia, Indonesia, and the cenotes of Mexico. She has a love for sharks and rays, especially Tiger sharks and Eagle rays.
---
Disclaimer: This article is sponsored by Salty Endeavors, however all views are our own. Sponsorships help us develop the Girls that Scuba community and continually offer helpful and inspiring content.
---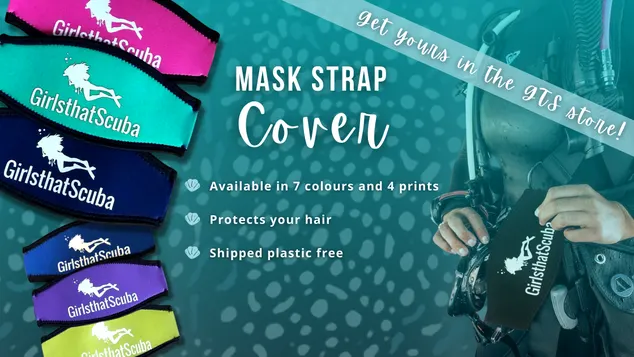 ---