We've been working on something HUGE behind the scenes at Girls that Scuba for the last year now and we can't quite believe it's finally time to announce this to you! ARE YOU READY?
Introducing the very first of its kind; a scuba dive discount platform that offers money off hundreds of dive centres/liveaboards and brands worldwide – exclusively to Girls that Scuba Members!
You're never going to need to book another scuba trip without getting discount again!
What is the GTS membership card?
The GTS membership card is an exclusive new platform that offers membership holders discounts on hundreds of dive centres/liveaboards/brands worldwide. It is a members-only platform that members will receive log in details to access the private platform. You can save hundreds if not thousands each year by signing up to the first ever scuba dive discount card, and don't even think about booking another liveaboard again before you use your GTS discount.
There is NO LIMIT to the amount of times you can use the discount codes!
What's included?
We have over 100 dive centres signed up from all over the globe. You will get 10% off your diving which each one of these. So when you are looking for your next place to dive look on the GTS membership first and see who you can dive with for even cheaper!
Then there's scuba brands, some of our favourite scuba brands around who have always been GTS supporters and cater for women. Each brand is offering a different discount (minimum 10%) exclusively to GTS membership holders. Never go scuba shopping again without checking on your GTS membership account first
A finally (and probably your biggest saving) there's 5% off over 200 liveaboards all over the world! Yup, you read that right, you'll most likely never need to pay full price for an online liveaboard again.
All of this for a small membership fee of £54.99 that you'll earn back in savings as soon as you start using your discount (just book one liveaboard trip with the 5% discount and you've already earned your membership fee back plus more!). Once you have paid you fee you have access FOREVER to these deals.
To put it simply
If you are about to book a liveaboard holiday, STOP. Sign up to the GTS membership first and you will save 5% on over 200 liveaboards – so we are sure the one you want to book is on there.
Doing some scuba shopping? Wait a second, what if that store is included in the GTS membership and you could get discount?
Planning a land based dive trip? Check out our database of over 100 dive centres offering you 10% off your bill.
Other extras
Now that GTS have started organising group trips – and with the crazy demand for them – we have started to book our group trips 2 years in advance. We have some INCREDIBLE trips on the way, dream destinations and amazing collaborations. Our last group trip sold out fully in less than 8 hours!
As a member of the GTS membership you will be the first to know about trips – a full 24 hours before we release it anywhere else. There might even be some members-only trips from time to time!
How much could you save
Let's do some easy maths.
You take one liveaboard holiday a year averaging $2500.
5% of that = $125 saved
You go diving with one of our xxx dive centres twice a year, an average dive day costing $75, average 4 days diving per trip
10% of that = $60
You spend an average of $1500 a year on scuba equipment/related items (we're being nice here, it's probably wayy more than that hey ladies)
Average of 15% off that = $225
Minimum saving of $410 per year (but let's be honest, we spend more than that so we predict most will save over $500 a year) on discounts you wouldn't be able to find anywhere else. And there's no limit to the amount of times you can use these discounts!
---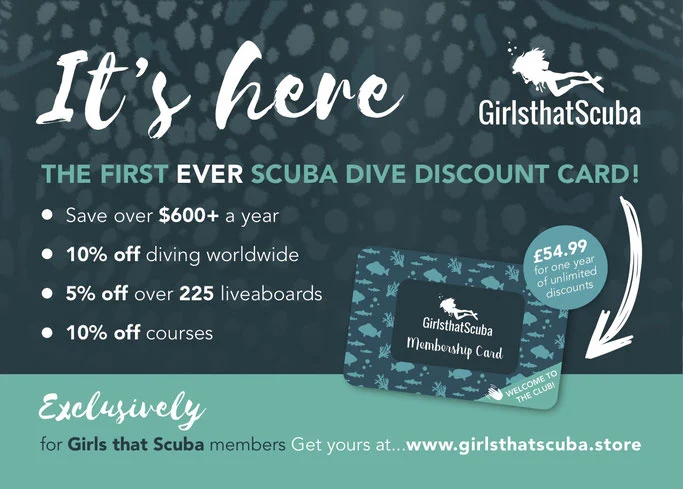 ---
How do I sign up?
SIGN UP HERE.
Membership fee £54.99 one off payment, lasts forever
You will get access to your own private members area where you will be able to access all of the discounts we have to offer and how you can use them. You will have acess to this platform for the whole year of your membership (and all other years you renew) and you can use your discounts as many times as you want.
Simple as that.
Your membership lasts forever from the time you sign up. You will have immediate access to the platform and can start saving straight away.
Can I get my dive centre/brand involved?
Absolutely! We will be constantly adding new dive centres and brands to our membership to offer our members even more great deals, and if you'd like to be involved or you'd like us to ask someone to get involved (if there's a brand you realllly love, and would be over the moon to get discount on) just email us at [email protected]
You can take a look at the full terms and conditions here