If you're anything like us, you'll love keeping on top of what's new in the world of scuba diving equipment. We've had an exclusive look at the new 2021 product launches from Apeks, and we're excited to share these innovations with you. Inspired by technical diving and designed for all, the full range of Apeks scuba diving equipment, which now includes the 2021 new releases of ThermiQ wetsuit and base layers, new Luna series torches, new bags, a top of the line reel, tech shorts and more, has been adopted by technical divers around the world, and is some of the best manufactured scuba gear on the market. We dive into the 2021 new collection launched on 10th Feb.
THERMIQ CARBON CORE – Thermal divewear
Where cool design meets state of the art technology, the Apeks ThermiQ Carbon Core sets new standards in base layer thermal protection. Comfort is guaranteed with the triple layer soft shell, combined with the technically advanced graphene lining to give the ultimate in warmth and flexibility.
Benefits
Triple layer soft shell fabric ensures the top keeps you warm in all environments.
The ThermiQ Carbon Core can be worn on its own as a thermal rash guard in warm water or as an extra layer underneath a drysuit.
Advanced lining is made from graphene wrapped fibres which acts as a superconductor, regulating skin temperature by transferring heat from warm spots to cold spots on the body.
Breathable fabric prevent moisture build up when used underneath a drysuit.
Elasticated thumb loops keep the top in place when wearing under a drysuit.
Colour: Male: Black / Orange – Female: Black / Yukka
Sizing: Women's XS – 2XL
Apeks Luna Mini – Dive Torch
When slicing through the dark is your primary mission, the Apeks Luna range of torches will fill you with the reassurance you need and the intensity of light you demand. This exclusive range of British built torches sets a new standard in subaquatic illumination. The Luna Mini is a compact torch that packs a punch. With 1000 lumens max output, three power settings offering up to 6 hours run time and a USB rechargeable battery, it ticks all the boxes for both a primary and back up torch. With a marine grade aluminium casing and available in 4 colours, this lightweight torch is perfect for life beyond diving too.
Benefits
Compact and lightweight – can be used as both a primary or back up torch.
Choose your power settings to optimise run time, low, medium or high power.
ITM (Intelligent Thermal Management) – Patented circuitry within the light reduces power to the LEDs if they go beyond the optimum temperature, keeping the light as efficient as possible to maximise output and battery capacity. Once the light has cooled, the power is automatically restored.
No need to open the torch to recharge the battery, which reduces the possibility of leaks.
Features a dedicated SOS Strobe for emergency use in or out of the water
Supplied in an Apeks branded reusable zippered case to protect the torch during storage and travel.
Multi-use – ideal for camping trips or keeping in your car in case of emergencies.
Features
Factory sealed casing machined from anodised marine grade aluminium
SOS strobe setting
Supplied in a protective zippered case
Supplied with a wrist lanyard
Available in 4 colours – orange, green, purple and grey.
Plastic free packaging
Designed and manufactured in the UK.
Other new releases in the Luna series are the 'Luna' and the 'Luna Advanced'
THERMIQ 8/7 WETSUIT
The ultimate in wetsuit luxury, the Apeks ThermiQ 8/7 is warm, flexible and made from the finest quality eco-neoprene. Feature-rich and developed for the demands of advanced diving, the Thermiq 8/7 is suitable for anyone wanting top-end comfort and performance in a wetsuit. The suit is made from environmentally friendly materials, including limestone-based neoprene and a lining made from recycled plastic bottles. A highly efficient 8mm on the core provides extra thermal protection where it is needed most and 7mm on the arms and legs allows for flexibility. Large cargo pockets are ideal for stashing your accessories and an integrated hood provides additional warmth. An across the chest zipper makes it easy to put on, while internal cuffs on the forearms and lower leg minimise water ingress.
Benefits
Maximum flexibility for comfort during and between dives.
Internal fleece keeps you warm throughout the dive and then dries quickly afterwards.
The attached hood increases overall warmth and reduces the amount of water that can enter the suit.
Non slip shoulder protection keeps your BCD in place and helps reduce wear.
A 3D silicone mask grip on the hood keeps your mask in place.
Large cargo pockets with internal bungee loops allow you to carry and store all of your accessories securely.
Fused edges on sleeves and legs, instead of traditional binding, allows the suit to stretch over wrists and ankles whilst providing maximum durability.
Keep your feet free from sand and grit while getting changed with the included change mat/carry bag.
Features and Technical Specifications
Super-stretch eco-neoprene (8mm torso and 7mm arms and legs)
Contains recycled materials and uses water-based glues
Attached hood with face seal and air purge system.
Semi dry chest zip with internal water dam.
3D silicone mask grip.
Large cargo pockets with bungee attachment system.
Fast drying fleece on the inside of the torso and hood.
Spine pad.
Fused edges on sleeves and legs.
Liquid sealed seams.
Supratex knee panels.
Non slip shoulder protection.
Change mat.
Biodegradable packaging
Sizing: Mens and Women's sizes S – 3XL
Check out Sarah's initial thoughts on the TermiQ wetsuit
UNISEX TECH SHORTS
The Apeks Tech Shorts are a fantastic addition to your thermal protection when extra storage and increased durability is required. These tough neoprene shorts are full of features to enhance your in-water experience and give you the flexibility to carry your extra dive gear. Pair with our Carbon Core rash guard for a complete warm water dive solution.
Benefits
3mm compressed neoprene makes the shorts comfortable and durable.
Large drysuit style pocket to allow you to store items such as wetnotes, backup mask and spools.
Integrated grip bars in the pocket flaps make them easy to open and close while wearing gloves.
Internal bungee loops inside the pockets lets you clip off all of your back up equipment.
Pockets incorporate a zip on the flap for storing small items such as bolt snaps and spares.
Liquid fusion seams improve integrity and durability of the seams.
Protective rubber logo prints reduce damage caused by friction while providing grip when sitting on a RIB.
Easy adjustable waist band with two hook and loop flaps and adjustable strap with a quick release buckle.
Made from eco-neoprene
Sizing Unisex: 3XS, 2XS, XS, S, MD, L, XL, 2XL
LIFELINE ASCEND REEL
A reel like no other, the Apeks Lifeline Ascend takes the humble SMB reel to the next level of quality and functionality. Designed and built in the UK, the Lifeline Ascend exemplifies what Apeks has become renowned for, giving the diver the finest equipment to take on their next adventure.
Designed to make deploying your delayed surface marker buoy a breeze, the 30 and 60 metre Apeks Lifeline Ascend is the finest reel on the market. And it doesn't just look good, it plays good. Designed to be used both left and right-handed, the Lifeline Ascend is simple and smooth to operate, even if you're wearing thick gloves. From the easy grip rubber handle
to the secure stainless-steel attachment points, the Lifeline Ascend sets a new standard in dive reels.
Benefits
Integrated SMB attachment point allows for easy storage and deployment of the Apeks SMB.
High grip rubber handle makes the reel easy to hold with or without gloves.
User changeable configuration allows the reel to be easily switched from left or right handed configurations depending on your preference.
30 metres of high tensile strength and high visibility line is both extremely strong and visible in low light conditions.
The stainless steel attachment point allows for secure attachment of the reel to a D-ring, BCD or pocket.
Features
Forged and anodised aluminium handle components.
High grip rubber handle.
30 and 60 metres available
Integrated SMB attachment system.
Stainless steel attachment point.
User changeable from left to right hand configurations.
Supplied in plastic free packaging.
Lifetime warranty (excluding line)
Designed and manufactured in the UK.
90L ROLLER BAG
When it comes to Roller bags, reliability, capacity and carrying efficiency are key. The Apeks Roller Bag collection ticks each of these boxes emphatically and allows you to carry all your gear in purposeful style. The 90L Roller is big enough to carry and protect all your equipment, with the flexibility to adjust its external envelope for your storage needs.
Features & Benefits
3 Inner mesh zip pockets to store smaller items.
Reduce the size of the bag based on the contents with the external compression straps.
Easy access top pocket
Integrated luggage tag holder.
Robust telescopic handle can be zipped away when not in use.
Heavy duty roller wheels.
Dimensions 82 x 44 x 32 cm
90 L Volume is big enough to carry all of your dive kit.
Hardwearing 500D PVC tarpaulin shell.
30L DRY RUCKSACK
Not just a dive bag, the Apeks 30L dry rucksack is your new everyday bag. A roll top closure will keep your belongings dry, whether you are on the back of a boat or commuting home. The large dry compartment has a dedicated padded laptop sleeve and the front of the bag has an easy to access water-resistant pocket. With a fully vented back and shoulder strap system, you'll always keep your cool, no sweaty shirt backs here! Durable and weatherproof, carry your gear in purposeful style, wherever you might be going.
Which of these new products are you most excited about? What's going on your scuba shopping list? Let us know in the comments below, share in our Facebook community, or tag us on Instagram @girlsthatscuba!
---
Disclaimer: This article is sponsored by Aqua Lung brand, however all views are our own. Brand sponsorships help us develop and grow the Girls that Scuba community and continually offer helpful and inspiring content.
---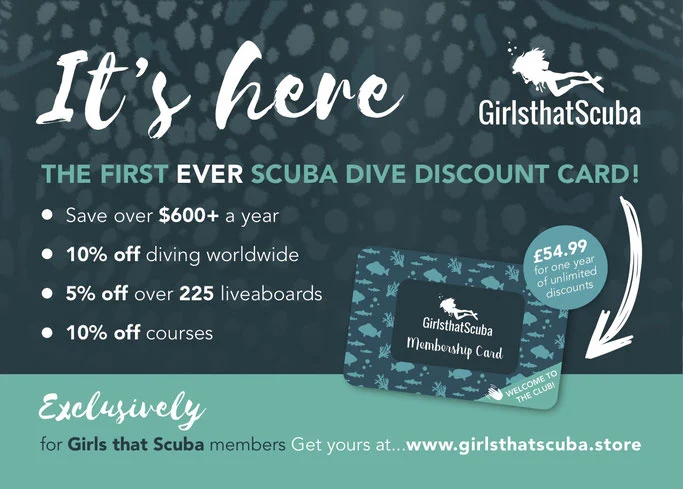 ---