It's more important than ever that we support small businesses, and our Girls that Scuba community is full of amazing small business owners and independent artists. We did all the hard work for you to gather the best gifts out there for scuba divers, and as they're all from small businesses you know someone will be doing a happy dance whenever you make a purchase from these lists!
With 30 gift ideas to choose from we've got everything covered – from wearable gifts in the form of gorgeous jewellery and dive clothing, to practical scuba gifts which any diver would love to receive, and stunning pieces of art. We've included the location for each of these small businesses, and would encourage you to shop closer to your home country where possible to reduce the carbon footprint of shipping gifts long-distance. You'll also find loads of these brands offer even more discount if you are signed up to the Girls that Scuba membership platform!
Wearable scuba gifts from small businesses
1. Fusion Fins (US) – Lionfish Drop Earrings – $20
With lionfish being an invasive species in a number of locations, there's a growing trend of using the otherwise wasted spines to create gorgeous jewellery. We're lusting after these cute Lionfish Drop Earrings.
2. Scaled Up (US) – Stargazing Tee – $29
If witty (and slightly risqué) underwater puns are your thing, look no further than Scaled Up for fun designs on tees and stickers. They love to feature some of the weirder underwater critters of the world, and we particularly love this tee featuring the less-loved ocean dweller, the stargazer.
3. Wild & Fine (UK) – Maya Silver Seahorse Pendant – £265
What diver wouldn't adore this statement seahorse necklace? The attention to detail on this hand-crafted pendant is beautiful, and it's produced in a plastic free workshop from recycled precious metals so it ticks the eco-boxes too!
4. SeaMorgens (UK) – Manta Ray Cross Back Bikini Top, Manta Ray Three Strap Bikini Bottoms – £29 & £28*
With their incredibly soft fabric in figure-flattering styles, SeaMorgens are one of our favourite recycled swimwear brands. This manta print design is a fun addition to any diver's swimwear wardrobe, and pieces are purchased separately for a customisable fit.
5. Sea Coast Silver Jewellery (UK) – Silver Aldeburgh Shell Ring – £34.99
This sterling silver ring is handcrafted and inspired by shells found on the Suffolk coast in England. There's also matching pieces available to complete the set.
6. Spacefish Army (US) – Plus Size Manta Mayhem Leggings – $60*
If manta bikinis weren't enough, Spacefish Army have got you (literally) covered with their Manta Mayhem leggings. They stock a great plus size range (up to 6XL) and GTS Membership Card holders get an exclusive discount.
7. Ocean Influenced (UK) – Eagle Ray Necklace – £56.80 (usually £71)
Spotted Eagle Rays are one of our favourite creatures to see sailing on by underwater, and their graceful movement is captured perfectly in this pendant.
8. The Slug And Kraken (US) – Opalescent Nudibranch Earrings – $39.95
What could be better than sea-slug inspired studs? Glow in the dark ones, that's what. There's a nudi to please every diver on The Slug And Kraken's Etsy, and they're another brand offering discount to GTS Membership Card holders.
9. mlsea (UK) – Wild Tide Small Hoops – £29
These simple yet stylish hoops are inspired by the ebb and flow of the tides, and will add a touch of elegance to any outfit. We love that the owner of this small creative business donates 20% of profits to charities championing social justice.
10. Ocean Below (Belgium) – Oh Whale Sweatshirt – €55
We can see ourselves cosying up post-dive in this sweatshirt with a cute line drawn whale design. This off white shade is called "Jellyfish", but the jumper also comes in green and blue.
11. Low Tide Landing (US) – Tidal Tribe Anemone & Turquoise Ring – $128
This ring is adorned with a mesmerising deep turquoise stone, and was handcrafted in San Diego, California. We also love their Whalewatcher Necklace ($38).
Practical gifts for scuba divers
1. Beasties (Hong Kong) – Shark Beach Towel – £79
These jumbo sized beach towels are perfect for both you and a buddy. There's also a fun abstract manta design and a sea turtle style, which one would you choose? GTS Membership Card holders receive a discount.
2. ReefBox (US) – Scuba Subscription Box – $42.99 per month (or $38.69 per month for 6 months)
Subscription boxes have become a real trend over the past few years, and divers no longer have to be left out of the fun! With this subscription you can receive scuba treats into your letterbox every month, and they also offer one-off boxes perfect for new divers.
3. A Waste Free World (UK) – Plastic Free Starter Gift Set – £27.99
Most divers aspire to a more plastic free lifestyle, but if they're yet to start on that journey this is the ideal gift. Containing a bamboo cutlery set perfect for popping in your bag alongside some plastic free bathroom essentials, this set is amazing value!
4. Waterhaul (UK) – Harlyn Sunglasses – £60*
We love any brand which makes use of recycled materials, and these high quality sunglasses are constructed from salvaged ghost fishing nets. They're perfect for an active dive lifestyle, and even have a lifetime guarantee. GTS Membership Card holders receive a discount.
5. Mindful Manta (UK) – Pyramid Pouches – Mini £12, Medium £18, Large £20
Another small company doing awesome things with recycled materials, Mindful Manta turns old wetsuits into practical pouches. These are perfect for carrying small dive accessories – bonus gift points if you pop a few tools and o-rings inside to create a save a dive kit.
6. The Abingdon Co (US) – Marina Watch in Shark White – $399.50 (was $799)
Stylish timepieces for adventurous women. GTS Membership Card holders receive a discount.
7. Girls that Scuba (UK) – Box Fish Changing Robe – £39.99
We might be slightly biased, but our GTS Changing Robe is one of the most practical gifts you could give to a diver! With a hood to cosy up in and two gaps for discrete changing it's handy for both warm and cold weather divers, and also comes in a fun whaleshark print.
8. MollyEmiliaRose (UK) – Moonlit Dive Dark Tropics A5 Notebook – £4.50
This turtle illustrated notebook comes with plain pages and is perfect for jotting down your dive dreams or creating creature sketches.
9. Nudi Wear (US) – Mandarinfish Neoprene Tote Bag – $98
You've never seen a dive bag quite like this! We love the style of these neoprene tote bags, and some of the prints would look just as good on a commute as they would on a dive boat. If the mandarinfish is a bit bright for you, check out the tiger shark, whaleshark and lionfish styles for something more subdued. Nudiwear also offer Girls that Scuba membership holders 15% off!
10. Strand Line Studio (UK) – Travel Coconut Haircare Kit – £27.95
This plastic free haircare hero kit comes housed in a cute pouch – and who doesn't love coconut scented hair? (If you just raised your hand don't fret – there's also a lime, mandarin and basil fragrance).
11. Girls that Scuba (UK) – Turtle Dive Hair Set – £24.99
Whilst we're talking about hair, what about keeping your hair protected underwater? Our Dive Hair Sets contain all the accessories you need – a neoprene mask strap cover, a head and neck buff, and a scrunchie – in matching creature inspired prints. Check out the whaleshark, blue ringed octopus and lionfish styles too! Get 15% off with our membership platform!
Gifts by independent artists
1. Girls that Scuba (UK) – Shark Favourite Things Poster – £7.99
This cute ocean poster with shark illustrations would look at home on any diver's wall.
2. LittleBeeStudios (UK) – Humpback Whale Sticker – £1.80
Stickers are a perfect stocking stuffer and great for customising dive gear, laptops or water bottles. LittleBeeStudios also offers beautiful custom embroidery via their Etsy store.
3. Abi Eleri Illustration (UK) – "Hval Hai" Giclée Art Print – £85
We were enthralled by this beautiful piece of art – doesn't the starry atmosphere make you want to dive straight in?
4. BelowandBeyondArt (UK) – Dancing Light Manta Ray Print – £32.50
Another stunning art print comes from BelowandBeyondArt in the form of this manta design. This artist also designed the box fish print for our Girls that Scuba Changing Robe!
5. Francesca Page (UK) – Ocean Collective Prints – from £47.50
Francesca Page is a UK based artist who creates beautiful art inspired by her underwater photographs and her dives around the world. These Ocean Collective Prints are a great way to get your hands on a piece of her work, but if your budget stretches further then make sure to check out her custom commissions.
6. Rachel Brooks Art (UK) – Humpback Whale Mug – £12
Beautiful and functional, this humpback whale mug is just one of a menagerie of underwater creature designs. Rachel also offers her artwork on clothing, prints and greetings cards.
7. JessMaeMandala (UK) – Ocean Wooden Decorations – £15
These hanging decorations feature Jess's unique mandala-inspired style and are painted onto wood for a rustic feel. If you can't get enough of her work (like us!) get your hands on a pair of her custom freediving fins in collaboration with Penetrator fins.
8. Girls that Scuba (UK) – Pelagic Sticker Pack – £6.99
These big boys of the ocean look beautiful in black and white – our Pelagic Sticker Pack features a hammerhead shark, whaleshark and orca.
---
(Products marked with an * contains affiliate links. This means we earn a small amount of commission if you use the link to purchase, at no additional cost to you.)
---
Which is your favourite gift? Save these images to share when someone asks you what's on your wishlist, and join our Girls that Scuba Facebook group to celebrate your small scuba business finds!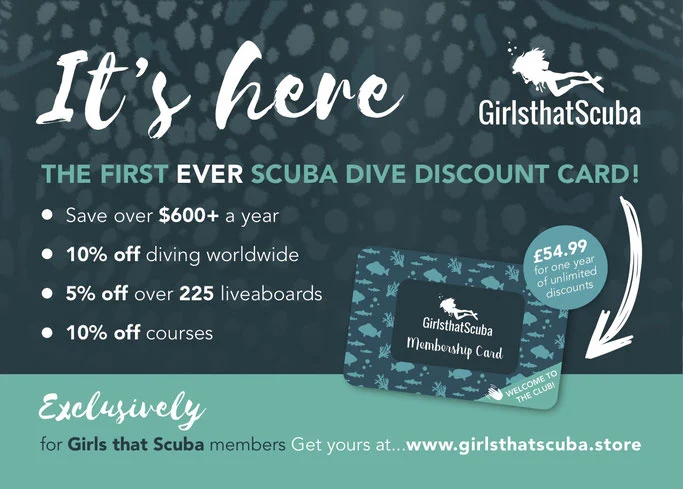 ---