Looking for a gift for an ocean lover? Whether it's for a birthday, a religious holiday, or a "just because" gift, underwater obsessives can be tricky to buy for. Luckily, we're here to let you in on all the awesome ocean gifts that any sea lover would be ecstatic to receive.
This guide includes gifts for ocean environmentalists, gifts that help the oceans, and gifts that can be worn in the ocean. There's something to suit every person and every budget. As any ocean lover would appreciate, we've chosen them all with sustainability in mind.
---
Virtual Gifts for Ocean Lovers
The most sustainable gifts of all are virtual ones as they don't involve handing over a physical item. If you're gifting to a passionate ocean environmentalist they'll likely love one of these sustainable options. Some of them will even help on their mission to save the ocean!
1. Donation to a Marine Charity
For an ocean lover, you can't go wrong by giving a donation to a relevant ocean-saving charity in their name. Many conservation charities offer the opportunity to give a membership as a gift. This could be anywhere from a few months up to a year. These memberships often come with perks including access to conservation magazines, online seminars and content, or updates on conservation in their area.
We love the work of the Marine Conservation Society in the UK. Any ocean lover would appreciate a donation in their name!
In the US, the charity Oceana runs an adoption scheme. This gives the option to adopt a huge variety of creatures – from clownfish and sea turtles to manatees and blue whales.
2. Give a conservation course
If the ocean lover you're gifting to is a scuba diver, what better gift to give than a scuba diving course to further their education? Most dive schools will allow you to purchase a voucher for a specific course. Find a dive school in their local area and choose a suitable conservation-related course that caters to their interests.
These will vary depending on location and certification agency, but courses could include coral propagation, shark awareness, turtle conservation. They could even learn how to conduct clean up dives and use the findings to campaign for change – the possibilities are endless!
By choosing a dive school in their local area, you'll also be supporting the local diving community, too. Some of these courses can be land-based and are therefore also suitable for non-divers.
3. Girls that Scuba Membership
We're obviously biased, but we think any ocean lover would be thrilled to receive our Girls that Scuba Membership card as a virtual gift. For a one off payment, members receive lifetime access to a huge assortment of perks. The membership includes savings with hundreds of dive operators in locations around the world and offers on liveaboard packages. There are also awesome discounts on well known scuba brands and dive lifestyle companies.
Lots of the gift ideas within this article include brands featured on the GTS membership. Read on for a taste of the discounts on offer. We also do Girls that Scuba gift vouchers, the ideal gift for ocean lovers when you don't know what to choose for them!
---
Wearable Gifts that Help the Ocean
With ever-advancing fabric technologies, there are incredible brands to choose from as a clothing gift for an ocean lover. Here are some of our favourites!
4. Recycled Swimwear
Every thalassophile (can you tell we're running out of ways to say "ocean lover"?) needs some swimwear to be able to frolic in their favourite place. What better than a bikini which also does good for the oceans?
The phrase recycled swimwear perhaps doesn't conjure up the best image, but don't be fooled. These styles are bang on trend – and there's something to suit everyone.
If your giftee likes to share their love for the ocean loud-and-proud, check out Sea Morgens' stunning styles. Their stylish, comfortable bikinis and swimsuits come in an array of ocean-themed designs. The unique prints feature everything from manta rays to shark skin and seashells. They also minimise their environmental impact by turning their offcuts into complementary scrunchies and face masks!
For something slightly more classic in design, Deakin & Blue builds it's products on a basis of being "transformational". This goes from transforming the industry by championing regenerative materials, to transforming the way women feel about their bodies when wearing their products. We love their supportive designs and innovative sizing. GTS Membership Card holders can get 10% off both Deakin & Blue and Sea Morgens.
For styles which are truly one with the underwater world, Waterlust creates awesome designs in sports-bra style tops, rash vests, leggings and shorts. All of their prints are designed from patterns found in marine flora and fauna. What's more, each style supports scientific projects in aid of the creature it features!
5. Surface Interval Clothing
If you're after something for your sea-loving friend to wear on land, we've got you covered too. Our Girls that Scuba tees and hoodies are sustainably sourced and shipped plastic free.
For cold water divers, cold water swimmers or coastal walkers, Fourth Element's sustainable knitwear line is a gorgeous gift for chilly days.
6. Recycled eyewear
Who would have thought that even sunglasses could be made to do some good in the world? Sunglasses are a classic gift, and Waterhaul have quite literally turned ocean trash into treasure by regenerating ghost fishing nets into stylish yet practical eyewear.
Their products are "intercepted from oceans, redesigned for adventure", and we couldn't agree more that their styles are perfect for any ocean adventurer. Girls that Scuba membership holders get 10% off.
7. Sustainable wetsuit
If you're really looking to splurge on a present, look no further than the Fourth Element Surface wetsuit. The 4/3mm suit is "grown, not made" from certified sustainable rubber, and is designed to work for any and all water activities, from freediving and scuba to surfing and open water swimming.
We also love the rashguards in their Ocean Positive line which are made from 85% recycled materials, and GTS membership card holders can receive 10% off.
---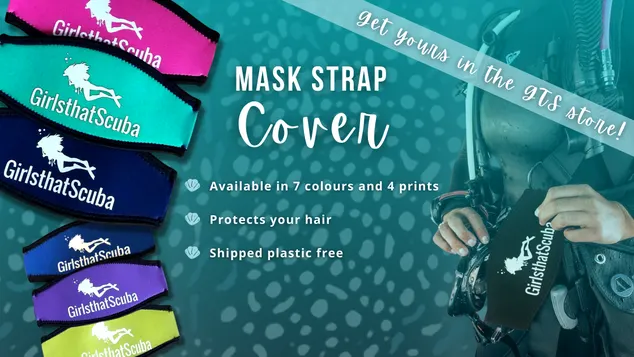 ---
Sustainable Gifts for Ocean Lovers
If wearable and virtual gifts aren't ticking the boxes for your gifting needs, every lover of the ocean would appreciate a gift which will help them to live their life a little more sustainably. Here are some awesome eco-friendly options which either help us do better by our oceans, or feature a fun ocean-theme!
8. Stream 2 Sea Products
Switch up the standard body-product gifting and swap it for a sustainable travel kit of reef-safe sunscreen and body products by Stream 2 Sea. Their products are tested reef safe to prevent the damage to our aquatic environments caused by traditional sunscreens, and they're packaged in sugarcane resin as opposed to virgin plastic.
9. Ocean themed zero waste products
Many ocean lovers are some way along their zero-waste journey, so why not make their day by gifting them some ocean themed tools to help them out? There are lots of products out there suitable for scuba divers, many of which feature adorable underwater motifs and patterns.
10. Put together a zero waste kit
Continuing on the theme of zero waste or low waste living, consider putting together an everyday zero waste kit for your ocean lover to carry around. A reusable water bottle, coffee cup and cutlery set carried in a reusable tote is an awesome way to reduce the waste created by single use takeaway items.
---
Share this list as a not-so-subtle hint of the gifts you'd love to receive, and continue the conversation in our Girls that Scuba Facebook group. Let us know what sustainable gifts we've missed out on!
---
Check out even more gift ideas here!
---
---